You've got a beautiful house with a huge backyard where you love to spend your afternoons after a hectic work routine or enjoy weekends partying with your friends and family. While spending and restoring your energy outdoors, you might want to fabricate your backyard to be more practical and comfortable than ever.
Nothing can stop you from enjoying your leisure time in your backyard when the weather warms up. However, what to do in the scorching heat of summers when the blistering sun starts heading you indoors rather than staying outside for longer?  
Your tender skin resists interacting directly with the sunlight. Therefore, you need to head for shades to get more use of your backyard. 
INSONSHADES brings different backyard shade solutions to keep you cool in the summer heatwaves. They provide a wide variety of shades to set up in your backyard. It will help you include any design of shades that complies with your outdoor environment.
After all, it is crucial to protect your family, visitors, and pets from heat and make your backyard a more comfortable place to have fun. 
Sail shades are sturdy and effortless shades to make your outdoor space much more comfortable to sit back and relax. Sail shades are the ultra-versatile solution that provides coverage for your backyard spaces, whether it's a scorching sun or dripping weather. 
Sail shades are usually designed with a triangular-shaped heavy-duty outdoor fabric. You need to be very careful with the size and shape of sail shades to fit your backyard while buying. It can be attached to the poles, trees, or any house walls in the backyard.
You can string it on a small corner or patio outdoors with the help of mounting hardware. So, you don't need to rush indoors anymore, whether it's blazing sun or drizzling out there in your backyard. 
Sun shade panel is an ingenious solution to do more than just keep you out of the heat. Sun shade panels can be designed for an outdoor dining space or to help you avoid your inquisitive neighbors around your deck.
Adjustable panels are the most effective; you can permanently remove or retract them if you need additional light or if solid winds endanger them. 
INSONSHADES use HDPE shade cloth to anchor some unique backyard sun cover solutions for you to spend your leisure time gatherings and the entire summer blissfully outside.
Depending on lighting conditions, sun shade panels can conceal up to 90% of sight. It can help keep your dog from barking at everything that moves by reducing gusty breezes. It is a perfect blend of visibility, sun protection, and airflow and a complete solution for outdoor privacy that is cost-effective and appealing while allowing airflow.
Umbrellas are one of the quickest methods to add shade to your outdoor living areas, so if you have a social event coming up in a few days – or hours – and need additional cover, umbrellas could be your best bet.
Portable outdoor umbrellas
Portable outdoor umbrellas are mobile and portable backyard shade solutions in various materials, colors, and styles. They're simple to move about and adjust to the sun's location at any time of the day.
Permanent outdoor umbrellas
On the other hand, a permanent outdoor umbrella is a perfect alternative if you want to set up a long-lasting umbrella that you can place and forget about for a long time.
Cantilever patio umbrella
You can take your outdoor shade ideas to the next level with an offset cantilever patio umbrella that rotates 360 degrees to block out the blistering sunlight where you need it most. The innovative design provides extra sitting and a calmer environment around the sitting area.
Over sized portable umbrella
Over sized portable umbrellas are more durable and designed to accommodate more expansive areas. They come with robust metal support and are perfect for covering tiny decks, patios, and kids' swimming pools.
An over sized umbrella can withstand wind-driven gusts because it is a highly durable and long-lasting construct. It also boasts a one-of-a-kind design as it can hold on longer in severe weather conditions. 
It is incredibly efficient, but perhaps more important that you create a pleasant and appealing environment in your yard. Harmonica shade is a high-quality shade that gives shade and versatility in your yard. 
The canvas in the harmonica shade can slide in and out using an advanced folding technique. It enables you to move and adjust this shade in any direction in the yard to minimize sunlight exposure. The shade is supported by stainless steel wires and may be manually opened and closed.
Harmonica shade does not need specific protection as it can withstand weather conditions reasonably. However, It is advised to cover it in the winters until the summer season arrives.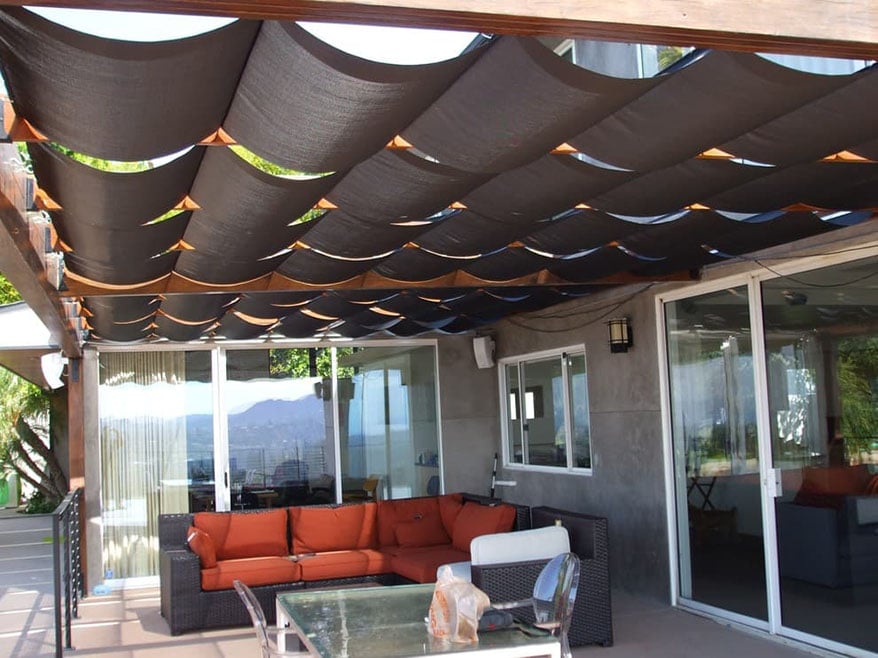 A pergola is designed to expand your sitting space and increase some outside space. It looks fantastic, enhances the value of your property, and allows you to spend more time out with your friends and family.
A pergola shade can be built from scratch or purchased as kits with installation instructions. Its stand-out feature will make it last for years in your backyard landscape. 
The beauty of a pergola shade is that you can continue adding to it and expanding its area to set a  screen, organize BBQ parties, or hang some flowering plants.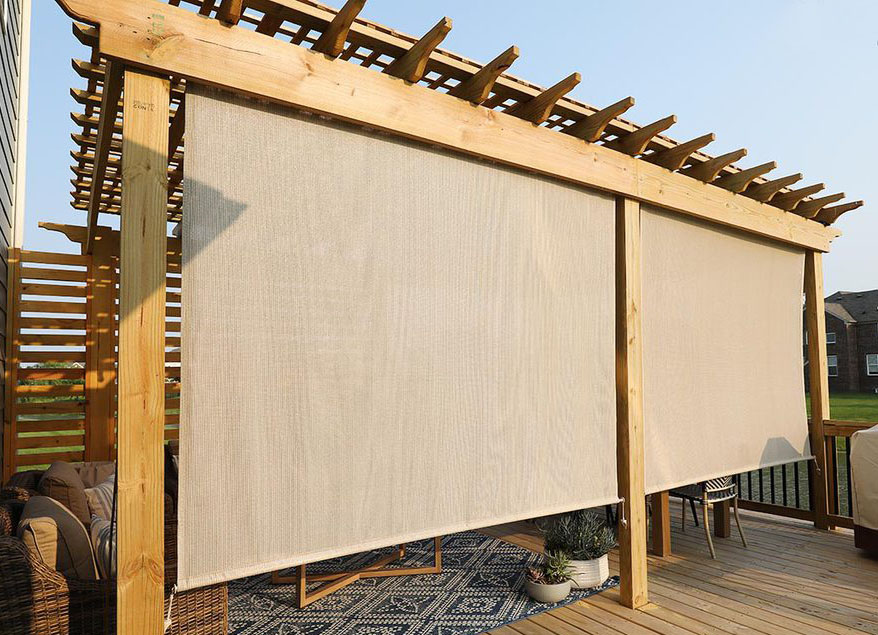 Nothing beats the idea of sitting on the porch and soaking up the sun, unless when the light becomes a little too harsh. In such scenarios, some inexpensive patio shade ideas can enchant your outside environment making it more pleasant. Patio shade sails add a fashionable and appealing appearance to your yard while shielding the sun.
Patio shades are one of the most simple, quick, and cost-effective solutions for outdoor living spaces. Patio shade solutions might be as easy as buying a cheap market umbrella and dropping it through the hole in the center of your patio table shortly before the dinner is served.
Alternatively, you may use a more extensive patio umbrella to cover most of your patio or many umbrellas to protect and portray distinct dining and resting zones within your yard.
Quick and easy Retractable Awning
If your patio is short, you don't need a massive structure or a permanent roof to bring shade. However, you can extend it when you need it and retract it when you don't; a retractable awning is an excellent shade option. It is ideal for mild locations with little direct sunlight throughout the year.
Sun and rain protection is provided via retractable awnings. On the other hand, some individuals like this choice since it allows them to retract the awning and reveal their outdoor living areas.
It means you may have a high tea party beneath your canopy, then retract it before your formal evening party so your friends can feast under the sky.
Sliding Canvas Roman Shades
Fabric is attached to a sliding wire to make outdoor sliding canvas Roman shades. These shades cover the top or sides of a pergola or other structures, similar to how Roman shades are used indoors.
You can easily modify where you need sun protection with these sliding canvas Roman shades tied to wires. For leisure and relaxation, add a couple of lounge chairs and enjoy. 
One of the advantages of these sliding canvas Roman shades is that depending on how much you open them. You may cover your patio partially or not at all. Allow these shades to fall over the sides of the structure to cover at least halfway down the sides if you pick this choice. It allows you to adjust them more easily to block the light.
Outdoor rolling sunshades
Hanging rolling shades is a straightforward patio cover concept to implement all by yourself in your backyard. Consider rolling sunshades to be outdoor blinds. They may be mounted to your pergola or other structure to control and regulate maximum protection from the blazing hot sun in the summers.
You can easily install outdoor rolling shades in every corner of the yard where curtains are needed. These outdoor rolling sunshades provide the same privacy and sunshade features and weather protection as curtains or blinds.
Backyard canopy solutions
Backyard canopy ideas involve tough and water-resistant fabric in various colors and designs. The material used for these canopy shades allows water, heat, and light to travel through, creating a comfortable shade that isn't dark.
You may enjoy your brunch, summer parties, or simply relax under a canopy all set up in your yard during the summer. It can block up to 95% of UV rays and prevent fading on your furniture. 
 Backyard canopy ideas work with an improvised aesthetic that can demonstrate a fashionable, stylish, and appealing aspect. You can enjoy your outside spaces anytime you want by beating the heat while setting up this canopy in your yard. 
An overhang may give shade without occupying floor space if you have a seating area next to your house. You need to choose a design that matches the architecture of your house construction and the materials to create an overhang.
You need to bear in mind the dimensions and balance used for rooflines. A new overhang must add more value to your exterior instead of getting stuck on the outside.
Backyard shade solutions are essential throughout a long day under the blazing heat. Even the most dedicated sunbathers know that seeking some shade is fantastic.
At INSONSHADE, we have a firm belief in the idea that fashion and function can coexist. So, we provide you with an excellent range of fabric rolls in various vibrant colors. These fabric rolls are commercial-grade high-density polyethylene, sturdy and long-lasting material with UV-stabilized mesh fabric quality that maintains material strength for years of usage.
Mesh is available in various neutral colors that go with most apartments or different buildings' interiors and natural outside landscaping. It can withstand rain and snow and be left up all year.
So, are you ready to combat this summer heat with these exclusive backyard shade solutions? Moreover, are you inspired to put any of these backyard shade ideas to the test?
We'll be pleased to assist you. More outdoor shade ideas and alternatives are available to aid you in getting hooked up and embracing your outdoor spaces.
What can I put on my patio to provide shade?
There are several backyard shade alternatives available to keep your patio cool. However, your budget and the size of the area to be shaded are the main factors to consider.
Where can we find an outdoor cloth for outdoors that is UV resistant?
We provide you with a wide range of  UV-resistant fabrics made with a sturdy and long-lasting material, with commercial-grade high-density polyethylene. You can contact us to choose from a large selection of UV-resistant fabric.
How do I figure out what size patio umbrella to buy?
Calculate the length of your patio table and add two feet to make the whole table shaded.
What is the best color for a sun shade?
As darker colors absorb more UV rays, they give excellent protection. Dark blue, black, and dark brown are the best colors. The deeper shade, on the other hand, the darker the structure might appear. Lighter colors offer less protection, but they also benefit your design.
What are some low-cost options for a backyard shade?
Keep a lookout for cheap market umbrellas on sale during the summer. Check out gently used umbrellas or pop-up canopies on the different marketplaces and yard sales.
Can you make customized canopies, umbrellas, or sail shades for us if we order in bulk?
Yes, we are always there to make customized shades of any kind if you order in bulk. There is a wide variety of colors in the fabric for shades. Please feel free to contact INSONSHADES to know more about the best options for your backyard shades. You can place your orders for shades in bulk.