Description
Commercial grade fabrics for vineyard netting Perfect for drape nets or other grape vines applications in orchard or garden.Drape Netting keeps birds away from your fruit,it can protecting your crops from hail, birds,bats, sunburn, wind damage & specific insects . In seedless citrus Drape Net stops bee's from pollinating flowers. Drape Net does not require any trellises when you install.The nets are simply draped over the trees and removed for re-use once they have performed their task.and its made from Environmentally friendly materials.It can be easily applied and removed.
Features
 Excellent for protection against damage from hail
Offers shading and UV Protection , reducing your crops be sunburn
Avoid the excessive use of pesticides and create conditions for inorganic fruits
INSONSHADE's drape Netting prevents cross-pollination in seedless citrus varieties,Making Seedless Citrus Possible
protect crops from strong wind and sun damage.
Made from 100% virgin HDPE
 Drape hail Net                         
          YBT60
60g/m2  mesh 3X5mm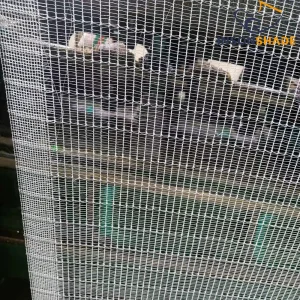 Specification:
| | | | | | | | | | | |
| --- | --- | --- | --- | --- | --- | --- | --- | --- | --- | --- |
| Code | TYPE | Thread size    (mm) | Mesh size (mm) | Weight             (g/m2) | Density | Available color | Seamless Max.                   Width(m) | UV treatment |  warranty | Ideal for |
| YBT60 | Standard | 0.22 | 4.5×1.5 | 60 | 15% | crystal,black ,green | 6m | 650KLY | 5years | Lightweight,non-structured drape hai netting |
 Dape hail net Applications:
With apple and pear growers,protection against hail, sunburn, birds & bats,Avoid unnecessary losses and increase crop yields.
For Seedles citrus growers,use INSONSHADE's drape net will  Prevent seedless citrus varieties from pollinating their pollen.
For cherry&grape farmer,use our drape hail net protecting cherries against birds,increase production.
Drape net for protecting fruit and vegetables against hail, sunburn, birds & bats.
Ideal for covering fruit ,prevents cross-pollination in seedless citrus varieties.they always call bee netting.
They use our Drape Netting for protecting cherries against pests like birds in Australia and Chile
Can be laid directly on the crops or over garden hoops and cages.