Description
85% Shade cloth for plants in your garden or nursery from harmful UV rays with INSONSHADE's knit & woven shade cloths.This 85% garden shade cloth is made specifically for plants and greenhouse. By only blocking out 40% of the UV light, you can protect delicate seedlings, prevent sunscald on vegetable plants, reduce evaporation, and more! Many different shade cloths are sold for garden use, but they block out too much UV light, leaving the plants to struggle and grow slowly. Our custom designed shade cloth garden is made to help urban growers and growers in warm climates thrive.
Shade cloth for plant Feature :
 High strength, durable
85% shade rate,35% energy saving rate when use in greenhouse.
 Restricted UV action.
Reduced crop desiccation.
Improved ventilation.
Reduction in temperature range variations.
Recyclable and environment friendly
Data details:
Material
100% virgin HDPE+UV stabilizer+Black Masterbatch
Width
100~600cm or customized
Length
50m, 100m or customized
MOQ
20ft coantiner
Production cycle
Within 30days after payment done
Shade Rate
85%
Using life
5-8 years, used under normal weather conditions
Color
black, Yellow,Blue/black, green, red, etc
Usage
Horticulture Agriculture public cover for prevent sun shine
Square Gram Weight(g/m2)
110gsm
Square Gram Weight(g/m2)
Shade Rate
Application field
60gsm
60%
Construction sites dust-proof
80gsm
75%
Green house shading not affect photosynthesis
110gsm
80%
Green House Better Shading
175gsm
90%
Edible fungus breeding,  better shading effect
190gsm
95%
Balcony courtyard shading,Fence assist
Recommended For Choice of  shade cloth for garden
| | |
| --- | --- |
| Density | Name of Plants |
| 30% |   Roses, Strawberries, Gooseberries, Tomatoes, Cucumber |
| 40% |   Bedding Plants , Gloxinias, Herbs, Iris , Lilies, Vegetables |
| 50% |   Foliage plants, Cut greens, Orchids, Ginger, Pot plants |
| 60% |   Orchlds ( Oncidiums, Phalaenopsis ) |
| 70% |   Ferns , Orchids ( Cypripediums) , Philodendron |
| 80% |   Indoor plants, Certain Orchids, Plantation crops, Tea, Coffee, Cardamom |
| 90% |   Cattle shed Poultry houses, Construction Scaffolding and vehicular shades |
shade cloth for garden Application: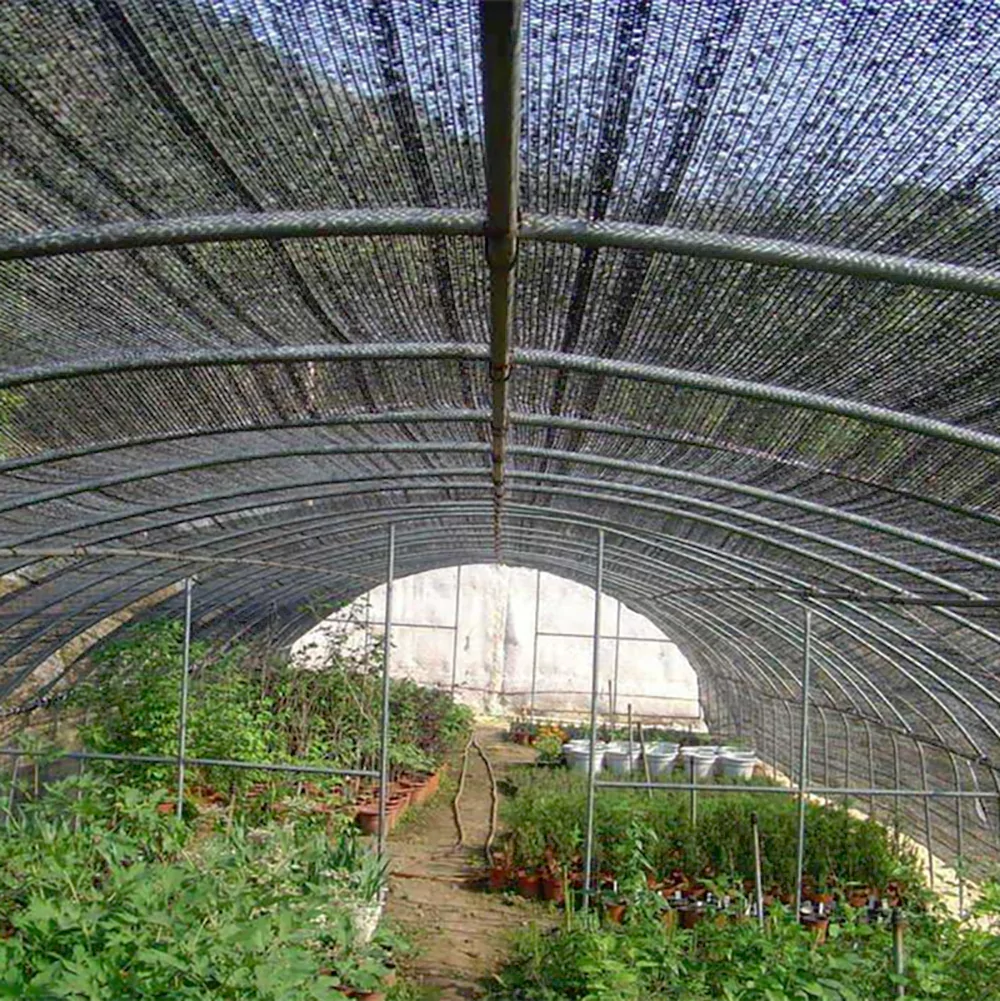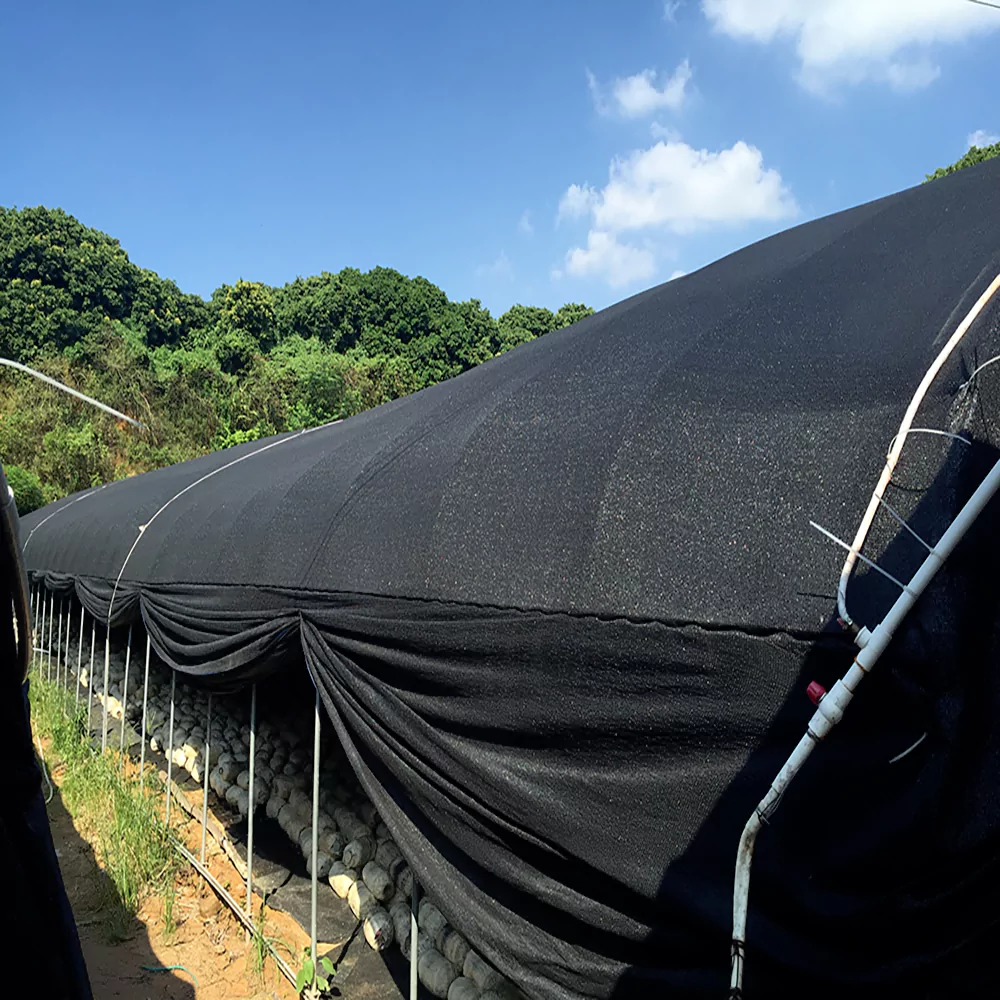 FAQ:
What does the shade rate percentage mean?
The density of the mesh is based on the % of the light it will block. For example, 70% netting will allow 30% of the light through.
How do I install it to a plant house or poly-tunnel?
Simply drape the product over the roof of the area you want to cool down. To hold it in place, you can use cable ties or string to attach the material to permanent fixtures like posts. There are eyelets around the edges of the cloth if you want we'll install eyelets for passing the accessories through. You can also request custom colors and sizes
Can water get through the horticultural shade netting?
Yes.  Th Yes. Shade netting material is permeable, allowing sprinkler rain to pass through to retain crop moisture.
Can the cloth double up as insect mesh too?
Yes. Even if this isn't the main purpose of the product, the holes are small enough to keep insects out of your plants. However, if you have a serious insect problem, we recommend that you use a dedicated insect net.
Can you lay this shade cloth for plants directly onto crops?
Yes. The agricultural shade nets is light enough to be placed directly on stronger crops. However, we still recommend using multi-channels or supports to lay the grid on top of the plants. By placing it directly on top, you risk being blown away by the wind and squashing smaller plants.
How do I put it up inside a greenhouse?
This product best shade cloth for garden. Simply place the mesh on the nursery roof. You can use cable ties, or other tools to secure it.
How do I fix a hole in the product?
For a quick and easy solution, you can use cable ties. For a stronger structure, we recommend products with sewn borders.
Packaging:
Always  3x50m/roll.3x100m/roll or customized