Originally, greenhouses were built for large-scale farming, also known as commercial greenhouses. However, their high expenses and lack of convenience pushed many home gardeners and small-scale farmers to look for more economical, practical planting solutions, paving the way for the now-trendy portable greenhouse.
Portable greenhouses are smaller and more flexible than their large commercial counterparts. They are usually made from durable PE (Polyethylene) plastic, with a small portion made of glass and PC (Polycarbonate), featuring windproof, rainproof, and UV protective covers. Inside, they are equipped with shelves or other planting facilities suitable for various plants. Their size and shape are flexible, easy to install indoors or outdoors, and they are relatively cheaper. Therefore, they are welcomed by families, gardeners, and individual planters.
However, with numerous brands and products on the market, how to choose the most suitable one? As a research factory for large-scale greenhouse cover materials, we have a deep understanding of the greenhouse system. Therefore, we'd like to share some of the best portable greenhouse brands and products to help you make more informed decisions.
Choosing The Best Greenhouse Brands: 3 Main Criteria
Selecting the best portable greenhouse brands isn't just about looking at sales figures. After digging into the portable greenhouse sales data from June 2023, we've shortlisted the most liked and positively reviewed products based on key factors. From these standout products, we then gathered their corresponding brands.
Here's what we focused on:
Sales Volume: Sales can readily show how well a greenhouse product is received in the market. A product with high sales often suggests that it's both functional and of good quality, winning consumer approval.
Review Score and Content: We regard the review score as a vital yardstick for product quality. Though scores on Amazon and eBay may be skewed occasionally, generally, a high score mirrors the level of customer satisfaction with the product and brand service.
Number of Reviews: The count of reviews can reveal a product's influence. When high sales are coupled with numerous user reviews, it typically signals that the product has gained the public's trust. Plus, a product with loads of reviews makes the score more meaningful.
These criteria are our foundation for sifting through many portable greenhouse brands. Using these benchmarks, we hand-picked out the below brands.
Top 6 Best Portable Greenhouse Brands – Hand-picked in 2023
Everyone's definition of "the best" might vary based on their individual needs and preferences. Some might need a budget-friendly, small greenhouse, while others could be looking for a larger walk-in model. Hence, the brands and products we've lined up each boast their unique strengths and characteristics.
Portable Greenhouse Brand Comparison Table
Here is a comparison table of the parameters to help you find your best portable greenhouse.
| | | | |
| --- | --- | --- | --- |
| Brand | Price Range (USD) | Average Rating (Out of 5) | Types of Greenhouse Products |
| Ohuhu | $23.99 – $108.99 | 4.45 | Mini, Walk-in |
| EAGLE PEAK | $45.99 – $139.99 | 4.35 | Lean-to, Walk-in |
| Worth Garden | $29.99 – $67.99 | 4.32 | Mini |
| VIVOSUN | $39.99 – $119.99 | 4.02 | Mini, Lean-to, Walk-in |
| Quictent | $39.97 – $299.99 | 4.00 | Mini, Walk-in |
| Mcombo | $86.19 – $689.90 | 4.00 | Cold-frame, Wooden, PC |
1. Ohuhu
Ohuhu is a store that sells many things. They have warehouses in the US and Europe and a shop on Amazon. They offer more than 10 kinds of Portable Greenhouses, with sizes from small (2.5×1.6×5.2 feet) to large walk-in ones (4.8×4.8×6.3 feet). Prices go from $23.99 to $108.99, giving you many choices.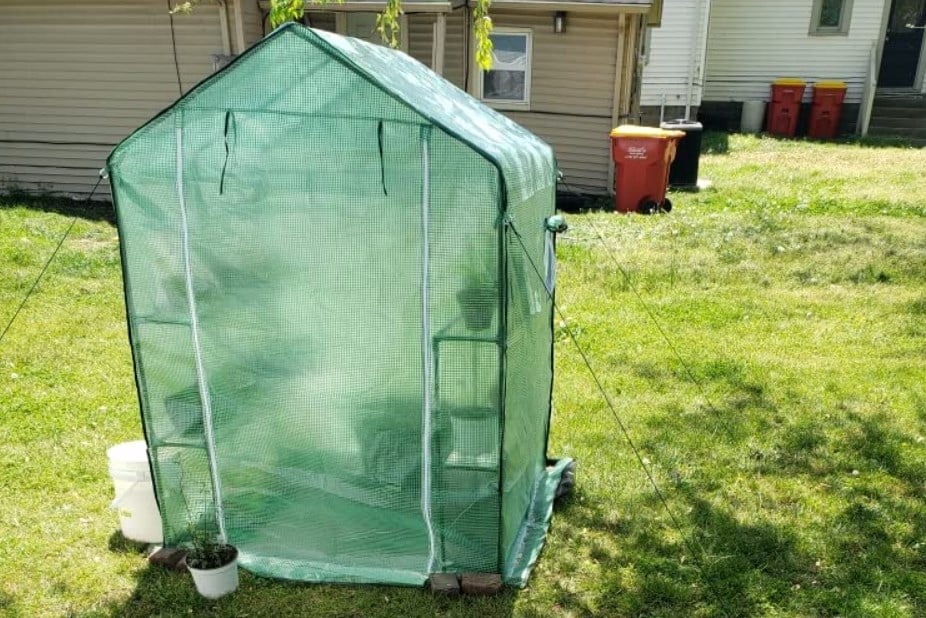 Their 3 Tiers 12 Shelves Stands 4.8×4.8×6.3 FT Plastic Portable Green House is very popular. It has over 3291 reviews on Amazon and a high rating of 4.3 stars, costing $99.99.
2. EAGLE PEAK
EAGLE PEAK is a brand that makes tents and gazebos. They make portable and Walk-in PE greenhouses in sizes from 39" x 32" x 59" to 13'x7′, priced from $45.99 to $139.99. They also make larger garden greenhouses using more durable PC and aluminum materials.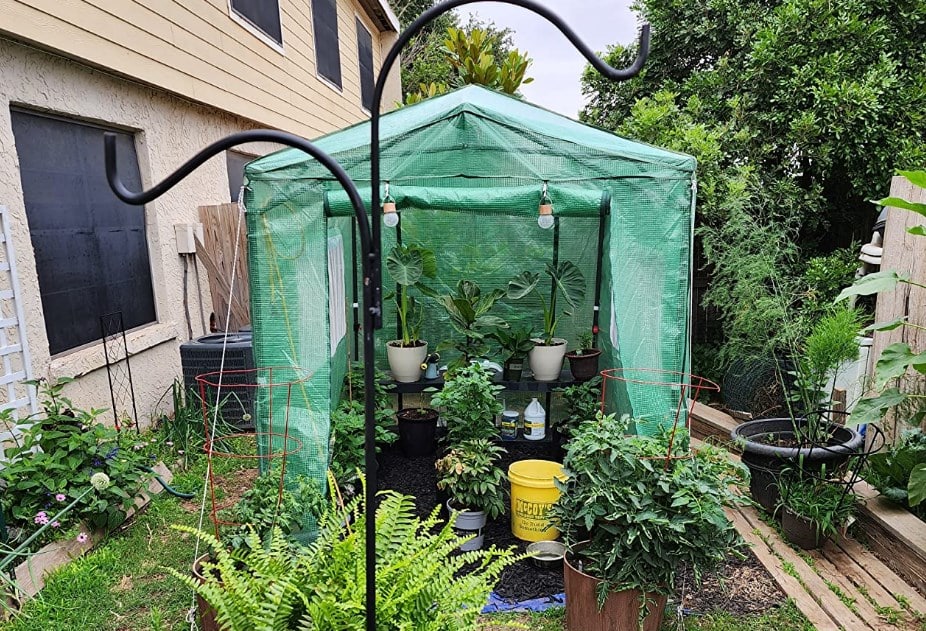 Their best-seller is an 8ft x 6ft garden greenhouse for indoor and outdoor use. It has a strong steel frame, a PE cover, a large zipped front door, and windows on both sides for good airflow. It has over 4K reviews and a 4.4-star rating.
3. Worth Garden
Worth Garden is a Chinese brand from 1993 that sells gardening items globally. They focus on Mini portable greenhouses and offer more than 10 kinds. Their products on Amazon get high ratings around 4.5 stars.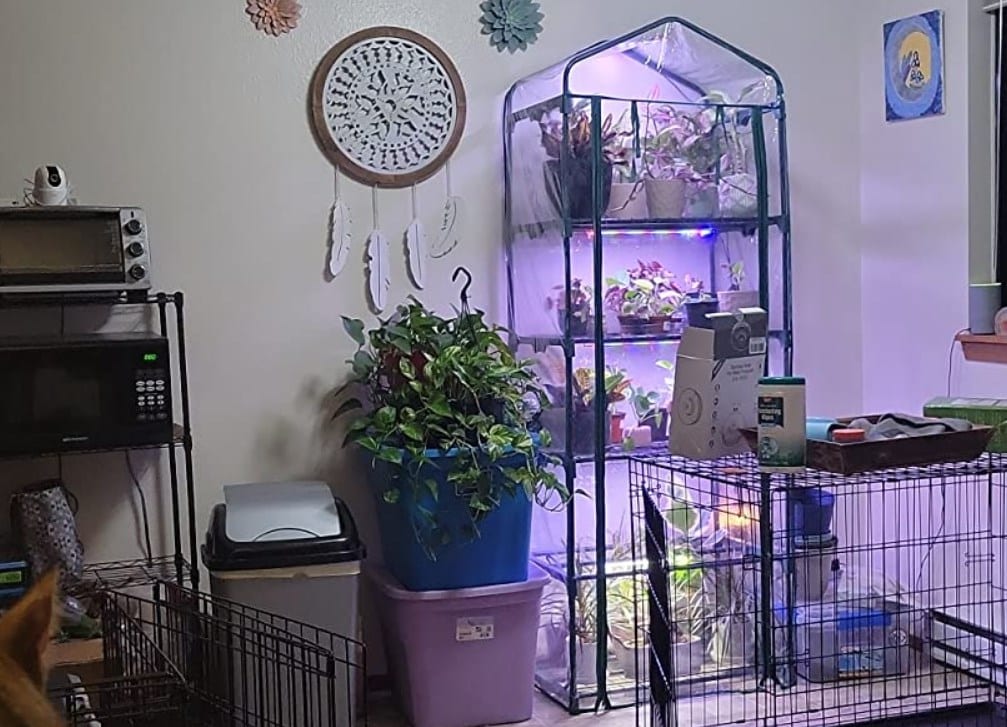 Their popular Mini Greenhouse measures 75" H x 27" L x 19" W and comes with PE or PVC covers that are water and UV-resistant. It has 5 shelf spaces to hold more plants.
4. VIVOSUN
VIVOSUN is a US brand that focuses on smart hydroponics. They sell Grow Tents and Grow Systems, providing great solutions for indoor planting and hydroponics lovers. They also offer more than 10 types of portable greenhouses, including popular Mini, Lean-To, and Walk-in styles.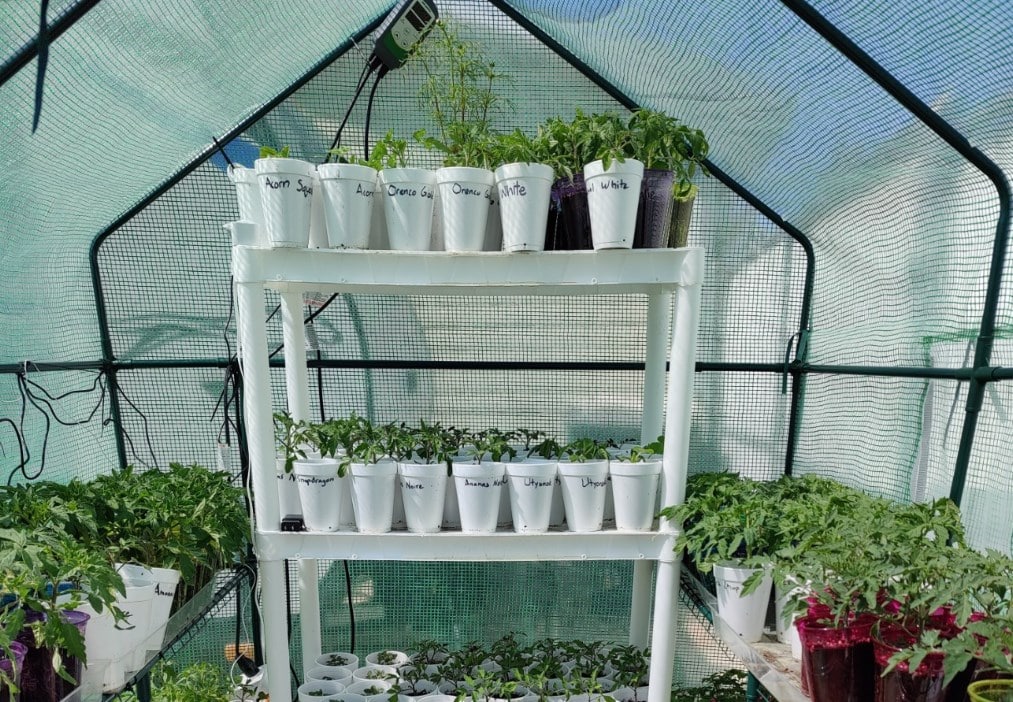 Their covers are made of economical PE that keeps heat, blocks wind and rain, resists UV, and lets light through. Their best-selling greenhouse is a 57x57x77-inch one with windows on both sides. It has strong shelves, a 3-tier rack, and a zippered roll-up door.
5. Quictent
Quictent is a brand that focuses on outdoor gear and gardening tools. They sell products like pop-up tents, party tents, portable garages, sun shades, greenhouses, grow tents, and patio umbrellas. They offer PE greenhouses in many sizes and prices from $40 to $360.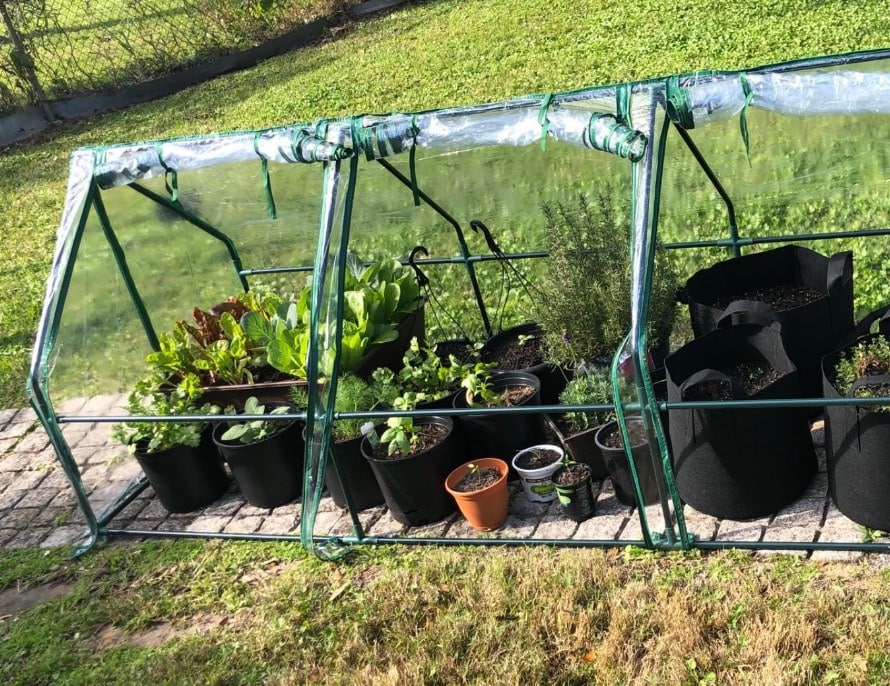 They recommend their Mini Greenhouse which measures 95″ x 36″ x 36″ and costs $53.98. It's long and suitable for growing seedlings and small plants indoors or outdoors. It has a side zipper door for easy access and good ventilation.
6. MCombo
MCombo, set up in 2011, sells home and garden products in the US and Europe. Unlike the other greenhouse brands mentioned, MCombo's Portable Greenhouses have wooden frames and mostly use more durable PC fabric for the cover. They offer about 10 types of cold-frame greenhouses, with prices from tens to hundreds of dollars.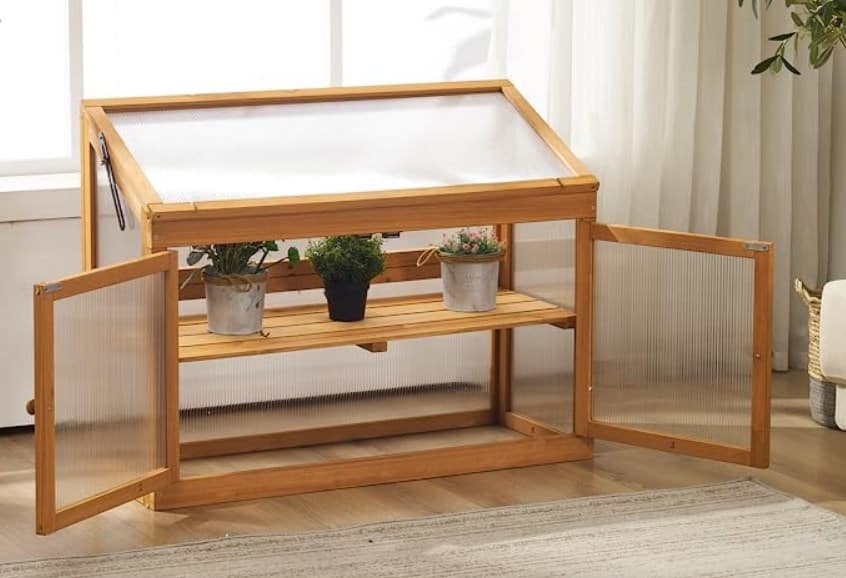 One of their well-selling models is a country-style double-layer pure cedar garden greenhouse. It has adjustable height shelves and a top that can be opened, fixed with bolts, and adjusted according to the weather.
FAQs:
1. What materials are portable greenhouses made from?
Portable greenhouses consist of two key components: the cover and the structure. The material we typically refer to in this context is the cover, as it significantly influences the internal temperature, light penetration, and durability of the greenhouse.
The most common materials for the cover in portable greenhouses are PE (Polyethylene), PC (Polycarbonate), or Glass. Given that portable greenhouses are typically used in a home setting, they need to be lightweight, easy to move, and affordable. Therefore, PE is often used due to its cost-effectiveness and its ability to retain heat and resist UV rays. However, if longevity is a concern, PC might be a better choice. PC is more robust than glass, less likely to shatter, and can withstand extreme weather conditions, like hailstorms and heavy rain.
As for the structure, it depends on the cover material. If the cover is made of PC, Polypropylene, or PVC, the structure is likely to be steel. In contrast, if the cover is PE or Glass, the structure might be composed of wood or aluminum.
2. What are the different types of portable greenhouses?
Greenhouses can be categorized in numerous ways, such as by their size, material, or purpose. When it comes to portable greenhouses, PE materials tend to be a popular option for home gardening. Thus, Portable greenhouses are often classified based on their size, with common types being Mini and Walk-in Greenhouses. There are also various styles, including Lean-to, Tunnel, Low Tunnel, and Tent Style Greenhouses.
3. How much should I expect to spend on a portable greenhouse?
The cost of a portable greenhouse varies, mostly depending on its size and the materials used. Generally, PE greenhouses, which are quite popular, range from $50 to $150, depending on size. You could find Mini greenhouses, which require fewer materials, for as low as $30, while larger Walk-in ones might reach a few hundred dollars.
More durable greenhouses, such as those made of PC or Glass materials with wooden or aluminum frames, usually come at a higher price. Additionally, any extra features, like added shelving or anchoring equipment, could also increase the cost.
Conclusion
To sum it up, portable greenhouses provide an affordable and convenient solution for home gardeners and individual plant enthusiasts. With a wide variety of options available on the market, from sturdy plastic mini greenhouses to larger ones with wooden frames, you're bound to find one that suits your needs.
When making your selection, consider your budget, available space, and specific gardening requirements. Remember, the "best" choice is highly subjective and entirely depends on your individual needs and preferences.