An advanced commercial greenhouse is a complex Architecture system equipped with a lot of subsystems, including the greenhouse structure, covering material, curtain system, heating system, irrigation system, and so on.
When you want to build a large-scale greenhouse operation catering to agriculture, horticulture, education, or contemporary exhibition spaces, securing a trustworthy commercial greenhouse supplier is imperative. This partner should be capable of providing comprehensive services, ranging from the initial design phase of the greenhouse structure to the complete installation of the greenhouse system.
In this article, we are thrilled to introduce a meticulously curated list of the top 16 greenhouse suppliers to help you discover the ideal collaborator to fulfill all your requirements for greenhouse farming and construction.
Don't Miss: Top 6 Best Portable Greenhouse Brands
Part 1. Top Commercial Greenhouse Suppliers List
We've created this table to help you quickly identify top greenhouse manufacturers from various countries. Each company has its unique products and services. Use this list as a reference when making your decision on the right supplier.
| | | | |
| --- | --- | --- | --- |
| Manufacturers | Country | Since | Products & Services |
| GGS Structures | Canada | 1979 | Commercial greenhouse design, installation, and manufacturing; greenhouse structures (high tunnels, curved glass, polymer-covered drainage ditch connections, Venlo structures, etc.); greenhouse components (ventilation systems, heating systems, etc.) |
| Growspan | USA | 1979 | Customized greenhouse construction; commercial greenhouse series (Series 2000 Gothic Polycarb, Series 1000 Round Polycarb/Film, etc.); greenhouse covering options; ventilation options |
| Greenhouse Megastore | USA | 1993 | Commercial greenhouse construction; greenhouse structures; garden supplies; plant pots; hydroponics supplies; grow lights |
| Atlas Greenhouse | USA | 1986 | Greenhouses for commercial, educational, and residential purposes; greenhouse-related accessories and systems |
| Agrosee Greenhouse Technology | Australia | 2006 | Greenhouse design and installation; installation and maintenance services |
| Apex Greenhouses | Australia | 1970s | Customized commercial greenhouses; greenhouse designs and manufacturing |
| The Glasshouse Company | Australia | 1986 | Greenhouses, horticultural structures, and equipment; residential and commercial greenhouses |
| INSONGREEN | China | 2017 | Custom manufacturing of commercial greenhouses; greenhouse structures; control systems; greenhouse accessories and systems |
| Elite Agro Projects | UAE | 2018 | Commercial greenhouse manufacturing; greenhouse designs with cooling pads, fan systems, and rooftop ventilation |
| Dyna Trade | South Africa | 1999 | Commercial greenhouses; greenhouse tunnels; climate control equipment; horticultural and intensive cultivation solutions |
| Vegtech | South Africa | 1993 | Tailored protected cropping solutions; greenhouse structures; growing mediums; greenhouse lighting systems |
| Artigianfer Greenhouse & Technology | Europe | 1966 | Design and manufacturing of professional greenhouses; greenhouse types (glass greenhouses, PVC greenhouses, etc.) |
| RICHEL GROUP | France | 1964 | Design, manufacture, sales, and installation of greenhouses; multi-span greenhouses; greenhouse systems |
| Agra Tech, Inc | USA | 1973 | Commercial greenhouse manufacturing; greenhouse structures; energy conservation equipment; advanced irrigation systems |
| Rough Brothers, Inc. (Prospiant) | USA | 1932 | Design, engineering, manufacturing, and construction of greenhouses and related systems |
| Certhon | Netherlands | 1896 | Advanced greenhouse solutions; indoor agricultural equipment; robotic harvesting systems |
| Stuppy Greenhouse | USA | 1873 | Commercial and educational greenhouses; advanced hydroponic setups |
Part 2. 16 Best Commercial Greenhouse Manufacturers
When embarking on an industrial greenhouse project, selecting the right manufacturer and supplier is crucial. Yet, the "best" choice varies based on diverse criteria tailored to individual needs and preferences. There are multiple factors to consider when choosing a greenhouse supplier, and what's paramount for one buyer might differ for another.
Thus, it's essential to stress that the order in which the following manufacturers and suppliers are presented doesn't indicate a ranking. Each has its unique strengths and specialties, catering to different customer requirements. Here are some of the top commercial greenhouse manufacturers and suppliers to consider for your next project.
1. GGS Structures (Canada)
Since 1979, GGS Structures Inc. has established its globally recognized commercial greenhouse design, installation, and manufacturing base in Vineland Station, Ontario.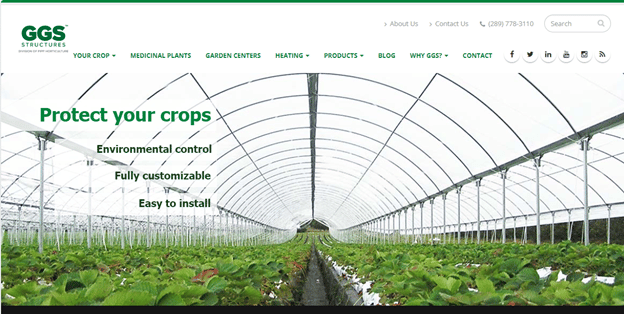 To cater to the diverse needs of various commercial growers, they have introduced a wide range of greenhouse structures, including high tunnels, curved glass, polymer-covered drainage ditch connections, Venlo structures, freestanding, and A-Frame structures, among others.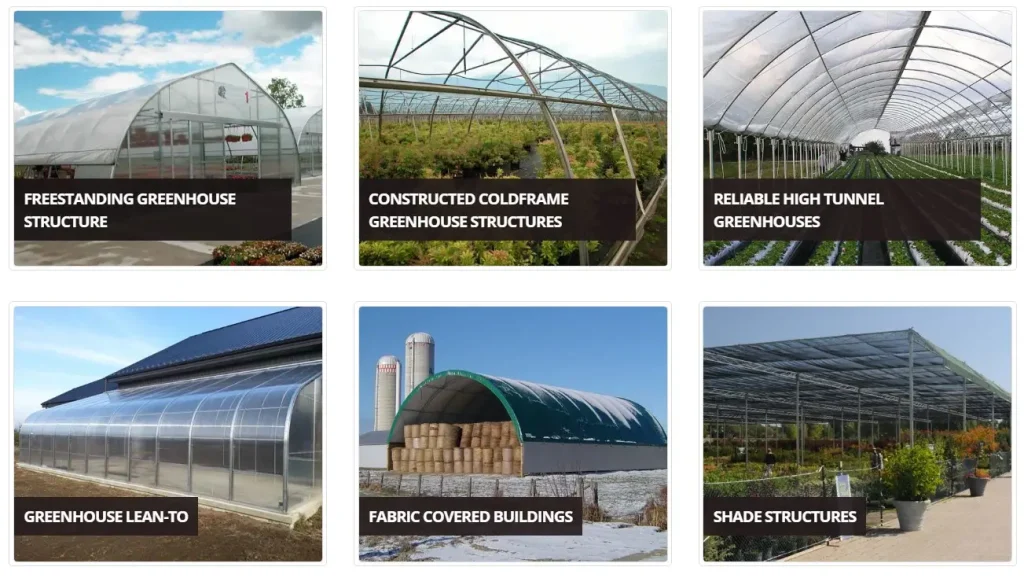 In terms of manufacturing quality, GGS utilizes top-notch building materials and advanced equipment, such as hydraulic saws and CNC rolling machines. All of their welders hold A660 certification, ensuring the production of highly durable and robust commercial greenhouses.
Furthermore, GGS Structures Inc. also supplies related greenhouse components like ventilation systems, heating systems, curtain systems, fans, and dehumidifiers, helping to create and maintain the perfect cultivation environment.
2. Growspan (USA)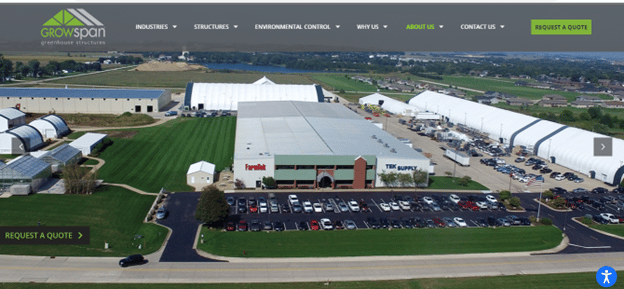 Established in the U.S. in 1979,  Growspan quickly grew to become one of the leading commercial greenhouse solution providers in North America. Catering to commercial growers of various scales and needs, the company offers customized greenhouse construction services and has introduced a variety of commercial greenhouse series, such as:
the Series 2000 Gothic Polycarb, 
Series 1000 Round Polycarb/Film, 
Series 500 Tall Greenhouses,
along with several Venlo greenhouse designs, including traditional, Cabrio, and Widespan Venlo greenhouses.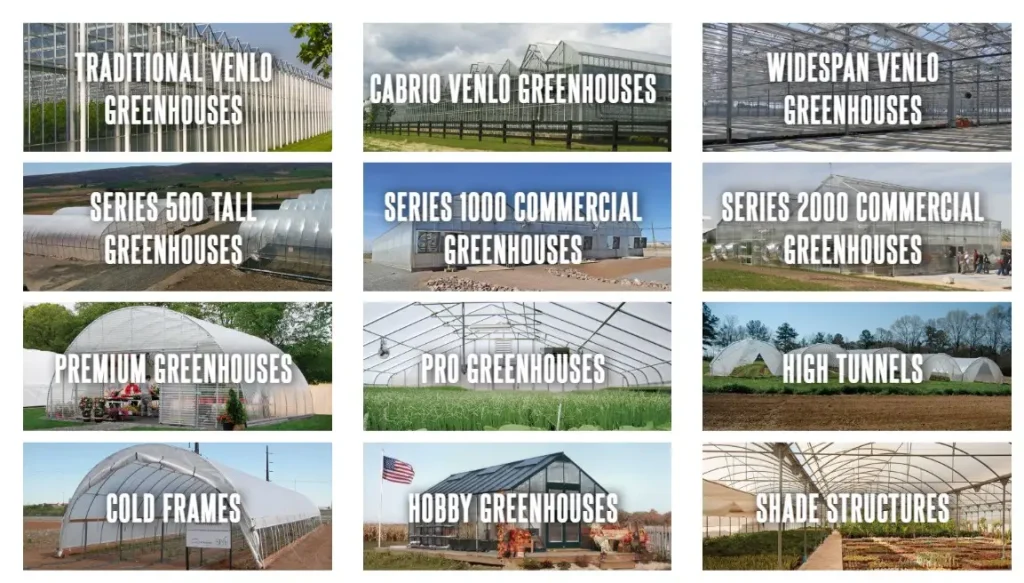 GrowSpan's commercial greenhouses are renowned for their exceptional design and sturdy construction, offering a range of covering options like polycarbonate and film. Their Venlo-style design enables growers to cultivate on a large scale. These greenhouses are characterized by high energy efficiency, cost-effectiveness, a controllable environment, and diverse ventilation options, including both passive and active ventilation.
If you're searching for a reliable greenhouse supplier in the U.S., GrowSpan is undoubtedly a consideration worth making.
3. Greenhouse Megastore (USA)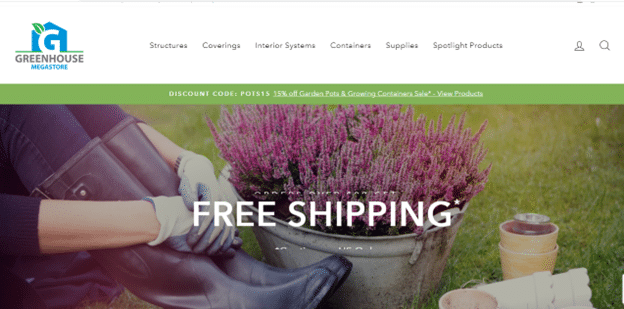 Greenhouse Megastore, formerly known as the International Greenhouse Company, has been engaged in the commercial greenhouse construction industry since 1993, boasting over 30 years of expertise. In 2001, they launched their online store, allowing greenhouse enthusiasts to explore and purchase not only greenhouse structures but also a range of accessories such as garden supplies, plant pots, polycarbonate panels, other plastic boards, shade cloths, weed barriers, hydroponics supplies, grow lights, and more.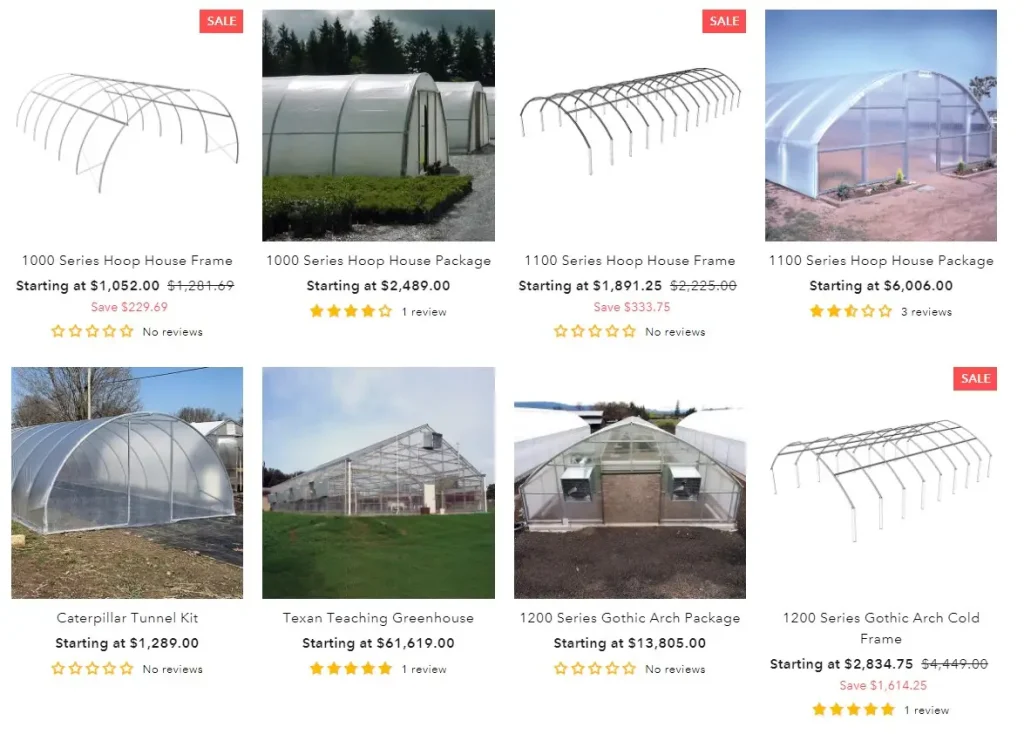 With two facilities located in Danville, Illinois, and Sacramento, California, Greenhouse Megastore specializes in the production of greenhouse structures and has established itself as a primary supplier for both hobbyist and commercial greenhouse structures, as well as greenhouse and gardening supplies.
Their offerings include freestanding structures, lean-to greenhouses, straight-eave greenhouses, and various other structures.
In December 2021, the tech-enabled distributor, BFG Supply, acquired Greenhouse Megastore. This acquisition significantly expanded BFG's greenhouse capabilities and product range, further enhancing their service level to the horticultural market clientele.
4. Atlas Greenhouse (USA)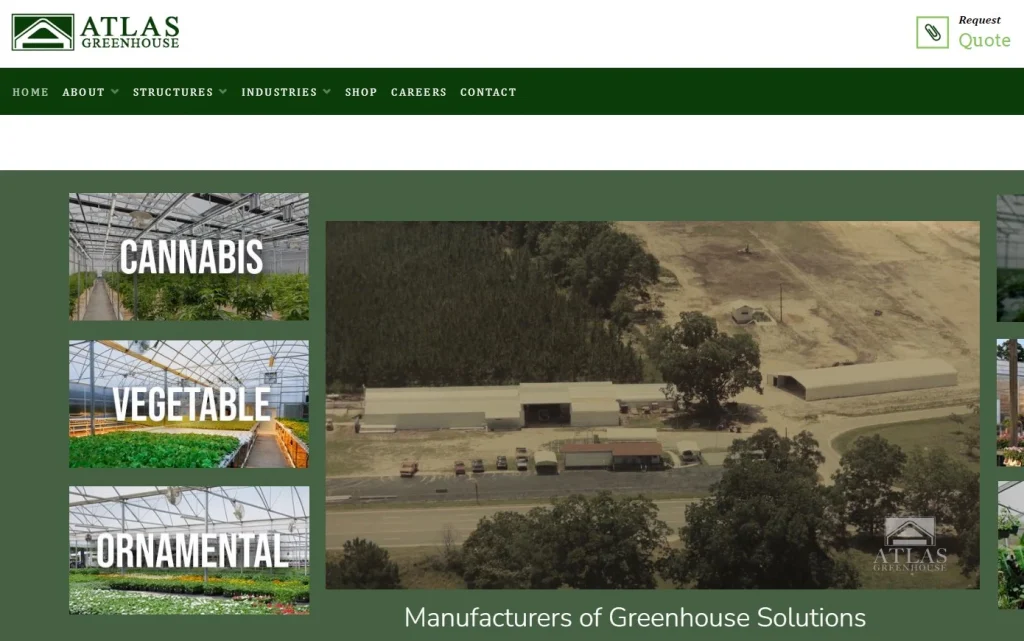 Established in 1986 and officially registered in 1988, Atlas Greenhouse (Atlas Manufacturing, Inc.) is a prominent commercial greenhouse manufacturer based in Alapaha, Georgia. They offer a comprehensive range of solutions, including greenhouses designed for commercial, educational, and residential purposes, as well as an assortment of greenhouse-related accessories and systems.
To cater to the diverse requirements of various sectors, ATLAS has segmented its product line into the following categories:
Commercial Ornamental Plant Greenhouses: Tailored specifically for the cultivation of ornamental plants in a commercial setting.
Vegetable Production Greenhouses: Crafted to meet the specialized needs of vegetable growers.
Educational and Research Greenhouses: Designed to support academic institutions and research facilities in their respective projects.
Residential Greenhouses: Solutions perfect for home gardening enthusiasts.
Furthermore, ATLAS offers a plethora of greenhouse structures. Their selection ranges from free-standing to gutter-connected greenhouses, cold frames/high tunnels, and shade structures. Within the gutter-connected series, they showcase various models, including the Grand Peak, Pro-Com Gutter Connect, Super Arch Gutter Connect, Snow Arch Gutter Connect, and Tropical Gutter Connect.
Complementing their structural offerings, they also supply commercial growers with essential equipment and accessories. This includes bench systems, temperature control devices, and lighting control systems, ensuring an optimal environment for plant growth.
5. Agrosee Greenhouse Technology (Australia)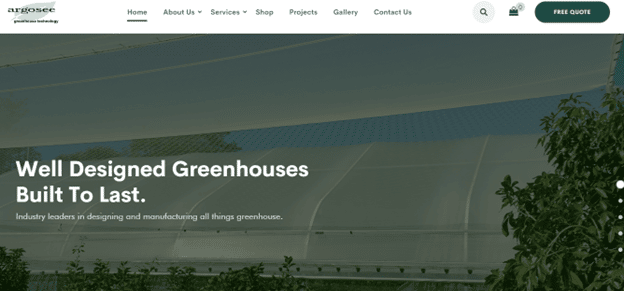 Argosee Greenhouse Technology, headquartered in the Perth Hills of Australia, stands as a leading figure in greenhouse design and installation. Established in 2006, the foundation of Argosee was a result of the collaborative expertise of Andrew Sadler and Colin Rea, who together brought over 35 years of industry experience to the table.
Their legacy is evident in the multitude of successfully completed projects scattered across Australia, ranging from intimate backyard gardens and tranquil island retreats to cutting-edge university research facilities.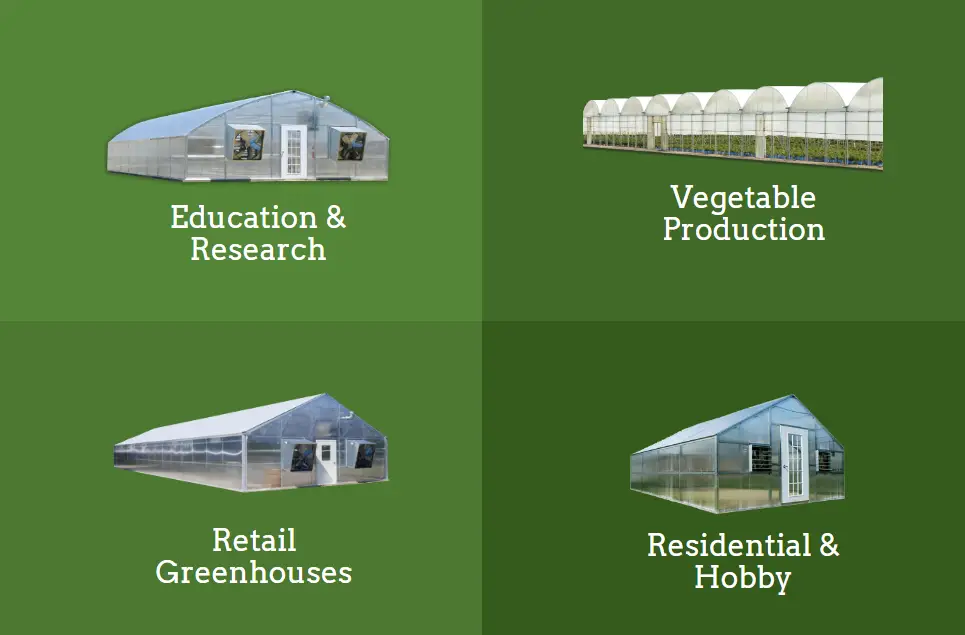 But Argosee's prowess extends beyond merely designing and constructing greenhouses. Similar to other greenhouse manufacturers, they also offer a comprehensive suite of installation and maintenance services. Whether your Shadehouse or Hothouse cover appears a tad worn out or bears the brunt of time, the dedicated Argosee team is equipped to restore your structures with top-notch materials.
Moreover, in the unfortunate event of storm-inflicted damages or if your facility simply calls for routine upkeep, Argosee is readily available to provide the necessary assistance and expertise.
6. Apex Greenhouses (Australia)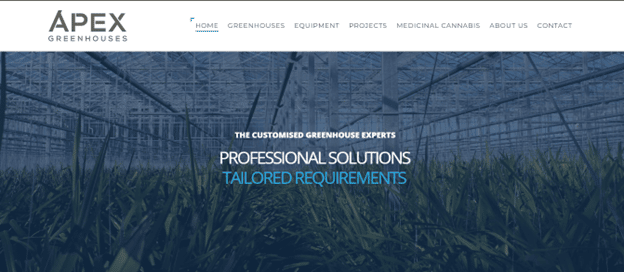 Apex Greenhouse, formerly known as Faber Glasshouses, stands as one of the leading providers of customized commercial greenhouses in Australia and New Zealand. Founded in New Zealand in the late 1970s by Dutch immigrant Leo Faber, the company has its headquarters in Auckland and has served growers in New Zealand, Australia, and the Pacific Islands for over four decades.
In 2023, Apex Greenhouses sold a minority stake of the company to the Dutch greenhouse construction firm, GreenV BV.
Apex Greenhouses offers a diverse range of greenhouse designs and manufacturing, utilizing various materials and styles to cater to the distinct needs of their clientele. Their most significant project to date is a 130,000-square-meter greenhouse located in Victoria.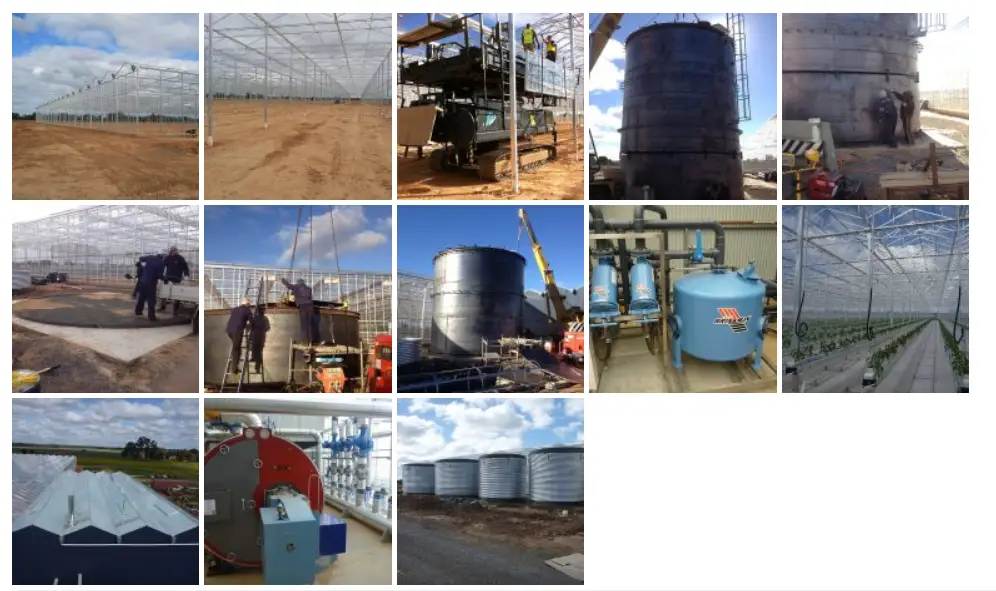 Along with the core infrastructure, they supply a comprehensive range of control systems and standard accessories essential for commercial greenhouses, encompassing heating, irrigation, computer systems, and greenhouse mechanical tools.
7. The Glasshouse Company (Australia)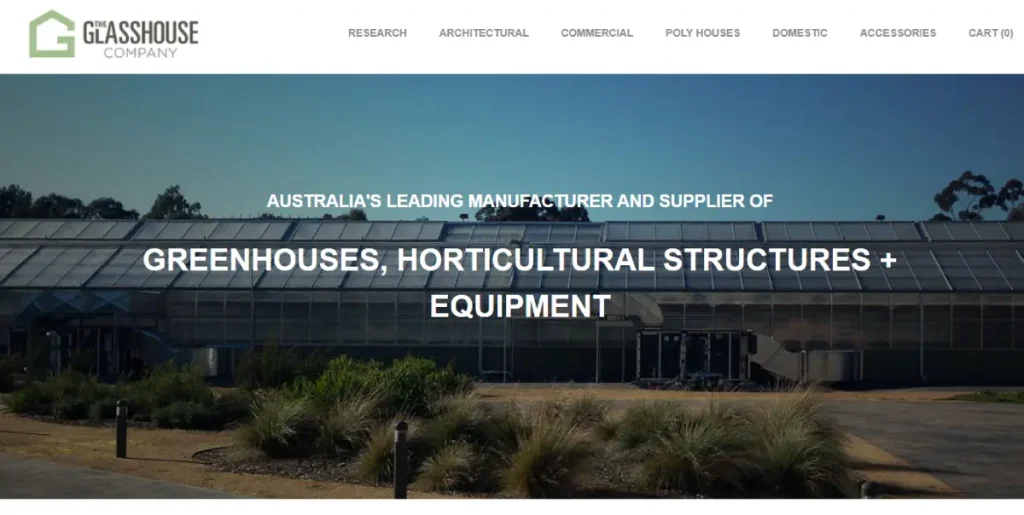 The Glasshouse Company, established in 1986, stands as Australia's foremost manufacturer and supplier of greenhouses, horticultural structures, and equipment. Boasting the broadest range of both residential and commercial greenhouses available in Australia and beyond, their extensive product line encompasses a myriad of greenhouse types and equipment. This includes the likes of Elite Glasshouses, research and quarantine facilities, multispan greenhouses, polymer houses, and bespoke architectural structures.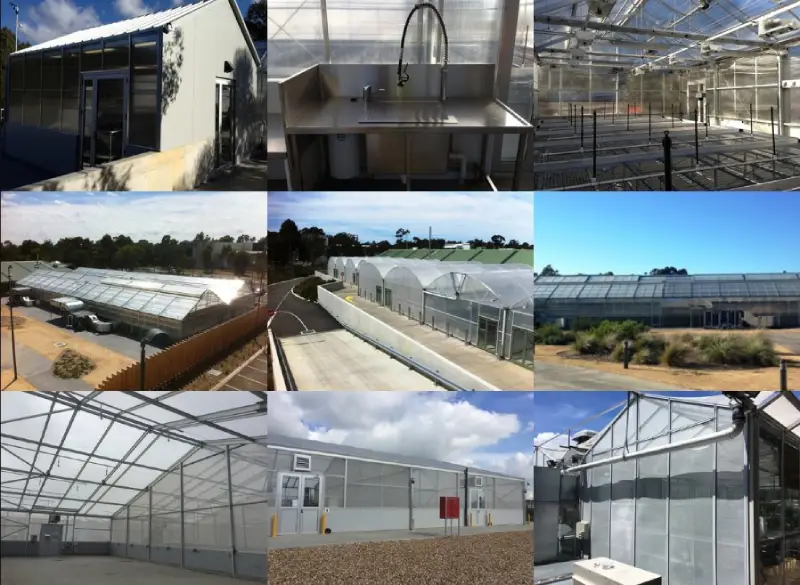 Designed to cater to commercial growers, their offerings also adeptly meet the needs of home gardening enthusiasts. Since its inception, the company has earned a reputation as one of the largest and most innovative producers of governmental research complexes.
8. INSONGREEN (China)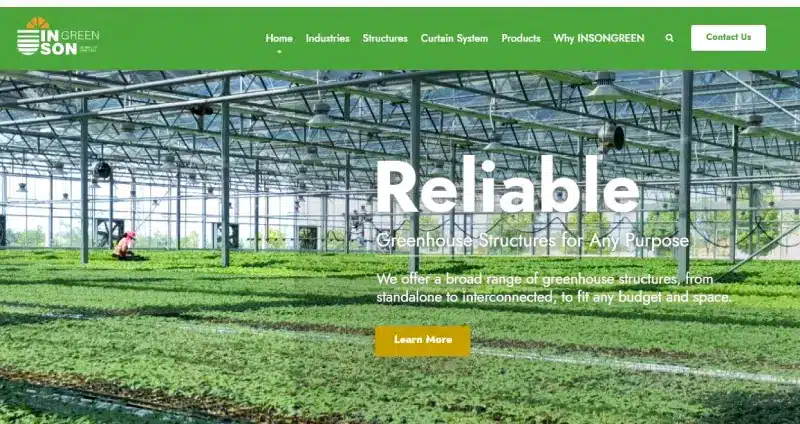 INSONGREEN, strategically located in the southwest of China, is a company dedicated to the custom manufacturing of large-scale commercial greenhouses. This prime location grants them a distinct advantage in providing clients with cost-effective solutions.
Established in 2017, the company offers tailored greenhouse structures with various roof styles, sizes, and coverings. They also equip these greenhouses with an array of control systems to cater to diverse needs, spanning from horticulture, vegetable, fruit, and medicinal herb cultivation to educational and exhibition purposes.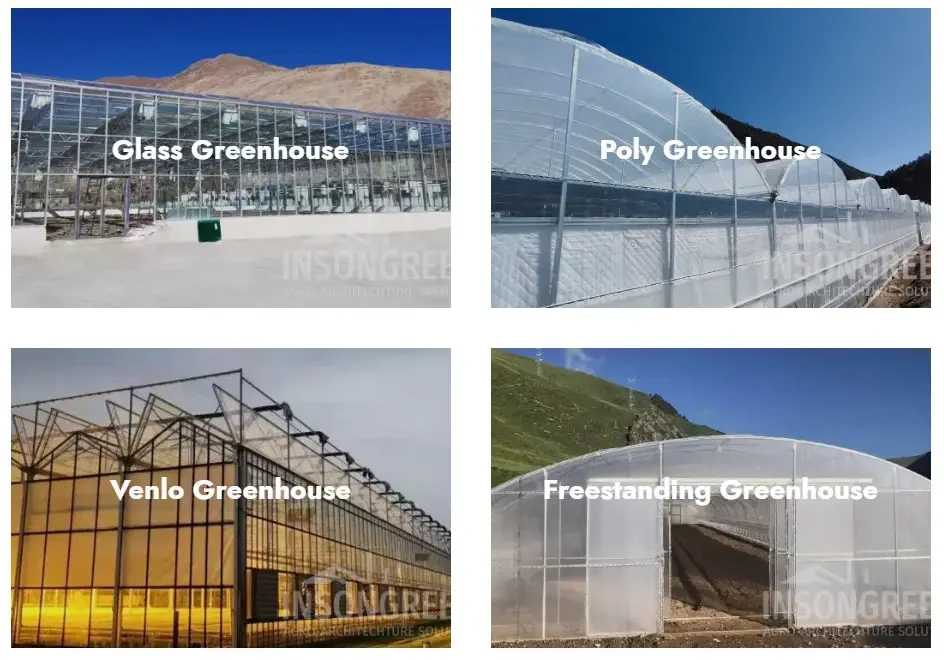 Beyond greenhouse manufacturing, INSONGREEN provides global installation guidance to ensure timely and efficient setup.
Their product range encompasses a multitude of greenhouse accessories and systems, including Curtain Systems, ventilation systems, irrigation systems, benches, dual-track carts, insect nets, and other essential greenhouse components. When compared to the relatively higher construction costs in Europe and America, INSONGREEN offers a more competitive price-to-performance ratio.
9. Elite Agro Projects (UAE)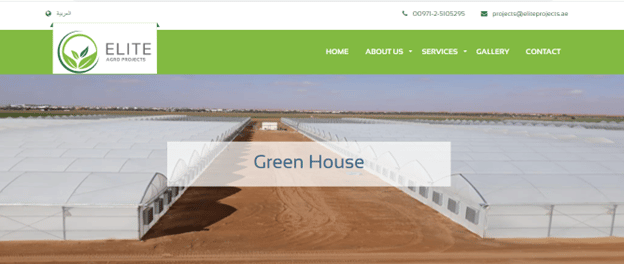 Elite Agro Projects, established in 2018, is a premier commercial greenhouse manufacturer located in the UAE, dedicated to delivering state-of-the-art, bespoke greenhouse solutions to its clientele. Their greenhouse designs are characterized by their adaptability to meet specific client needs, offering comprehensive turnkey solutions for vegetable and fruit cultivation. This includes innovative features such as cooling pads, fan systems, and rooftop ventilation.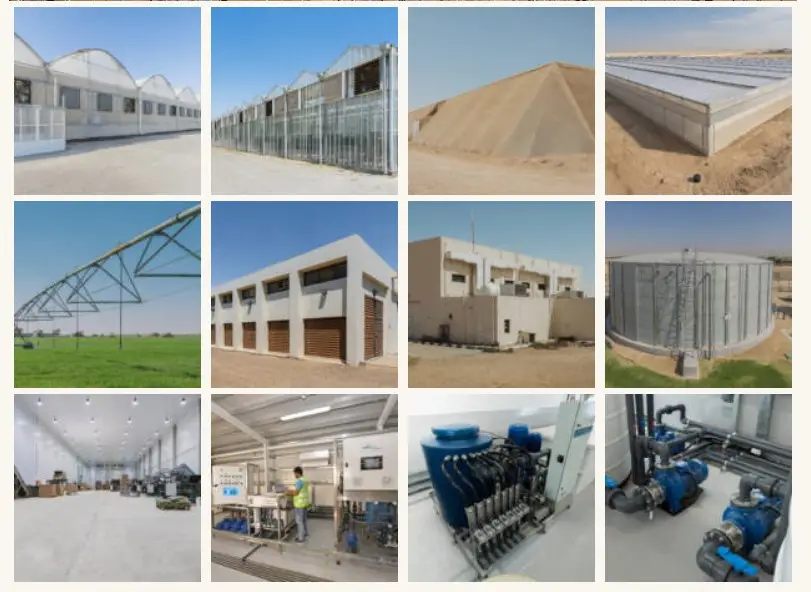 The company is notably esteemed for its prowess in designing and constructing greenhouses equipped with fan and pad cooling systems, rooftop ventilation, thermal screens, and misting systems. These systems have been tested and proven to excel under local conditions, establishing Elite Agro Projects as an unrivaled entity throughout the Gulf Cooperation Council (GCC) region.
Serving as the construction arm of Elite Agro Holding, one of the UAE's foremost agricultural giants with a global footprint, Elite Agro Projects echoes the parent company's international presence in ten countries, underscoring its global influence in the realm of agriculture.
10. Dyna Trade (South Africa)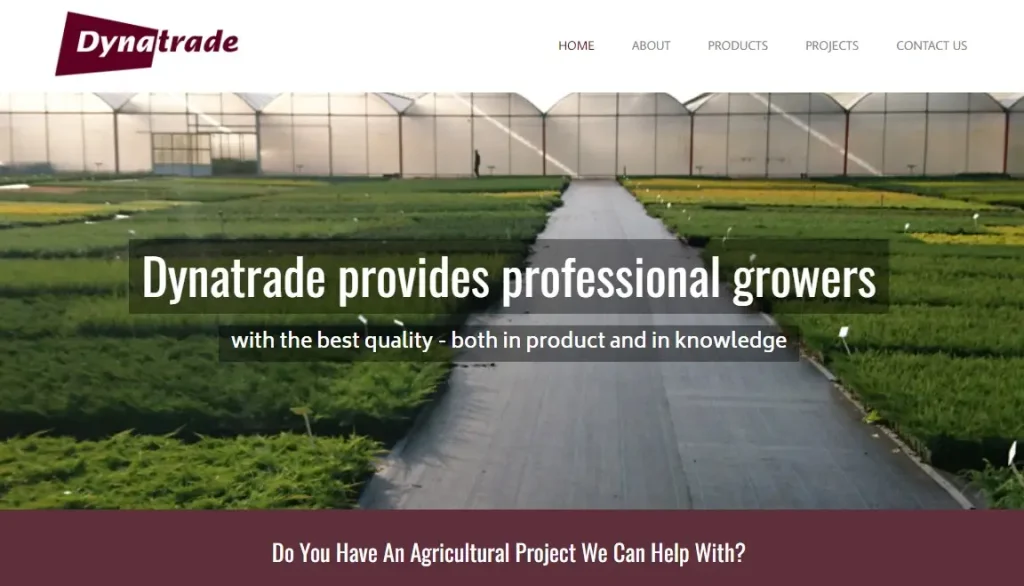 Dyna Trade, based in South Africa, has been a steadfast supplier of greenhouses since its inception in 1999. Catering to the professional horticultural industry, the company offers commercial greenhouses, greenhouse tunnels, climate control equipment, and a myriad of other products tailored for the intensive cultivation of flowers, bedding plants, and vegetables. In the realm of commercial greenhouse production, Dyna Trade presents a holistic solution encompassing not just greenhouses, but also screens, climate control, drip irrigation, fertilizers, Danish trolleys, misting equipment, and Grodan rock wool.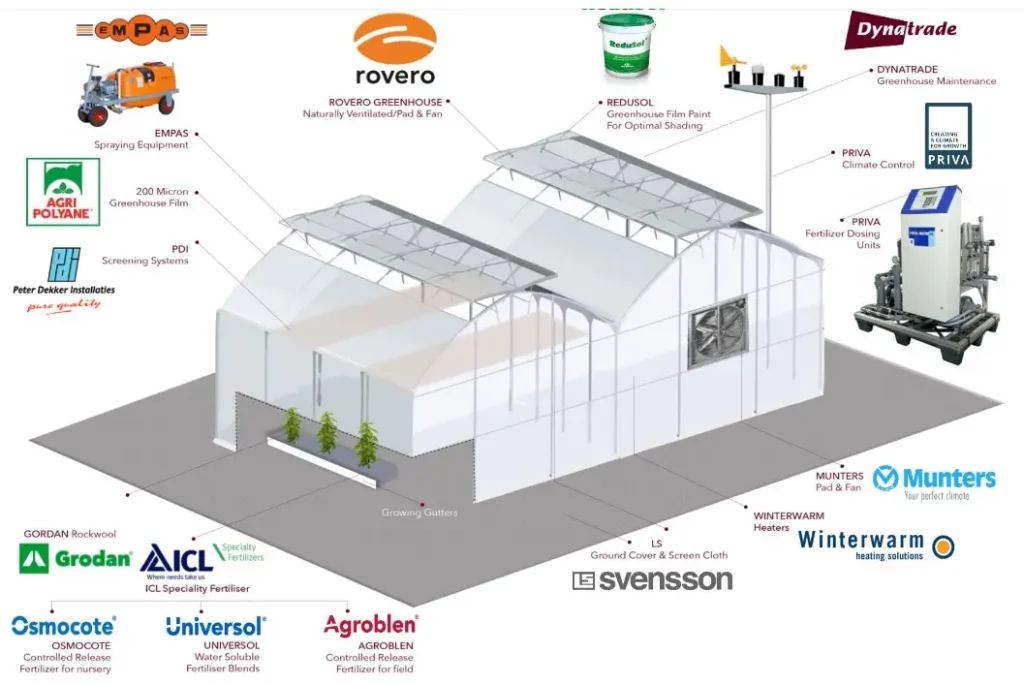 Always at the forefront of innovation, Dyna Trade imports cutting-edge technological products and systems from Europe. This ensures that their clientele always has access to the latest in horticultural and intensive cultivation solutions. With a seasoned team boasting nearly 53 years of combined experience in greenhouse construction and maintenance, Dyna Trade evolves alongside its clients, adapting to their ever-changing and expanding needs.
11. Vegtech (South Africa)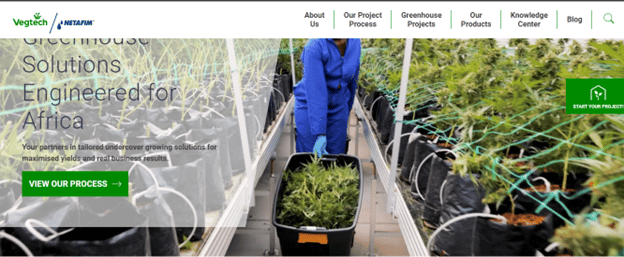 Vegtech, now known as Vegtech Netafim, was established in 1993 and has since positioned itself as a greenhouse solution provider in South Africa. Dedicated to furnishing the agricultural sector with tailor-made protected cropping solutions, their primary aim is to optimize yields and deliver tangible business outcomes. Vegtech offers a durable and low-maintenance range of greenhouses, designed with the commercial grower in mind. These structures come in various configurable models to ensure a perfect planting solution for every crop and environment. Furthermore, growers can choose between forced or natural ventilation options, allowing for the creation of an optimal cultivation environment.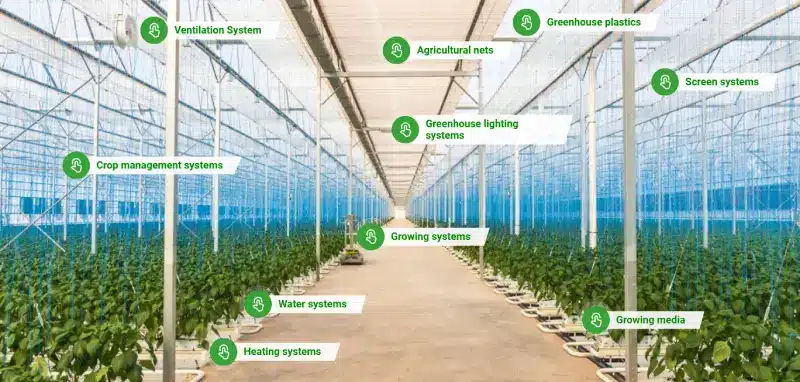 From conceptual design to intricate detailing, execution, and operational management, Vegtech offers all-encompassing support. At the conceptual stage, they assess clients' unique needs, conditions, and environments, crafting feasible concepts accompanied by suggestions and budget estimates. During the detailed design phase, Vegtech's engineers meticulously tailor protected cropping solutions to align with clients' crop types, spatial constraints, and specific requirements.
But Vegtech's prowess doesn't stop at mere structural offerings. They further enhance the cultivation experience with high-quality growing mediums, automated screening systems, agricultural films, specialized agricultural nets, and greenhouse lighting systems. By doing so, they present farmers with a holistic solution, catering to every facet of modern greenhouse agriculture.
12. Artigianfer Greenhouse & Technology (Europe)
is an international commercial greenhouse manufacturer and seller. It has an excellent history in designing and manufacturing professional greenhouses for horticulture and nursery gardening to meet your needs.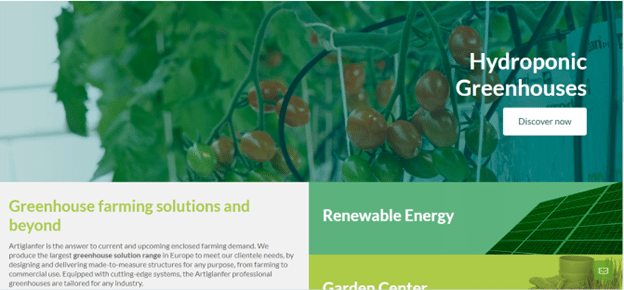 Since its establishment in Italy in 1966, Artigianfer Greenhouse & Technolog has been dedicated to the field of greenhouse construction, offering clients comprehensive services from design to the delivery of fully equipped greenhouses. As of now, the company has made significant strides in the European market, emerging as a leading enterprise in the design and construction of professional greenhouses.
Artigianfer offers a variety of greenhouse types, including glass greenhouses, PVC greenhouses, as well as unique flat-beam and small sloping roof greenhouses, all emphasizing superior ventilation performance. Additionally, they maintain a leading edge in greenhouse technology, as evidenced by the introduction of several of their own patented greenhouses, such as the Teia Greenhouse, Combilux Greenhouse, F-Clean Roofs Greenhouses, and the Semi-Closed Greenhouse.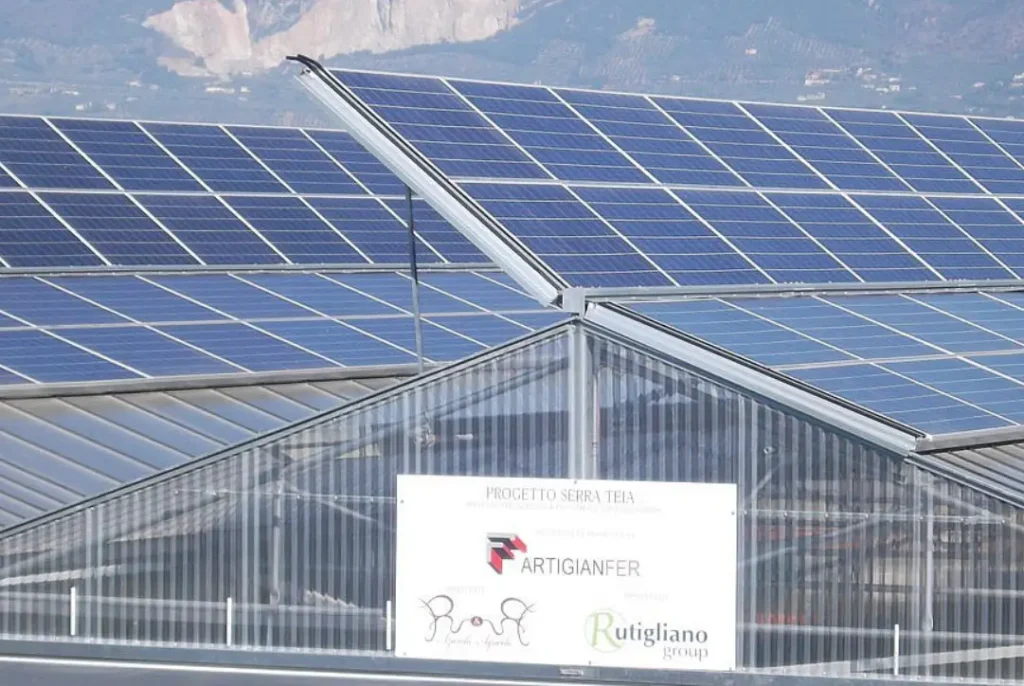 To ensure perfect control of the internal greenhouse environment, they are equipped with advanced technological systems, including heating, cooling, fogging, shading, and insulation systems, all designed for automated climate control inside the greenhouse, thereby creating a near-natural growth environment for various plants. If you have high demands for greenhouse technology and a sufficient budget, Artigianfer's greenhouses are undoubtedly a prime consideration.
13. RICHEL GROUP (France)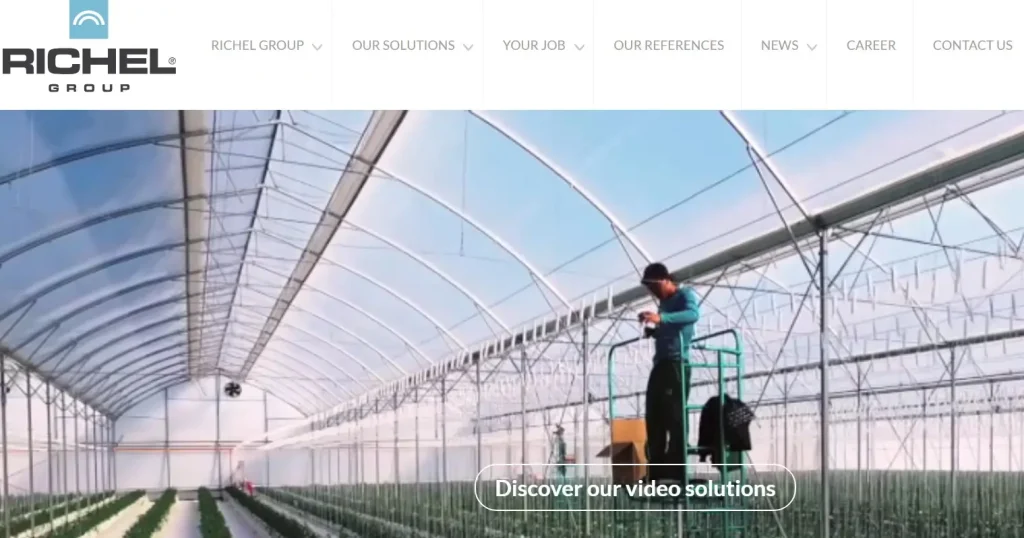 RICHEL GROUP, headquartered in Provence, France, with a branch in Anjou, stands as a testament to over half a century of expertise in greenhouse manufacturing. Established in 1964 as a family enterprise, this French stalwart has grown to become one of Europe's leading manufacturers in the domain.
Beyond the mere construction of greenhouses, RICHEL GROUP offers a comprehensive package encompassing the design, manufacture, sales, and installation of such projects. Their service suite extends to include production equipment like irrigation and climate management systems, catering to professionals, horticulturists, and vegetable growers alike. Their multi-span greenhouses are lauded for their volumetric efficiency and stellar performance, making them apt for a broad spectrum of climates, from frigid zones to torrid and arid regions.
Diving into the specifics:
Their multi-span greenhouse range spans widths from 6.40 meters to a whopping 16 meters, ensuring optimal climatic control for all crop types and diverse external weather conditions. Boasting a simplified arch design, interspaced at intervals of 2.5 to 4 meters, these greenhouses rank among the brightest in the market. Their Gothic shape (at 27°) maximizes light penetration.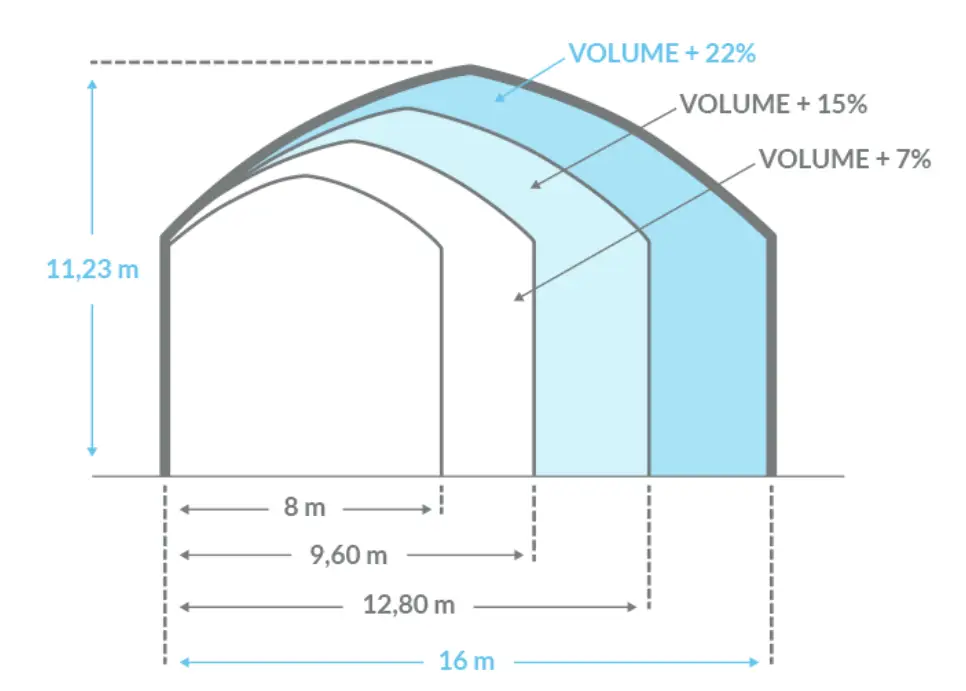 Product Line Breakdown:
6.40m – 8.00m Multi-span Greenhouses: These variants feature 50% ridge-located ventilation, presenting a robust design that's easy to overlay.
9.60m Multi-span Greenhouses: Recognized across continents and a spectrum of climates, this high-performing model has found its niche, thanks to its ideal equilibrium between volume and ventilation. It's among the most sought-after designs in the market.
12.80m Multi-span Greenhouses: Striking the right balance between volume and performance, this model, soaring up to a ridge height of 11 meters, is tailor-made for both cold and torrid, dry regions.
16.00m Multi-span Greenhouses: The newest addition to their portfolio, this stands as the most voluminous greenhouse available in the market.
Moreover, RICHEL GROUP's designs incorporate innovative features like an optimized condensation water recovery system, dual-layer expansion films, swift clamping clips, top-tier assembly components, beams equipped for snow load-bearing, and on-demand control components for film tensioning.
14. Agra Tech, Inc (USA)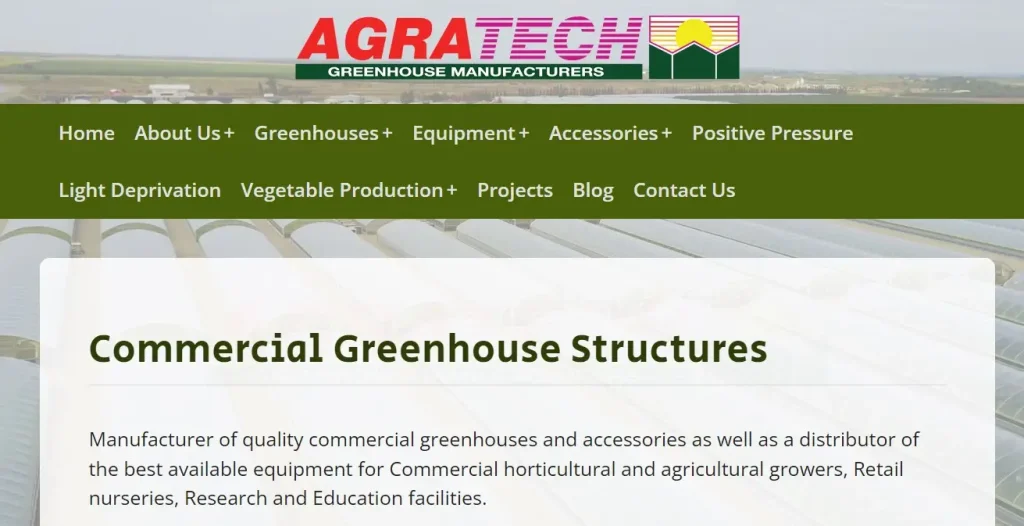 Agra Tech, Inc., nestled in Pittsburg, California, stands as a premier manufacturer of commercial greenhouses and their ancillary components. Furthermore, the firm extends its expertise as a distributor of requisite equipment for commercial, horticultural, and agricultural cultivators, retail nurseries, as well as research and educational facilities. Established in 1973, Agra Tech's legacy spans over 45 years, with its greenhouses gracing all 50 states in the U.S. and numerous international locales.
The company's product line is diverse, encompassing:
Commercial vegetable greenhouses.
Energy conservation equipment, inclusive of shading curtains.
Advanced irrigation systems, with a nod to hydroponics.
Comprehensive climate control solutions like heating, cooling, and ventilation systems.
Growth lights, electrical components, and integrated system products.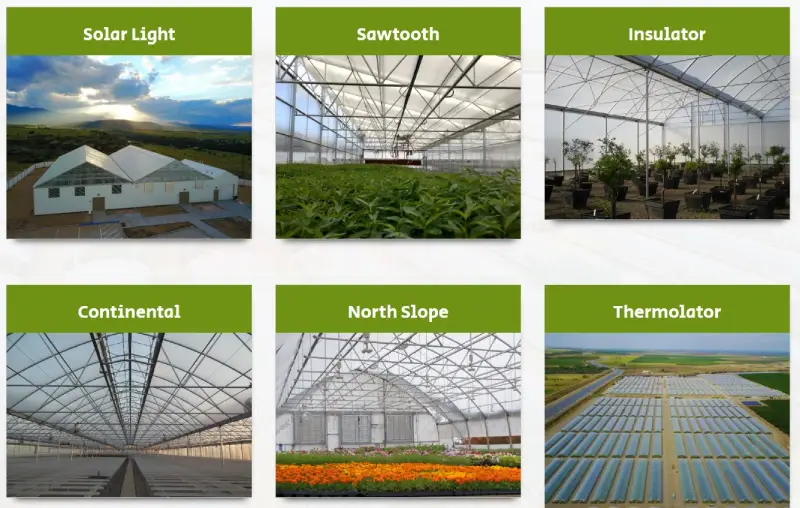 One of their hallmark offerings is the "Continental Greenhouse" by Agra Tech. This greenhouse boasts a Gothic gutter-connect structure, designed to be draped in polymers. It can be augmented with continuous single or double-ridge windows spanning 4 feet in width, optimizing natural ventilation. An added feature of expansive gutters bolsters structural strength and ensures over 60% runoff is channeled away from the greenhouse, a pivotal feature for managing humidity and moisture within.
Understanding the diverse needs of plants, Agra Tech, Inc. approaches greenhouse and environmental equipment design with an astute lens, factoring in cultivation techniques and commercial objectives. Be it traditional manual operations or cutting-edge automated systems, the company guarantees a greenhouse system that delivers peak performance.
15. Rough Brothers, Inc. (Prospiant) – USA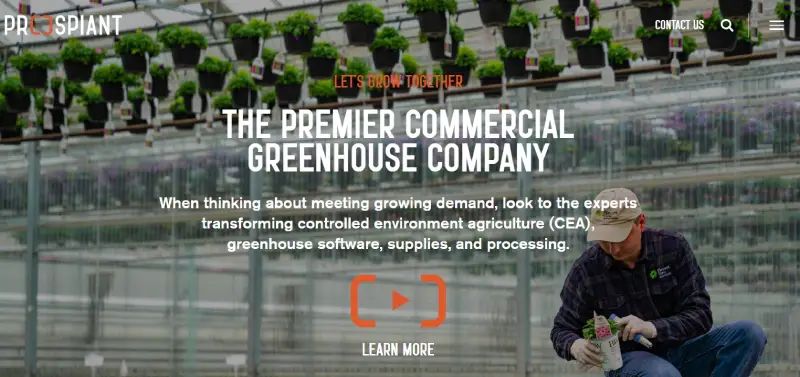 Rough Brothers, Inc. (RBI), which rebranded as Prospiant in 2021, is a distinguished USA commercial greenhouse manufacturer steeped in a rich history and expansive expertise. Since its inception in 1932, the company has dedicated itself to the design, engineering, manufacturing, and construction of greenhouses and their associated systems. Notably, in 1988, Rough Brothers acquired the esteemed American boiler and greenhouse maker, Lord & Burnham, a trailblazer responsible for constructing an astounding 90% of the greenhouses in the U.S.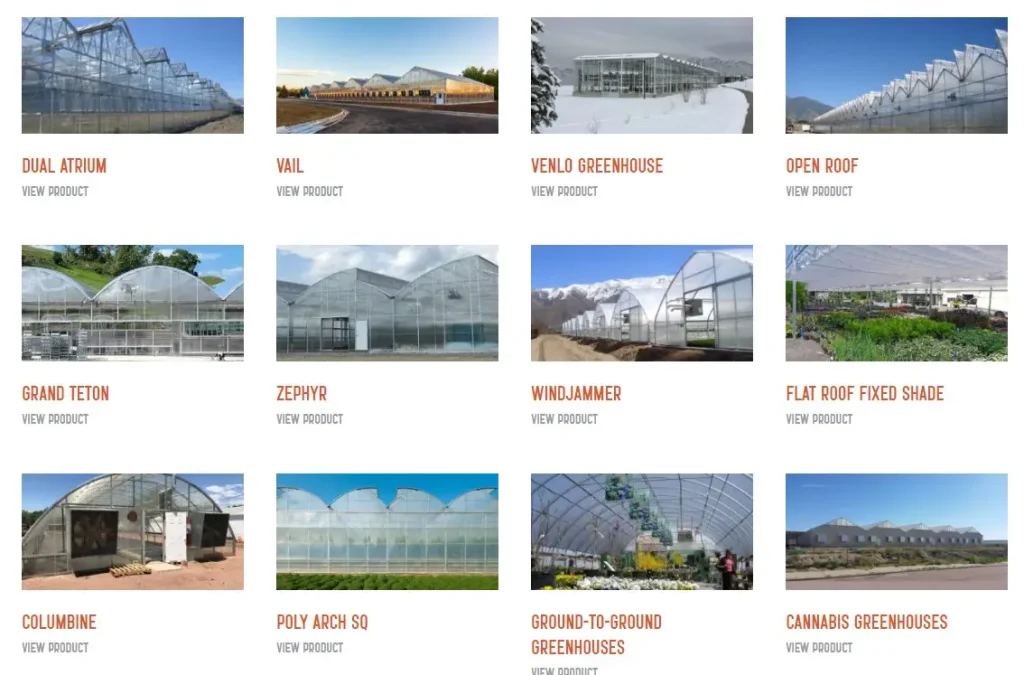 Prospiant's prowess spans every facet of greenhouse construction and maintenance, including:
Greenhouse structural design.
Material handling systems.
Coating services.
Heating, cooling, and ventilation solutions.
Growth lighting.
Bench systems.
Irrigation setups.
Comprehensive environmental controls.
The company's driving principle is to empower its clients to realize their maximal growth potential, offering the industry's most successful cultivators, curators, and researchers greenhouse structures that are of unmatched quality, meticulously crafted, and unfailingly reliable.
Starting merely as a local greenhouse maintenance and repair service, Rough Brothers (Prospiant) has, over a span of more than 80 years, metamorphosed into one of North America's foremost commercial greenhouse and horticultural center manufacturers.
16. Certhon (Netherlands)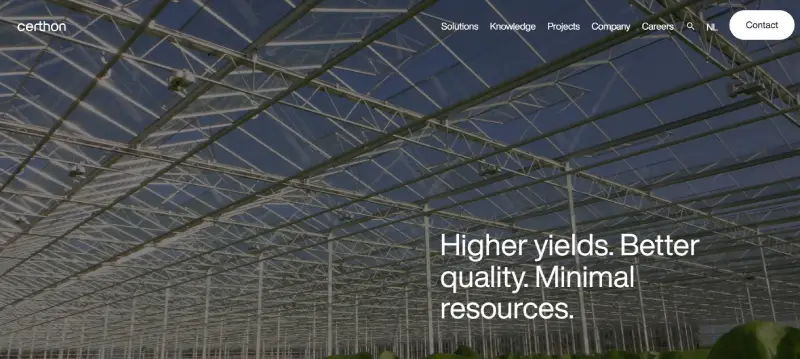 Based in the Netherlands, Certhon stands as a pioneer in horticultural facilities, dedicated to delivering groundbreaking greenhouse solutions geared towards sustainable indoor cultivation. Boasting a rich heritage that dates back to 1896, the company has accumulated over 120 years of expertise. Recently, it has been fully acquired by Japan's DENSO Corporation.
Certhon offers its clients state-of-the-art, comprehensive greenhouse solutions, indoor agricultural equipment, and robotic harvesting systems, aiming to propel efficient, eco-friendly, and automated cultivation.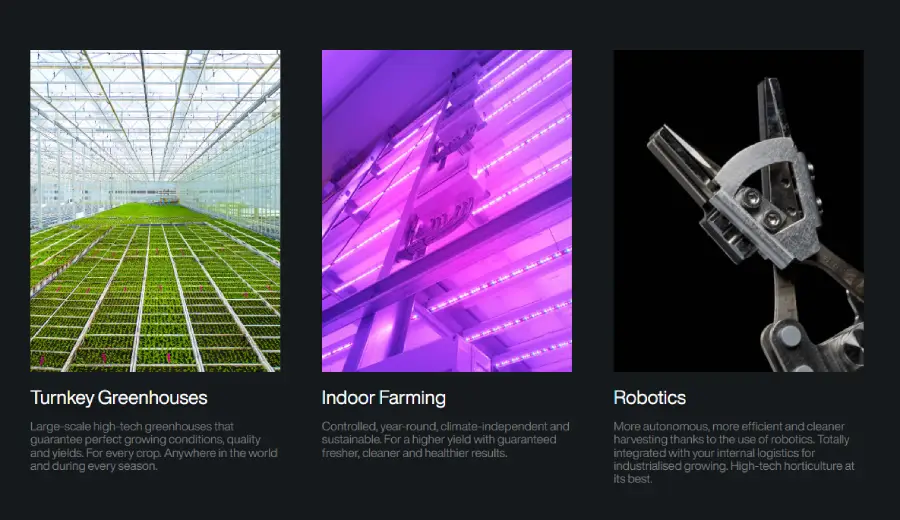 Their advanced greenhouses are large-scale installations designed to ensure optimal growing conditions, guaranteeing both the quality and yield of crops across various plant species, seasons, and geographical locations. Their unique greenhouse designs utilize JSK cooling technology and waste heat recovery, positioning them as models of energy efficiency with the potential to reduce energy costs by up to 20%.
17. Stuppy Greenhouse (USA)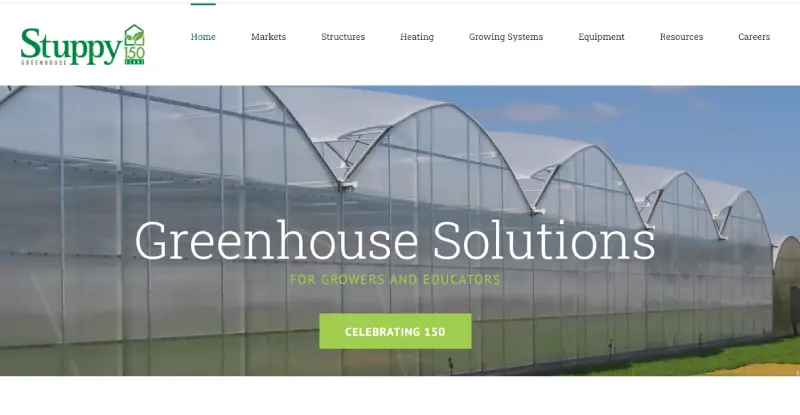 Stuppy Greenhouse, with its roots in North Kansas City, Missouri, is a distinguished U.S. greenhouse manufacturer renowned for its diverse portfolio of commercial greenhouse solutions. Founded over 150 years ago and currently in its fifth generation, this family-owned legacy stands as a testament to commitment, innovation, and exemplary customer service tailored to the horticultural and educational sectors.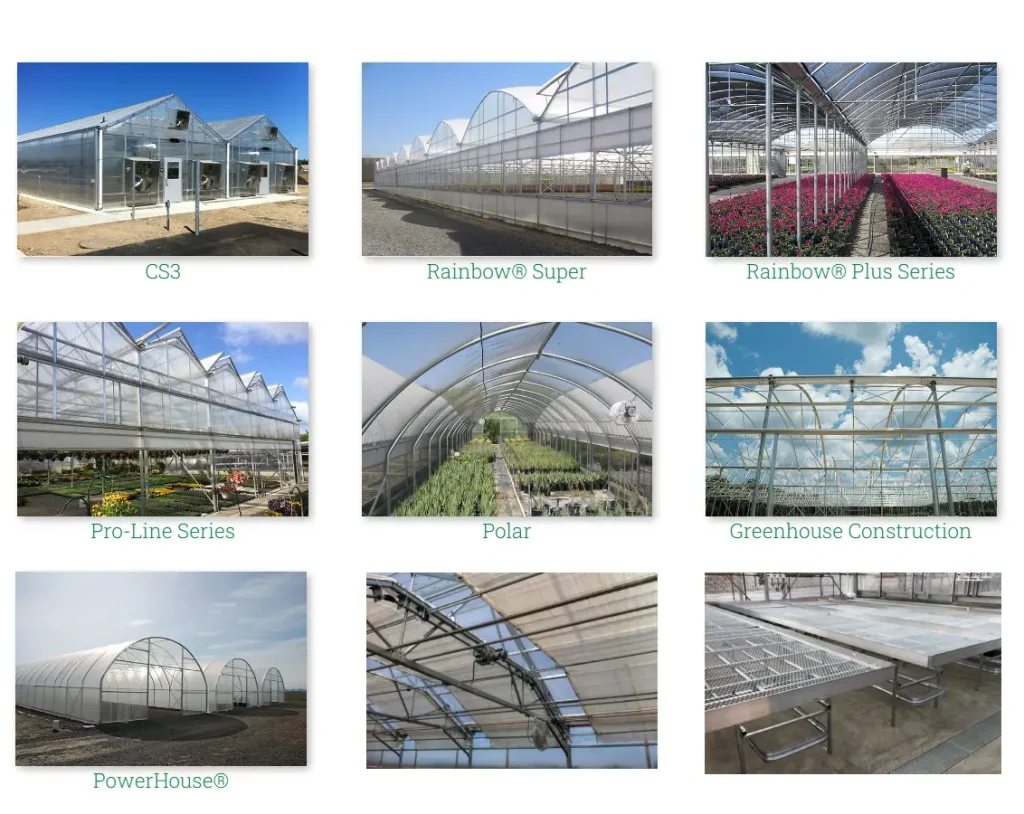 Offering an array of cultivation systems, from commercial and educational greenhouses to advanced hydroponic setups, Stuppy Greenhouse's offerings cater to horticulturalists, vegetable growers, nurseries, and retail garden centers. Their emphasis on tailored solutions, underscored by a collaborative approach, enables them to craft bespoke designs that precisely cater to the unique needs of each client.
Part 3. How to Choose a Commercial Greenhouse Manufacturer?
Building a large commercial greenhouse involves long-term planning. It requires significant investment and establishes long-term partnerships. Here's what you should consider:
1. Location and Presence:
Logistics and transportation hinge on a supplier's location. For instance, if you're in Australia, local suppliers like Agrosee Greenhouse Technology or Apex Greenhouses may be more convenient. This could save on shipping costs and communication time. Also, consider firms with successful local projects; visiting them becomes easier.
2. Company History and Experience:
How long a company has been around can indicate its reliability. A firm with decades in the industry might handle challenges better than a newcomer. However, some might be newly registered but backed by experienced teams. Do your homework!
3. Quality and Manufacturing Standards:
Certifications can reveal a lot. For instance, GGS Structures Inc. ensures welders are A660 certified, meaning their greenhouses are durable and robust.
4. Cost and Value:
While cost matters, it shouldn't be the sole factor. Seek suppliers that offer value – high-quality products at fair prices. Greenhouse construction costs tie in with materials and labor. Southeast Asian manufacturers, like INSONGREEN, might be a good choice.
5. Reputation and Customer Reviews:
Feedback from other clients can give insights into a supplier's reliability. Online reviews might not cover large projects. So, consider on-site factory visits or checking out their successful projects firsthand.
6. Post-Purchase Support:
Setting up the greenhouse is just the start. Opt for suppliers offering long-term support and excellent customer service. Ensure greenhouse maintenance is part of your contract for future assurance.
Part 4. Related FAQs
FAQ 1. Where can I buy used commercial greenhouses? Is there any supplier?
There are few platforms to sell used commercial greenhouses, but some places where you can buy used portable greenhouses, such as Facebook Marketplace, eBay, and Alibaba.
However, if you're really set on buying a used commercial greenhouse, you can inquire with the large greenhouse suppliers mentioned above. They might have customers wanting to sell off their obsolete greenhouses. Another option could be purchasing secondhand greenhouse structural components and then buying the other components separately for assembly.
FAQ 2. How much does a commercial greenhouse cost?
The cost of a commercial greenhouse can vary greatly depending on its size, the materials used, the type of greenhouse, and the technology installed (like heating, cooling, and irrigation systems). On average, commercial greenhouses can range from $25,000 for smaller structures to over $1 million for large, high-tech facilities. It's best to get quotes from several manufacturers to get a better idea of the costs involved.
FAQ 3. What are the most popular greenhouse types?
The most popular types of greenhouses include the A-Frame, Quonset (Hoop), Lean-To, and Ridge/Furrow or Gutter-Connected. The choice depends on factors like the available space, the type of crops to be grown, the local climate, and the grower's budget.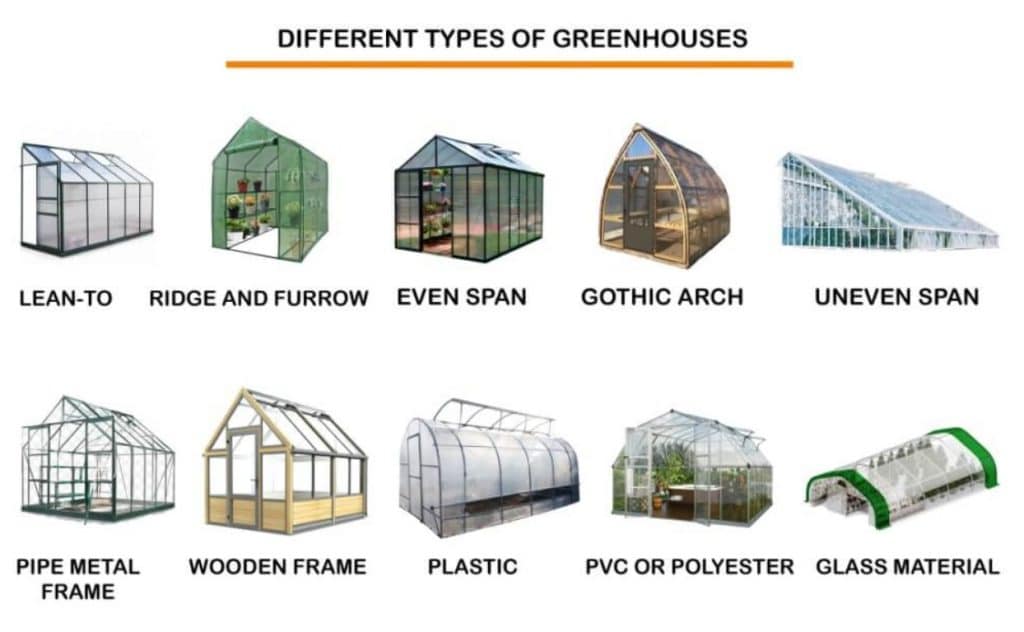 FAQ 4. What is a commercial greenhouse?
A commercial greenhouse is a structure where plants are grown and sold for profit. These greenhouses are typically larger and more technologically advanced than residential or hobby greenhouses. They can be used to grow a wide variety of plants, from flowers and vegetables to medicinal plants.
FAQ 5. What is the average size of a commercial greenhouse?
The size of a commercial greenhouse can vary greatly depending on its purpose. However, most commercial greenhouses start at around 5,000 square feet. Large commercial operations can have greenhouses that cover several acres. The size of the greenhouse will depend on the scale of the operation and the types of crops being grown.
Conclusion
Getting a reliable commercial greenhouse supplier saves on the cost of the right greenhouse equipment and structure. Again, you are guaranteed the success of your greenhouse crops. We've seen the ten best commercial greenhouse suppliers that you can rely on. Moreover, you can depend on INSONSHADE to meet all your greenhouse needs. It is China's leading shade cloth manufacturer and supplier; its products are durable and will sustain all your greenhouse crops.