Shade cloth is a valuable product gaining popularity because of its numerous advantages in the agricultural, commercial, and construction industries. Whether you want to be the next big entrepreneur to run a commercial shade sails brand, or you simply want to sell outdoor and agricultural shade fabrics on eBay or Amazon, finding the right shade cloth suppliers and manufacturers is critical to your success.
In this article, we'll explain how to choose a suitable shade cloth manufacturer, and share with you the top 10+ shade netting suppliers all over the world (USA, Australia, Europe, Asia, Africa, etc) to meet your bulk wholesale requirements.
6 Things to Consider Before Choosing Shade Cloth Manufacturers
Different shade cloth manufacturers offer varying varieties of shade cloths. You must follow the following considerations to choose a shade cloth manufacturer.
1. Local or Overseas Shade Cloth Supplier?
You may decide whether to buy from a shade cloth factory nearby in your country or from a more cost-effective manufacturer overseas (Typically, it would be China, Vietnam, India, etc).
For a domestic supplier, it's pretty easy to communicate without a language barrier and you can directly visit the factories and get the shade fabric products faster. However, if you are doing business in the USA or Europe and plan to choose local shade cloth factories there, you will cost more, so you have to raise the price of your product to get a stable profit.
Thus, to get a lower price, you can consider choosing from hundreds of overseas shade netting manufacturers. That's why there are so many outdoor shade sails, and agricultural shade netting made in China.
2. Do They Provide Fabric Samples?
To make sure the shade fabrics meet your requirements, typically most suppliers will send the fabric samples before a large order. Some of them may ask you for a modest fee for the samples, while some provide complete-free shade fabric samples. Before choosing a shade fabric supplier, make sure you can get the samples.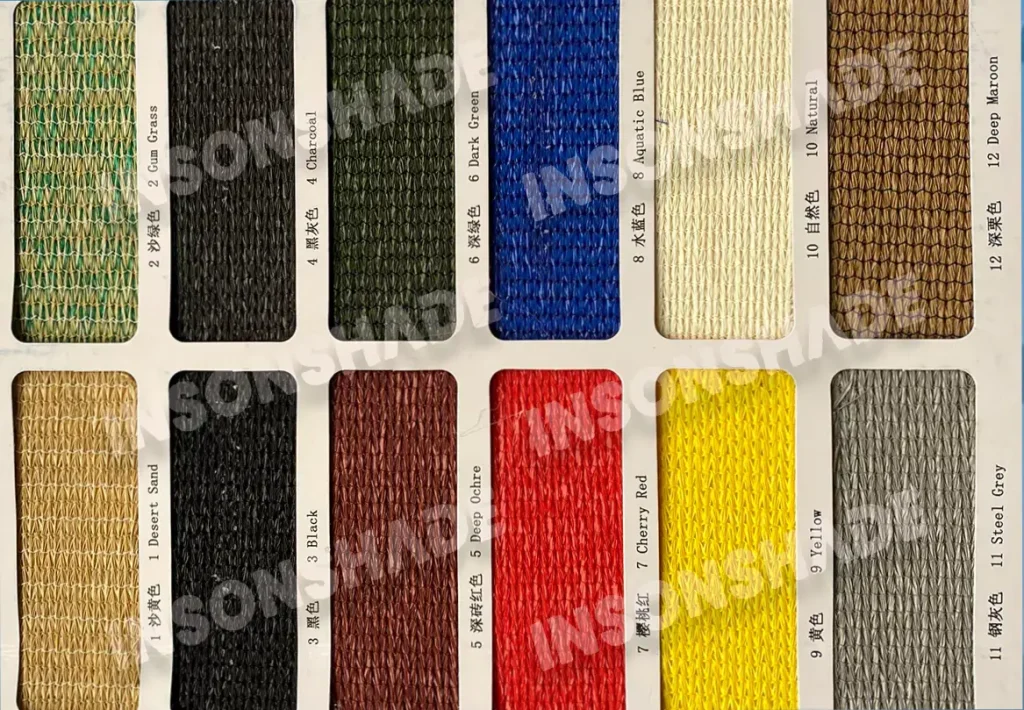 3. Production Capacity and Minimum Order Quantity?
Sometimes, you should ask your suppliers about their production capacity since your business may get better and better so you should make sure they have the ability to produce the shade cloth quickly at the great capacity you need.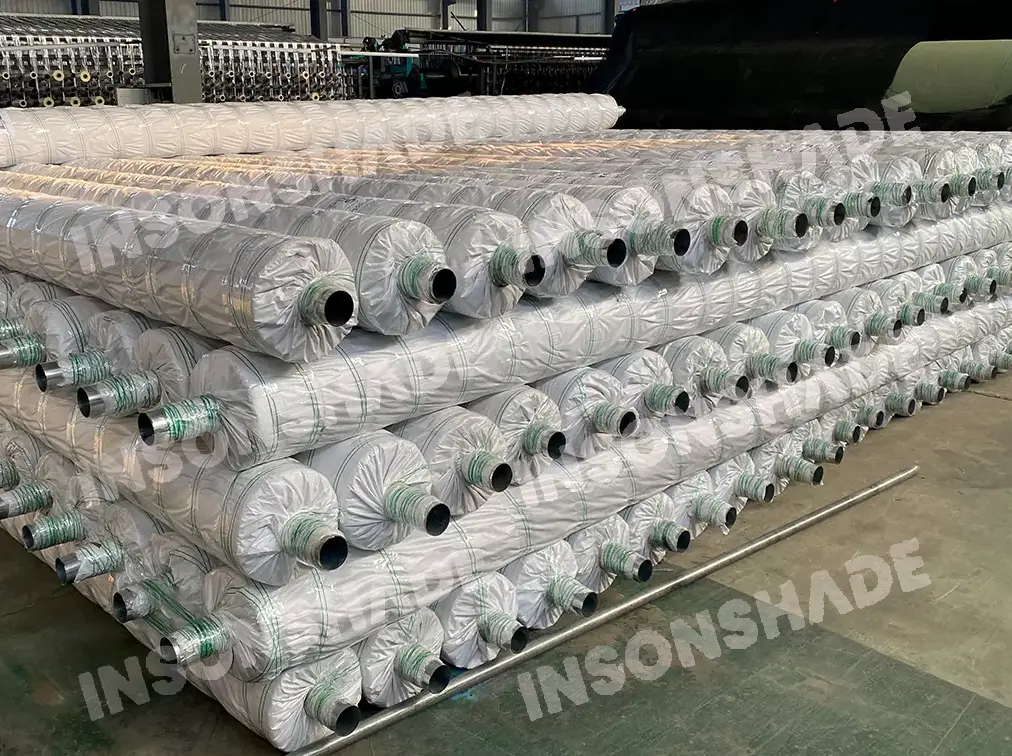 MOQ (Minimum Order Quantity) means the minimum number of products you need to buy in a single order. This would vary from the supplier. Therefore, you need to know what their MOQ is.
4. Shade Cloth Quality Standard
Shade cloth quality is one of the most important factors when choosing a supplier.
To make sure your suppliers produce fabrics of a high standard, you can check whether they offer quality certifications, such as the Australian Shadecloth Test Report, SGS Test Report, and AWTA Test Report.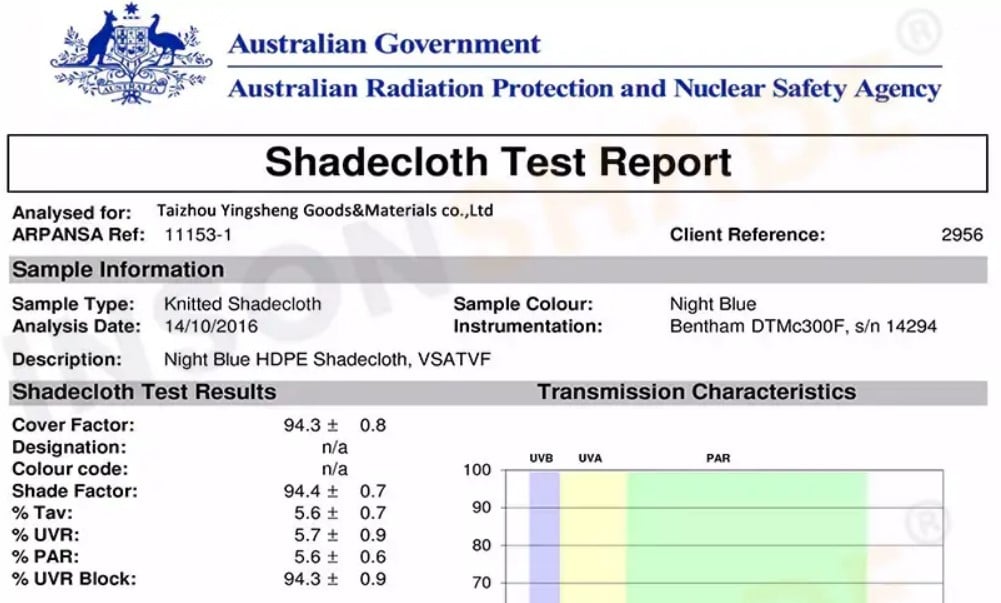 In addition, you may have to do your own research online, visit their factories by yourself, or require them to send you samples for deep analysis.
5. Do They Offer OEM and ODM services?
Always choose an experienced shade cloth manufacturer in wholesale, OEM, or ODM because they can perfectly understand your requirements and provide an excellent cloth shade, especially when you want to build your own brand.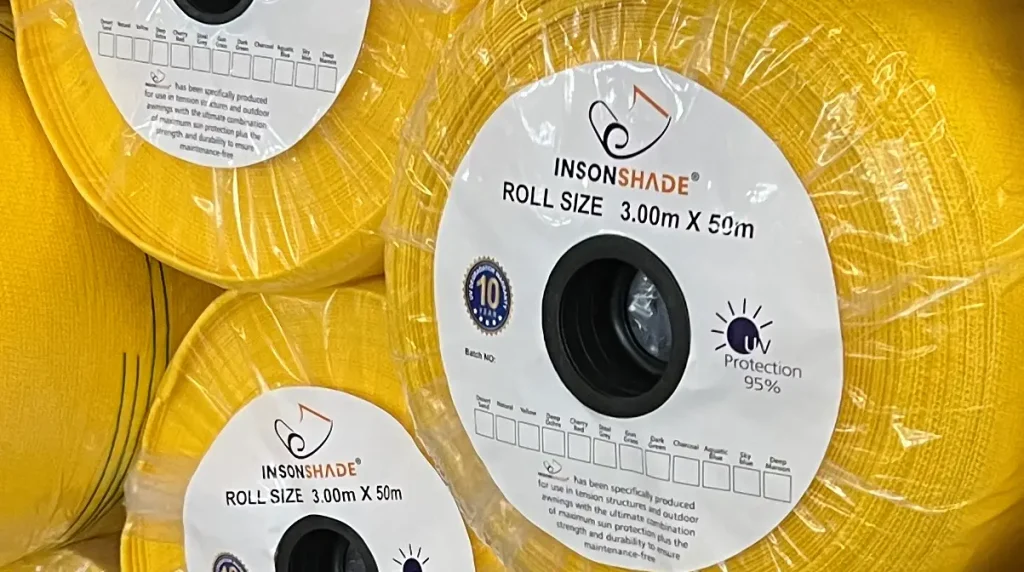 6. Have They Attended Industry Expos?
Whether a shade cloth manufacturer has attended industry expos can be an important factor to consider when evaluating their credibility. Attending expos can indicate a commitment to quality and a willingness to showcase products and interact with potential customers.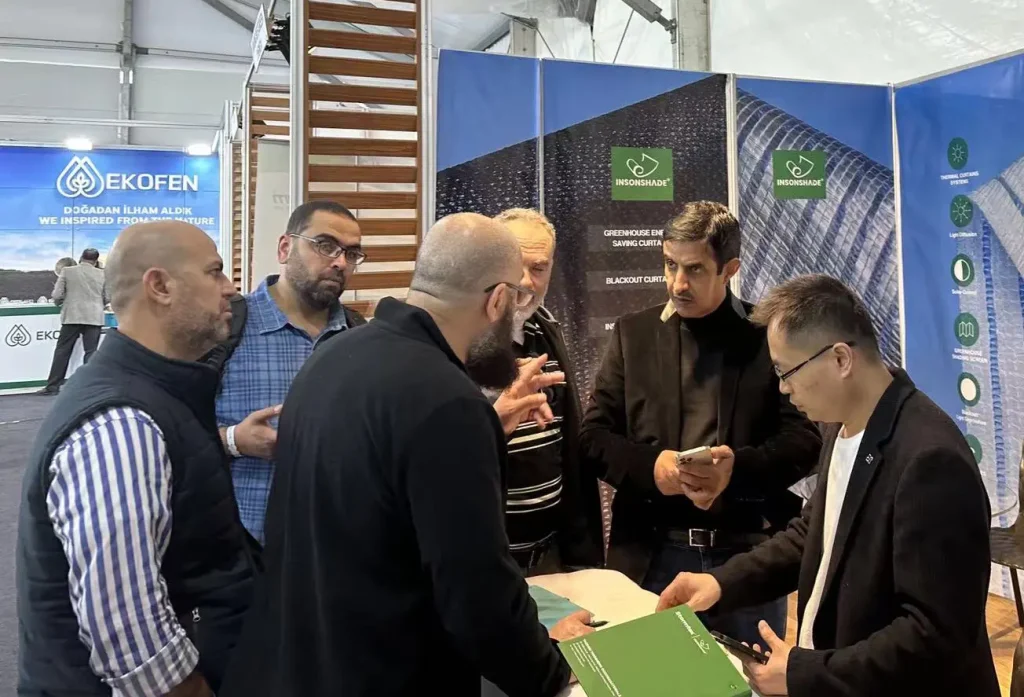 By participating in these events, manufacturers are able to demonstrate their expertise and build trust with customers, who can benefit from the opportunity to communicate directly with the manufacturers and learn more about their products.
12 Best Shade Netting Suppliers & Manufacturers:
Finding a perfect shade cloth manufacturer is no doubt a confusing process. But you can buy a high-performance shade cloth from the companies listed below.
1. California Industrial Fabrics (USA)
California Industrial Fabrics is a renowned manufacturing company in the United States. It is responsible for manufacturing recreational and industrial fabric products. Since 1978, the company is showing admirable performance in satisfying its customers with its products and services.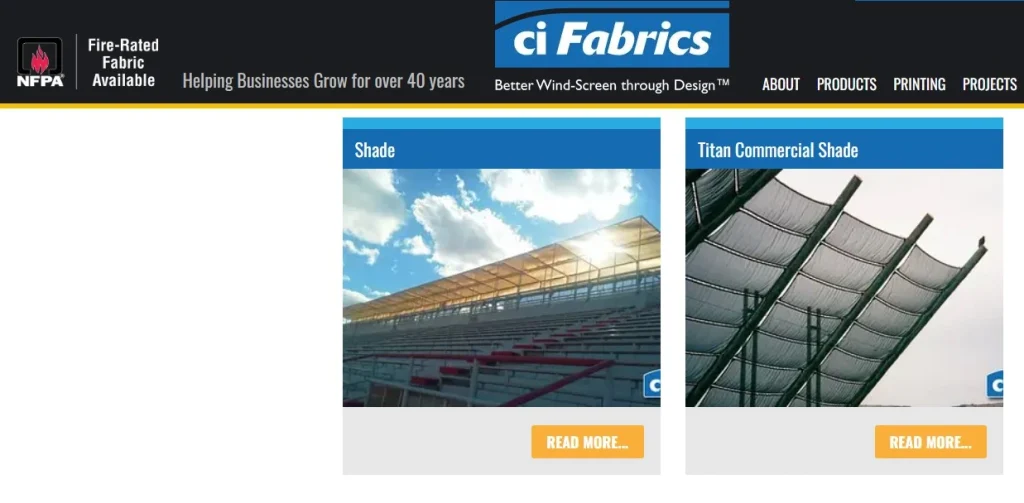 Location of the Company: 
SAN Diego. CA 92154-7241, California.
Primary company type:
Manufacturer
Year of establishment:
1978
Year founded:
1976
Number of Employees: 
10-49
Annual sale:
$1-4.9 Mil
Products:
Shades
Fabrics & Cloths
Barriers & Caps
Curtains
Shelter Supplies & Emergency Shelters
Nets & Nettings
Fences Dispensers
Safety equipment
Paddings etc.
2. Shades Comfort Incorporation  (USA)
Shade comfort Incorporation is a renowned custom manufacturing company in the United States associated with manufacturing durable shading products, including shading umbrellas, shading canopies, shade cloths, etc. The manufacturing products show high performance for agricultural purposes.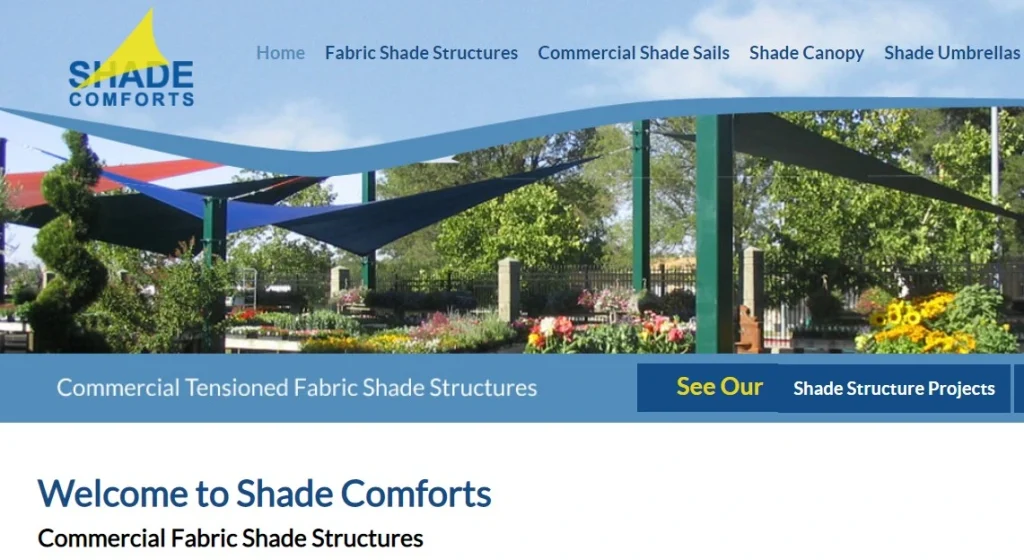 Location of the Company: 
Benecia, CA 94510, United States.
Primary Company Type:
Custom manufacturer
Year Founded:
2005
Additional Activities:
Manufacturer
Distributor
The number of Employees:
1-9
Annual Product Sale:
Under $1 Mil
Products:
Shades
Structures
Awnings
Carports
Fabrics & cloths
Canopies
Covers
Umbrellas
Shelters
3. Jason Mills, LLC. (USA)
Jason Mills, LLC is a jersey-based manufacturer of textiles, nylon knit mesh fabrics, and standard & custom polyesters. It also provides stock items with capabilities including dye cutting, slitting, and finishing & dye processing.
Location of the Company:
Milltown, Nj 08850
Primary Company Type:
Manufacturer
The number of employees:
1-9
Year founded:
2007
Annual Sale:
$1-4.9 Mil
Products:
Nets & Nettings
Screens
Barriers
Covers
Filters
Finishing services
Knitters
Nylon products
Aquaculture equipment
Fasteners
Fabrics & clothes etc.
4. Nolan Group (Australia)
The Nolan Group is a trading shade cloth company in Australia that supplies products in both overseas and local areas. Their distribution centers are located in 6 different locations across Australia. They commonly supply floor coverings, automotive materials, awnings, and other textile products.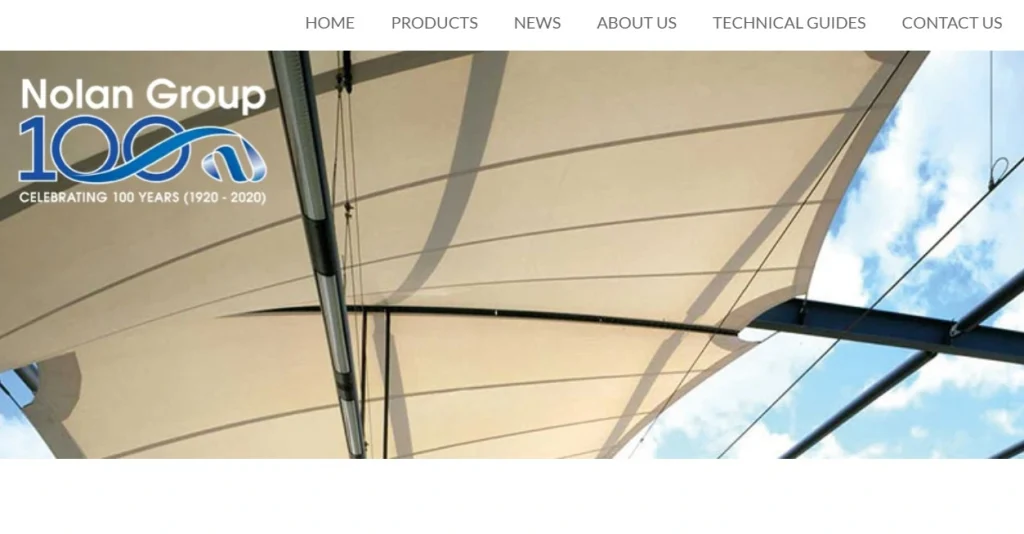 Location of the company: 
Dingley Village, Victoria
Company type:
Privately held
Year founded:
1920
The number of employees:
51-200 employees
Products:
Shade cloths
Industrial fabrics
Carpet tiles
Floor coverings
Acoustic solutions
Healthcare fabrics
Blind & awnings
Commercial furniture
5. Paskal  (Australia)
Paskal is an independently operated company that can be a reliable shade fabric supplier in Australia. It also provides services through its branches in Western Australia, Queensland, and Victoria. They satisfy their customers through their high-quality products and incredible services. The company especially focused on its long-term relationship with its customers.
Location of company:
9A Lakewood Boulevard, Braeside, VIC 3195 Australia
Company type:
Retail supplier & Wholesale
Headquarter:
Braeside, VIC
Year founded:
1996
The Number of Employees:
More than 200 people
Main Products:
Shade cloths
PVC coated fabric
Marine fabrics
Canvas
Fasteners and fixtures
Seating fabrics
Boating fabrics, etc.
6. PolyFab Australia
PolyFab Australia is a leading Australian company that provides durable and long-lasting protective textiles for agricultural purposes and shade structures. The protective textiles provide ultimate resistance from atmospheric alternations and harsh environments. Therefore, their products have high demand in agriculture and horticulture. The company also offers shade fabrics that show domestic and commercial applications.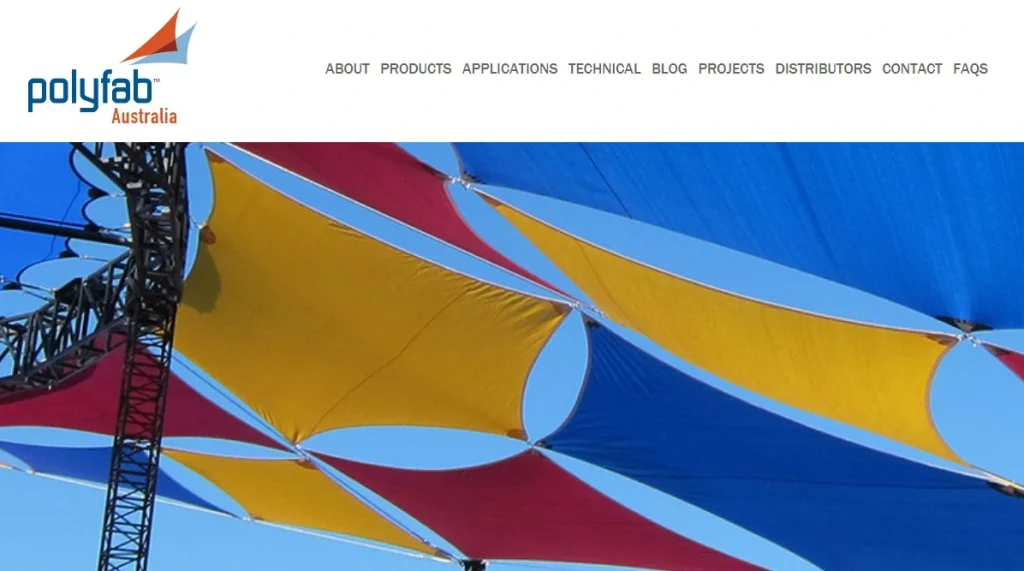 Location of Company:
7, Conifer Crescent, Dingley Village, VIC 3172
Year Founded:
1995
Type of Company:
Manufacturer
The number of Employees:
50-150 employees
Products:
Poly fabrics
Shade cloth
Horticover
Birds nest
Cover shade
Comshade
Paraiso
7. Arkan Shade Systems (UAE)
The Arkan shade system manufactures and supplies surprising quality shedding products, including garden sheds & swimming pool sheds. Their products are prioritized for agricultural purposes because of their high durability, greater performance, and easy installation.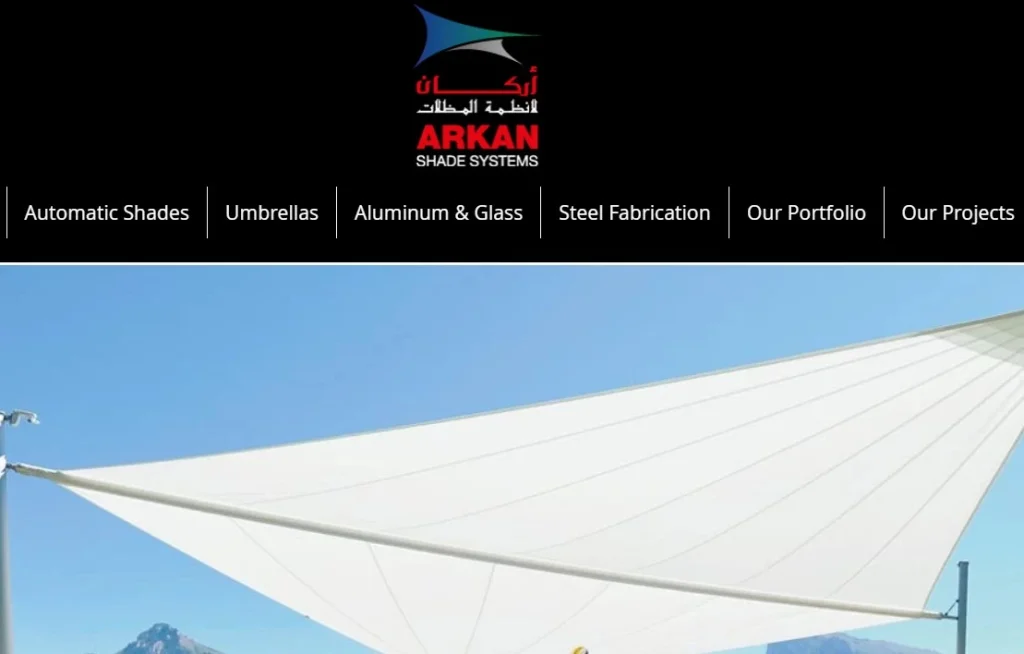 Location of Company:
P.O, Box no. 266980, Sharjah, United Arab Emirates.
Year of Establishment: 
2003
Company Type:
Distribution, Fabrication & Manufacturing
Number of Employees:
150 Employees
Products:
Sheds for swimming pools
Garden & side covering
Entrance shades
Shades fabrications
Steel fabrication etc.
8. Jupiter Tents and Fabric Shades (UAE)
Jupiter Tents and Fabric Shades is a well-established company mainly concentrating on the construction industry. With the demand for tents and shade products, the company manufactures and supplies shades, canvases, and tents in every corner of the country. They guarantee the excellent quality of these products at a budget-friendly cost. The company also allows you to customize the desired products with specific features.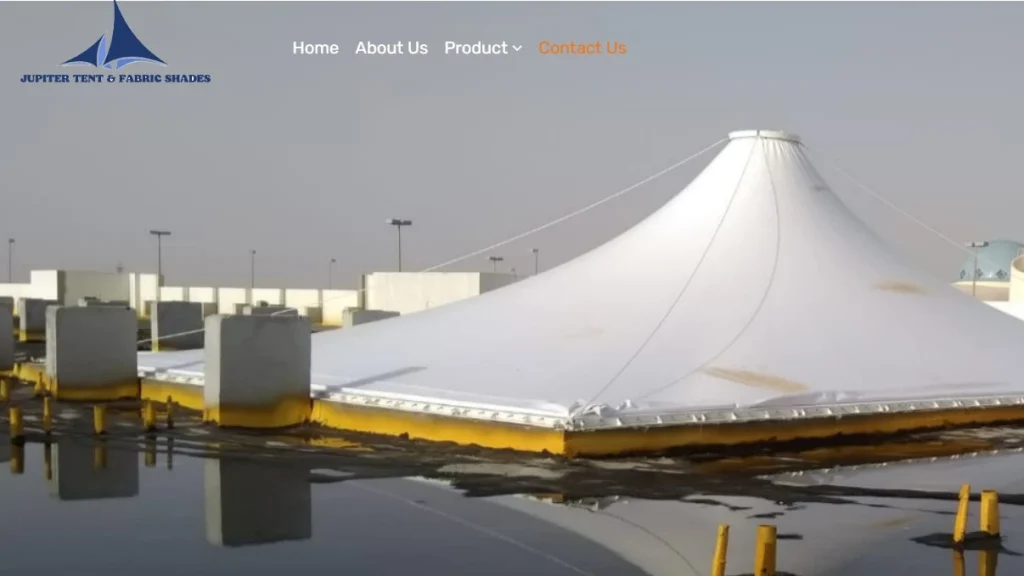 Location of the Company:
Sharjah, United Arab Emirates
Year Founded: 
2012
Type of Company:
Supplier & Manufacturer
The number of Employees:
50 employees
Products:
Shade sail canopy
Agro shade nets
Dome tents
Fencing
Wheel covers
Car parking shades
Canopy tents
Swimming pool shades
Garden umbrellas
Branded gazebos
Bouncing castles etc.
9. Alnet (South Africa)
Alnet is ranked among the largest shade fabric manufacturers with diverse operating markets located in South Africa. They manufacture high-quality synthetic textiles and shade nets. The company also offers versatile products for the agricultural, aquaculture, industrial, and building & construction sectors.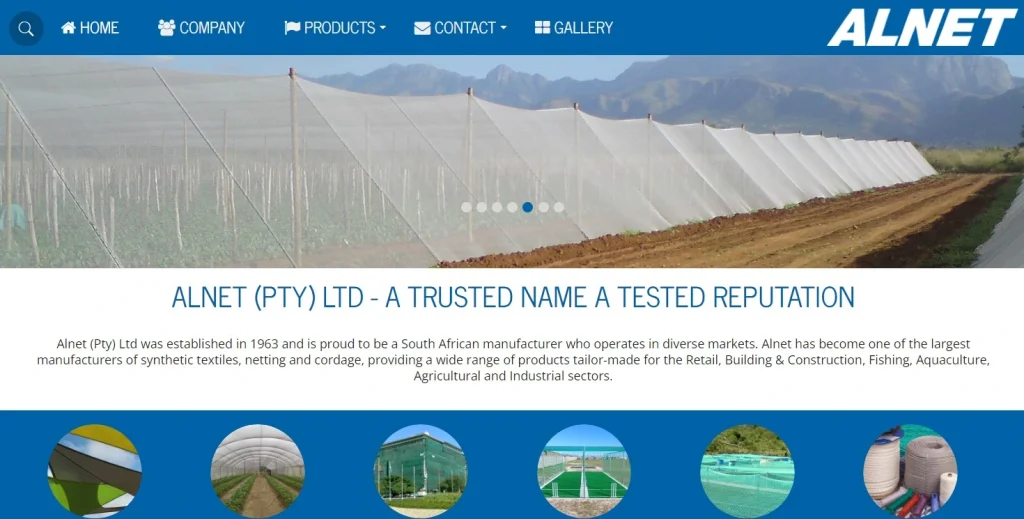 Location of Company:
Durban, South Africa
Year Founded:
1963
Company Type:
Supplier & Manufacturer
The number of Employees:
241
Revenue:
$52.7M
Products:
Shade cloths
Shade nets
Agricultural nets
Fishing nets
Construction nets
Aquaculture nets etc.
10. Knittex (South Africa)
Knitted, a South African company, was established in 1964. It manufactures and supplies high-quality and reliable shade net or knitted synthetic fibers. The company provides a skilled sale team for selling and advertising the products. The products are manufactured with exact specifications and ensure the satisfaction of the company's customers.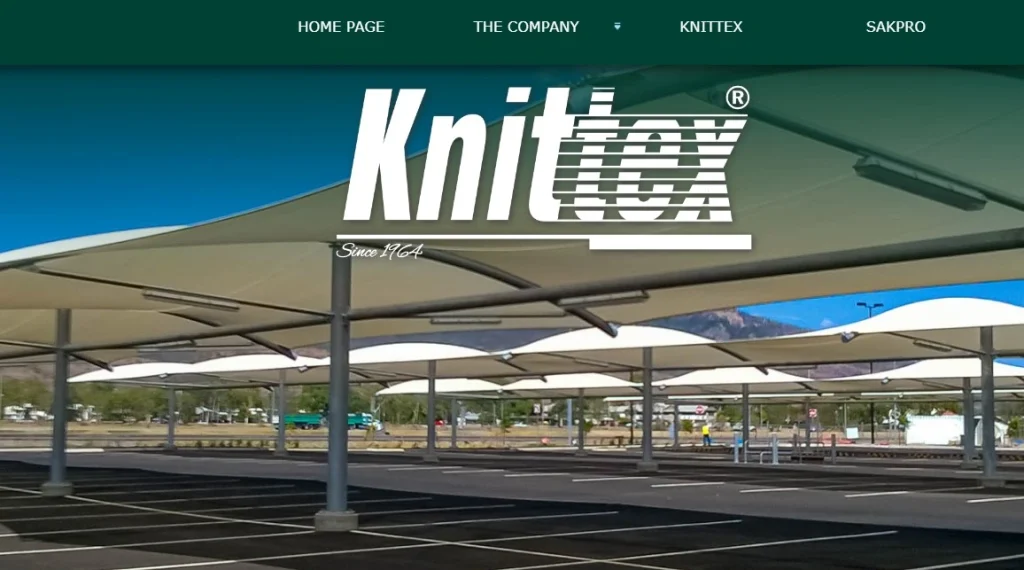 Location of the Company:
Johannesburg, South Africa
Year Founded:
1964
Type of Company:
Manufacturing
The number of Employees:
800
Main Products:
Nursery shade cloths
Knitted shade cloths
Windbreak nets
Greenhouse netting
Shading nets
Safety barrier netting
Nursery shade cloths etc.
11. GreenPro India
GreenPro is a native shade fabric company located in Karnataka, India. The company can manufacture and supplies a wide range of fabric and netting for Agricultural use including shade and waterproof nets for plants, protecting cover for nets, and greenhouse flooring films. And it's mission is "To be the global 'Supplier of Choice' in the agriculture industry, providing sustainable and innovative solutions for protected cultivation." If you are in India and do Agricultural business, you definitely could consider working with this shade fabric manufacturer.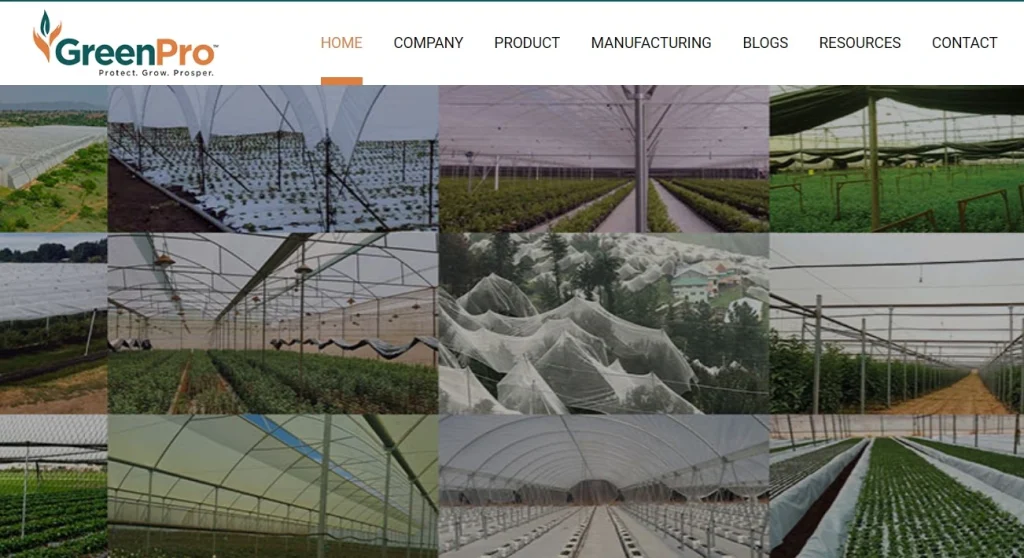 Location of Company: Karnataka, India
Year Founded: 24th April 2017
Company Full Name: KRISHI GEOPACK PRIVATE LIMITED
Products:
Shade Net
Waterproof Shade Net
Aluminium / Reflective Nets
Windbreaker Nets
Knitted Bird Net
Seed (Olive) Collecting Nets
and so on.
12. Elastic Enterprises (Banglore)
Elastic Enterprises are diverse manufacturers and suppliers in Banglore. The company also exports shade nets, anti-virus nets, scaffolding netting, filter fabrics, etc. The manufacturing of nets is done with the help of Virgin HDPE granules which provides resistance from atmospheric agents, especially from harmful UV rays. Therefore, these nets are widely installed for agricultural purposes.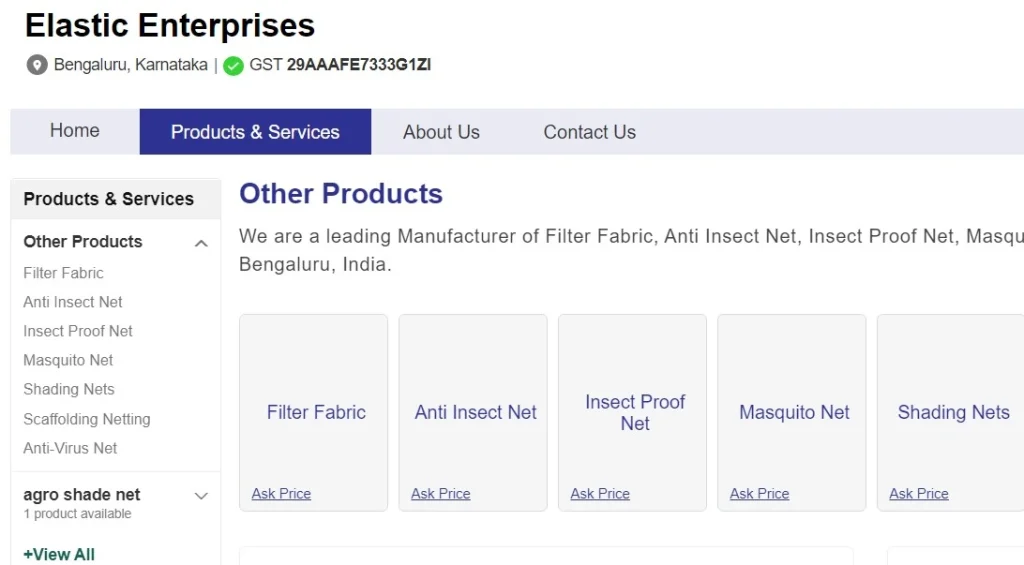 Location of the Company:
Bhadrappa Estate, Magadi Road, Banglore.
Year Founded:
1976
Type of Company:
Retail supplier and wholesaler
The number of Employees:
100-500 people
Main products:
Anti-bird nets
Anti-hail nets
Scaffolding nets
Anti-insect netting
Agro shade net etc.
Where to Find Reliable Shade Cloth Suppliers
Have you faced problems with how and where to find reliable shade netting suppliers? The usual way to find a reliable manufacturer is to attend industry exhibitions. But now, it's hard to gather all shade fabric manufacturers now since the 2019 covid pandemic. To find a shade cloth supplier, you may have to get the information from the Internet.
1. Industry Exhibitions & Tradeshows
The suppliers of different industries show off their shade fabric in industrial exhibitions and tradeshows. You can check the shade cloths belonging to different suppliers simultaneously. It will greatly help you to find a reliable shade cloth supplier according to your requirement.
2. Online Marketplace
The online marketplace, also termed an electronic marketplace, provides an interconnection between buyer and supplier through a site. The different supplier provides their shade cloths on different websites. Through the B2 market, you can find a trustable shade cloth supplier that provides shade cloth at a reasonable cost.
To Sum Up
After going through the information in the article, we hope you can judge how to select a trusted and certified shade clothing manufacturer for your projects. You can check out this list of net clothing suppliers to find the best service provider.
INSONSHADE is a leading China shade cloth manufacturer and supplier of shade cloth, sun shading, and greenhouse climate curtains. Our products can provide a complete solution for your problems whether using these shade cloths for agriculture, swimming poles, covering playgrounds, or what so ever. They are designed to fulfill all needs and can withstand severe weather conditions.