Agricultural netting suppliers are your best friend when you want to protect your crops from hail, snow, harsh winds, birds, insect, and other environmental factors that can destroy your crops. As a farmer or grower, knowing the best agricultural farm netting suppliers in your area and other regions saves you time and money.
Suppose you are looking to purchase nets for your farm. This guide will discuss why agricultural netting is essential and present the top 5 best suppliers you can rely on.
Do I Need to Purchase Agricultural Netting for my Farm?
Farming keeps changing, and when you want to remain productive and avoid losses due to crop destruction, utilizing various agricultural netting solutions is beneficial. Your crops are vulnerable to excessive heat, wind, attacks from birds and insects, hail, snow, etc. Here are the common explanations for why using agricultural netting works to your advantage.
Nets help shield your crops from strong winds that would otherwise break and destroy them.
As part of pest and disease control, having nets cover your crops will help keep off insects and control diseases.
With agricultural netting, you can preserve water loss. Moreover, you can apply drip irrigation which achieves reduced evaporation rate.
Nets are a great way of keeping off birds and insects, which could quickly destroy crops.
They are an excellent solution to shield your crops from harsh climate conditions, such as hails.
With agricultural netting, you protect your crops from sunburn.
We've understood why agricultural netting is ideal for protecting crops. Let's move on and discuss the different shade cloth suppliers where you can source your agricultural nets.
Top 5 Best Agricultural Netting Suppliers Worldwide (2023 Updated)
Choosing which agricultural netting supplier suits your needs shouldn't trouble you. Below are the best suppliers you can rely on.
1. INSONSHADE (China)
One thing you will love when you visit INSONSHADE is the quality and versatile solutions they offer for protecting your crops. Their agricultural nettings have every category of nets you need, including insect netting, shade cloth, hail netting, bird netting, etc.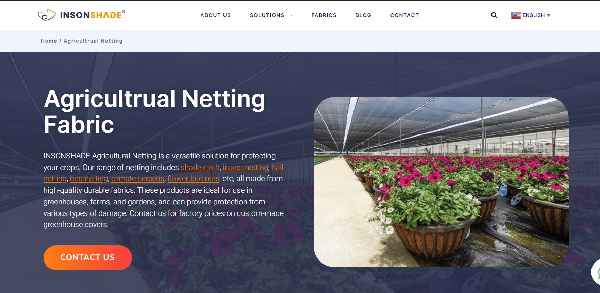 As China's leading and trusted shade cloth manufacturer and netting supplier, you are guaranteed to appreciate the fabrics used in the nets. Besides, they have different designs, can take custom orders, and deliver quality and durable agricultural nets to protect your crops under different circumstances.
INSONSHADE goes beyond agricultural netting to offer greenhouse and other shade cloth solutions. As a manufacturer and supplier, their prices are affordable, and you can ship the netting solutions to any approved location.
2. USNetting (USA)
Located in the USA, USNetting has built its reputation as a reputable agricultural netting supplier dealing with various crop netting solutions. Whether you are looking for shade cloths or other nets, such as trellis netting, bird netting, pond netting, or chicken netting, you will get them here.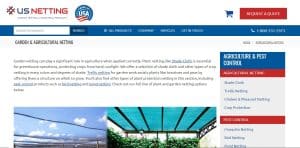 You can place your order online, and the company will gladly work to deliver quality netting solutions per your need and based on your crops. Since 1983, the company has focused on delivering quality and safe netting solutions to clients.
USNetting takes each order precisely, ensuring you get the right solution to protect your crops. Besides, they serve all customers, from individuals to government agencies to private companies.
3. Quatra Netting (Australia)
Quatra is the leading farm netting supplier in Australia. Founded in 1888, the company is a division of Haverford Brands, and it is tailored towards ensuring customer satisfaction thanks to the quality of fabrics they use for their netting.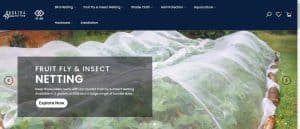 All the nets they offer for Australia are designed to be UV stabilized, ensuring they cover your crops during harsh climatic conditions. The brand has branches in Australia and New Zealand, and its extensive products are ordered globally.
Whether you want to order wholesale for reselling or meet your crop requirements, Quatra has a solution for every case.
4. William James & Co (UK)
For over 60 years, William James has specialized in providing fruit cages. Moreover, they manufacture vegetable cages and garden netting. Their goal is to offer their clients excellent reliability and great value for money.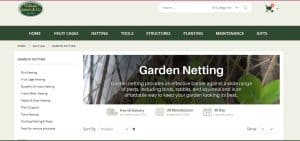 You will enjoy their standard delivery charges when ordering from within the UK mainland. For someone in other locations, you must incur additional delivery charges. The company has existed for a long time, and you can trust it to deliver quality agricultural netting solutions.
Their garden netting includes bird, rabbit, pong, fruit cage, insect, butterfly, and mesh netting. For custom netting options, you can specify the color, sizes, length, and material depending on your location and crop's requirements.
5. Smart Net Systems (Canada)
Smart Net Systems is founded on offering high-end products. The company offers services and supplies for agriculture, fishing, and aquaculture netting needs. Their many years of experience and vast technical knowledge enable them to develop quality products while offering their clients netting dynamics and expert advice.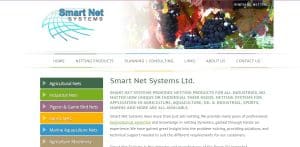 Smart Net Systems focuses on offering its products and services to clients in the USA and Canada. Nonetheless, you can place your order from a different location. One notable fact about Smart Net Systems is that it utilizes UV-protected polyethylene for its agricultural nets. These high-quality UV inhibitors help safeguard your crops while achieving durability and low shrinkage, and they are lighter and won't rot.
Conclusion
Crop protection starts with having reliable agricultural netting suppliers you can count on to cater to your crops' netting needs. Good netting suppliers offer different designs, customizations, quality nets, and affordable prices. We've covered the five best agricultural netting suppliers worldwide. Hopefully, you can now make a wiser netting decision for your crops.