Using anti-hail nets is a reliable solution for anyone looking to protect their crops from outside forces, such as hail, snow, birds, rain, etc. There are different anti-hail nets of different designs, and having a list of the top hail netting manufacturers that you can rely on saves you time and money. If that sounds like something you want to achieve, stick around as we discuss why hail netting is crucial and the best hail netting manufacturers in the market.
Why Use Anti-Hail Netting
When farming, you must have a way to protect your crops in all conditions. Although the primary goal of using anti-hail nets is to shield your crops from the effect of hail during unfavourable conditions, there are other benefits you get from it. Let's dig in!
1. Protection from Hails and Snow
During hailstorms, unprotected crops suffer the most and are destroyed, causing the farmer or grower losses. You can quickly get frustrated when you imagine the time, cost, and effort channelled towards your crops only for hailstorms or snow to come and destroy them. Luckily, with anti-hail nets, you can protect your crops.
2. Protection from Strong Wind
Strong winds harm crops. When you are in an area experiencing harsh wind, having ant-hail nets will help shield your crops from this strong wind, reducing losses.
3. Shield Against Bees
When bees or insects attack your crops, they will easily rot and cause losses. However, you can use anti-bee netting that comes with anti-hail nets. When you do, bees won't manage to reach your crops.
4. Shield Against Birds
Let's face it, we all know how devasting birds can be when they attack crops. Nobody wants to imagine the same happening to the crops, so using anti-bird netting saves the day.
5. Protect from Strong Rain
Heavy rain can destroy crops if they don't have any netting to reduce the impact of the raindrops. With hail netting, you can customize a design that suits your land and protects your crops from the impact of heavy rain.
Top 6 Best Hail Netting Manufacturers
With the numerous hail netting suppliers, deciding which to use can be challenging. Lucky for you, we have compiled a list of the seven best hail netting manufacturers to use while in different locations.
1. INSONSHADE (China)
INSONSHADE is the leading hail netting manufacturer and supplier in China. With over 20 years of experience dealing with greenhouses, netting solutions, etc., the company has rapidly become a reliable and cost-effective hail netting supplier in China and over 30 countries.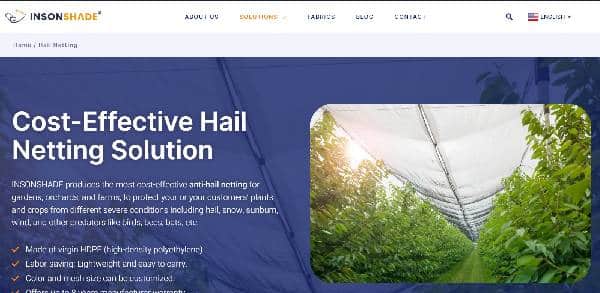 With INSONSHADE, you will get all the necessary netting solutions, including anti-hail nets, anti-bird nets, anti-bee nets, and wind netting solutions. Visit INSONSHADE and check the various offers and affordable prices they offer to ensure you protect your crops without breaking the bank.
2. DrapeNet (Australia)
DrapeNet was founded by one orchardist's efforts to protect his crops against harsh hails. The company boasts about helping its clients get comprehensive protection against destructive hail. Moreover, their hail netting solutions offer UV and crop protection against birds and bats.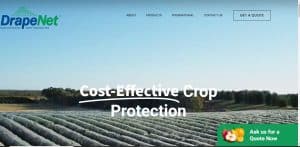 Still, if you aim to protect your crops from sunburn, they offer various netting options for your case. DrapeNet accommodates cherry, grape, seedless citrus, and apple and pear growers. The good thing with DrapeNet is that it has distributors in multiple locations, including Australia, New Zealand, North America, South Africa, and South America.
3. GreenPro (India)
India is not left behind in having different hail netting manufacturers. GreenPro utilizes state-of-the-art facilities to ensure it provides quality and customized netting solutions to achieve protected cultivation.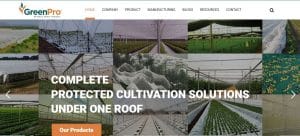 The manufacturing company has sophisticated equipment that guarantees you nothing less of quality and in different designs to meet your hail netting requirements. They handle everything, starting with gathering the raw materials to developing the finished netting solutions.
4. Haverford (Australia)
Haverford is among the largest netting manufacturers in Australia. It has existed in the industry for many years, giving it more experience meeting the client's needs for hail netting solutions of different sizes and designs.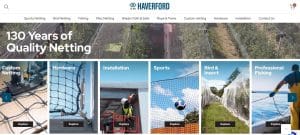 The company keeps adapting new technologies to ensure it comes up with trendy and sophisticated net design and development. You can contact them for your wholesale and bulk orders, and they will meet your expectations. Besides, they have a wide range of netting solutions you can select from.
5. GRDNetting Solutions (Canada)
GRDNetting Solutions is a hail netting manufacturer you can count on to protect your crops from hail, pests, and insects. The hail netting manufacturer offers agricultural netting and has multiple designs you can choose from.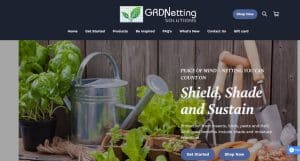 Whether you want to focus on small-scale or bulk hail netting solutions, visit GRDNetting Solutions and have them sort you out. They have quality products to shade, shield, and sustain your crops and garden.
6. Alphatex (Europe)
While in Europe, you can rely on Alphatex to handle your hail netting needs. Alphatex manufactures all its products and can handle your custom orders, making it the largest netting producer in Europe.

They have adequate experts to guide you in choosing hail netting solutions that blend with your location and crops. Besides, they deal in products, including pest protection, bird netting, hail netting, skip nets, windbreak netting, etc. Check them out.
Conclusion
You can't control hailstorms, but you can protect your crops from the devasting effect caused by hailstorms. We've discussed the top 6 hail netting manufacturers you should consider depending on your location. With that, I hope you now understand why hail netting is essential. You can use a reliable hail netting manufacturer and supplier such as INSONSHADE to handle all your netting needs.