The United Arab Emirates (UAE) is well-known for its modern urban landscapes and intense desert climates. Due to its harsh climatic conditions, utilizing the natural environment for agricultural development has been unrealistic. However, with the advancement in greenhouse agricultural technology, the impossible is now possible.
In this article, we will discuss the climatic conditions and the state of agricultural development in the Arab region. More importantly, we will focus on recommending some outstanding commercial greenhouse manufacturers, highlighting their services and products tailored for the UAE's local agricultural enterprises to facilitate better decision-making.
Related Reading: Top 16 Industrial Greenhouse Suppliers Worldwide
Commercial Greenhouse Demand in the UAE
The UAE stands as the most promising agricultural market in the Gulf Cooperation Council (GCC) region. Despite a high per capita food consumption, the country isn't entirely self-sufficient in agricultural production and still relies on imports for grains and other agricultural products.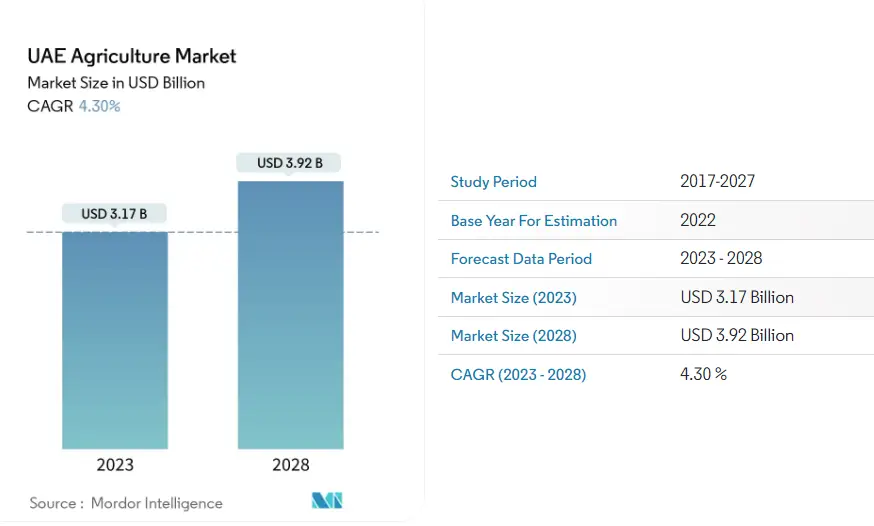 Despite challenging soil and climatic conditions, agricultural output in the UAE has been growing. Dates are a primary crop, with a production of 312,657 tons in 2020. Additionally, the rise of commercial greenhouses and indoor farms has led to increased production of certain vegetables like cabbage and broccoli, witnessing a 20-30% growth.
The UAE government places a high emphasis on food security. It aims to enhance farm efficiency through sustainable agricultural practices. In 2018, its government launched a National Food Security Policy, planning to increase agricultural production by 30-40% over the next decade.
The UAE's efforts and achievements in agricultural development highlight the urgent need for efficient and advanced greenhouse technologies. With the government's investment and support in agriculture, combined with unique local environmental conditions, greenhouse farming has a promising future in the country. This is why local enterprises are keen to invest in greenhouse agriculture.
4 UAE-Local Greenhouse Suppliers
Engaging in greenhouse agriculture in the United Arab Emirates (UAE) presents more challenges than in other parts of the world due to its harsh climatic conditions. Therefore, when choosing commercial greenhouse manufacturers, it becomes crucial to opt for those who have a deep understanding of the local climate. This not only ensures that the greenhouse design is more suited to local weather conditions but also assists in making appropriate choices for greenhouse accessories tailored to specific needs.
If your greenhouse requirements are well-defined and you are operating on a larger agricultural scale, you may also consider looking for more cost-effective commercial greenhouse manufacturers globally. These suppliers might have natural advantages in raw materials and human resources, offering more economical and efficient solutions for your agricultural project.
In this article, we will primarily recommend some of the more capable local commercial greenhouse manufacturers in the UAE. If you require a broader range of suppliers, consider contacting us or refer to our related articles for more information.
1. GreenOponics Agricultural Services LLC
GreenOponics Agricultural Services LLC, based in Dubai since its inception in 2015, has become a prominent name in the UAE for providing hydroponic solutions. Their expertise extends beyond hydroponic products to include greenhouse construction, system installation, and maintenance.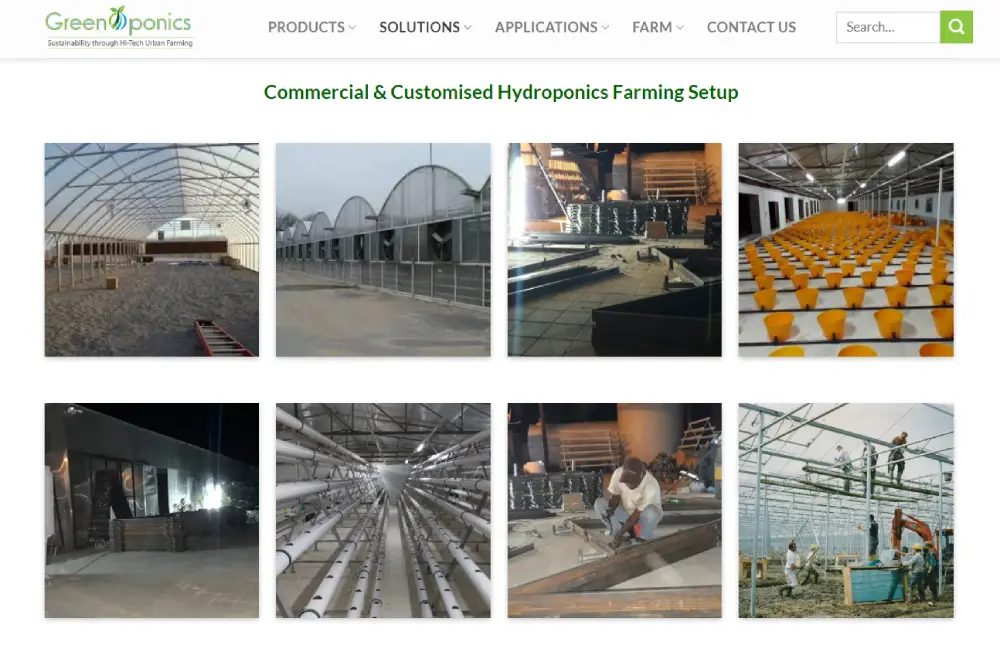 GreenOponics excels in greenhouse construction with comprehensive planning of commercial greenhouse structures, swift construction, and installation services, and offering detailed project quotations and turnkey solutions. Additionally, they emphasize educating clients on operating and maintaining new greenhouses, with a special focus on custom hydroponic systems, including reverse osmosis, fertilization systems, and installations for hydroponic and aquaponic cultivation.
2. Elite Agro Projects
As a construction division of Elite Agro Holdings, Elite Agro Projects boasts extensive expertise in agricultural and farm-related construction. With a track record of successfully completing over 100 mid to large-scale agricultural projects globally, particularly in the GCC region, they are continually expanding their services worldwide.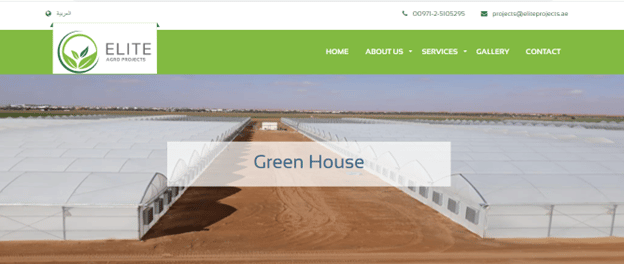 Elite Agro Projects offers a range of services from designing and constructing greenhouses and nurseries to landscaping, construction, open-field production, agricultural infrastructure, high-tech irrigation and hydroponic systems, and post-harvest facilities. Their commitment to smart agricultural solutions is evident in their one-stop service, from project design to construction, tailored to adapt to local and challenging conditions, focusing on profitable agriculture and establishing high-quality facilities and structures for growers.
3. FLORA Engineering Service LLC
Established in 2006, FLORA is a leading enterprise in greenhouse installation in the UAE. Renowned for their engineering expertise in agriculture, they provide comprehensive services from project conception to construction and initiation. With over 20 years of experience, FLORA's team excels in implementing effective greenhouse solutions in extreme climatic conditions, ensuring optimal growth environments for crops. They demonstrate their professionalism through meticulous analysis, planning, and design of projects to ensure quality throughout the implementation process. FLORA's services extend beyond greenhouse construction to include comprehensive equipment and materials, such as special cover materials and advanced climate control systems.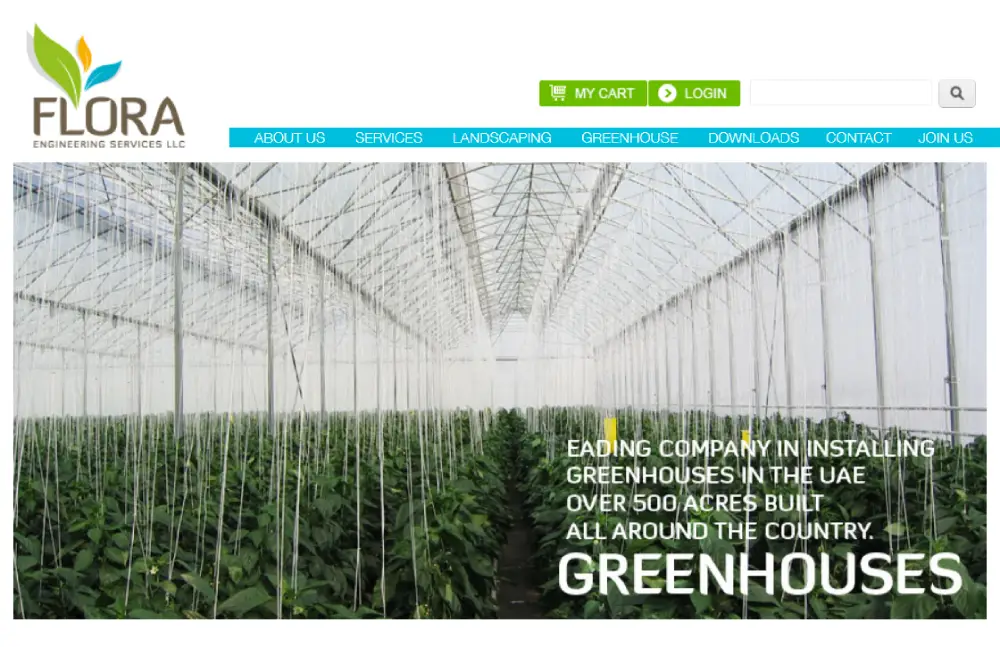 The company's commitment to regular and extensive training programs ensures their team members maintain professional and efficient work practices. FLORA's success is bolstered by close cooperation with international quality suppliers, keeping them at the forefront of technological advancement.
4. Al Darmaky Contracting & Agricultural Materials LLC
Founded in 1983, Al Darmaky Contracting & Agricultural Materials LLC is a key player in the UAE's agricultural and horticultural construction and supply sectors. With forty years of rich experience and a solid reputation, Al Darmaky excels in providing comprehensive services in design, construction, and civil contracting, covering areas like greenhouses, landscaping, and irrigation networks.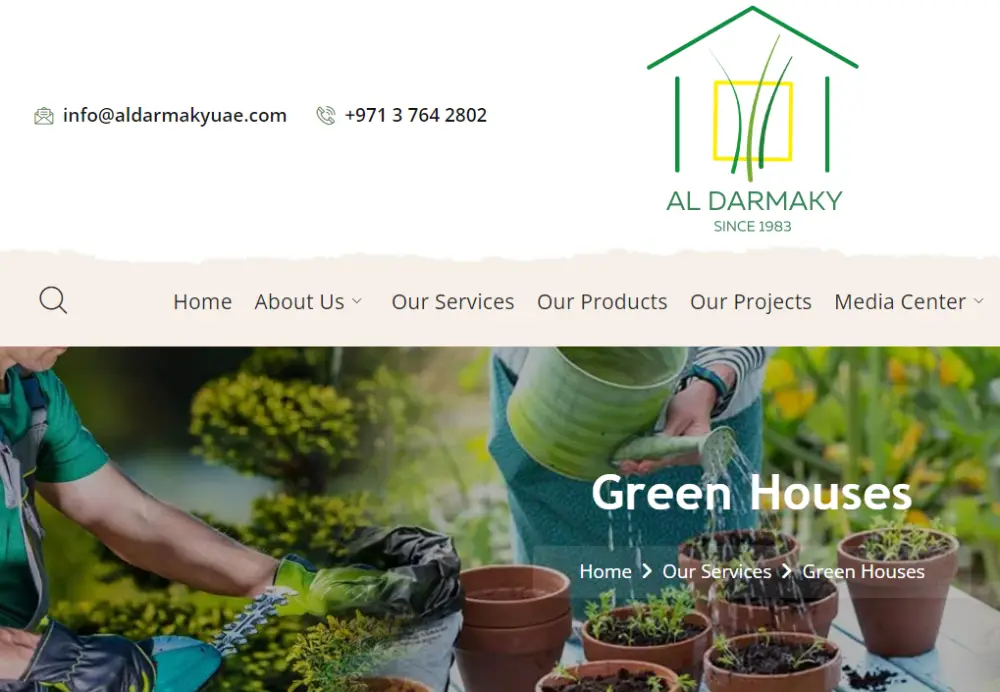 Their expertise in greenhouse projects is evident in their focus on design and construction, not only prioritizing the aesthetic and functionality of greenhouses but also dedicating it to designing and installing irrigation systems, as well as nursery services in GCC countries. Their projects extend beyond ground engineering to include civil construction projects such as villas, main water tanks, and control rooms, showcasing their capabilities in complex project management and execution.
Conclusion
Selecting a suitable commercial greenhouse supplier is crucial, especially in the UAE. The region's high temperatures, shading needs, and water retention challenges make climate control in greenhouses vital. Such high standards demand advanced technology, leading to increased costs.
For example, building a 10,000-square-foot greenhouse could require an investment of several hundred thousand dollars. Thus, finding the right supplier while managing costs is essential. For cost-effectiveness, considering global suppliers like INSONGREEN might be necessary. These suppliers often have advantages in raw material production and labor costs.
In the UAE, local suppliers deeply understand the specific greenhouse construction needs. They provide localized services and quick responses. However, they typically focus more on providing services than on producing raw materials. This focus can be a disadvantage for cost control. Consequently, UAE farmers with precise greenhouse requirements should look at global suppliers. Collaborating with these suppliers can offer better cost efficiency and value.