Description
50% shade cloth knitted Manufactured of High Density Polyethylene (HDPE)with stable UV, will block out 50% of light.protection plants from direct sun while allowing water and air through, no need to remove the 50%shade net when watering.due to we are 50% knitted shade fabric suppliers,manufacturers directly. therefore we can manufacture as your inquiries.
 Features:
50% shade cloth Made from 100% virgin high density polyethylene with stable UV treatment.
Blocks out 50% of light and reduces heat buildup in shade house or tunnel.
8 year lifetime Use under normal conditions of use without human intervention.
Environmentally friendly materials,Naturally rot and mildew proof.
Breathable Fabric – keep the air fresh and allow hot air to be pushed out of shade fabric, and water drops through. Easily clean with a garden hose.
Tough Lock-stitch material resists tears, punctures and unraveling.
Lightweight and High density knitted Polyethylene.
Resistant to a range of agricultural chemicals, sprays and detergents.
Lock-stitch design helps prevent unraveling.
Specification:
Needle:2-6.
Wire shape: tape
Width: 1.83m,2m,4.2m,5.3m maximum 12m.
Length: customized.
Tape Knitted structure.
Color:Black,Green,red,Blue and white or customized.
Weight:tape&tape weight:45-100g/m2.
 Benefits 
When used the 50% shade net on tunnels it keeps the soil cool and reduces moisture loss through evaporation caused by excessive heat.reduce repetitive irrigation, thereby saving your costs .It can prevent costly damage to crops caused by the elements, sun, wind, hail and UV rays.
Stronger and up to 25% lighter than woven shade cloth, it also provides better air and water permeability. It is ideal for use in greenhouse covering, livestock shading, bird netting, windbreaks, privacy screens and much more.
UV stabilization offers durability and longer life
Application of 50% knitted shade cloth:
Suitable for Shading nursery stock, cabbage, peppers, lettuce, some orchid varieties, potted plants, geraniums, and irises.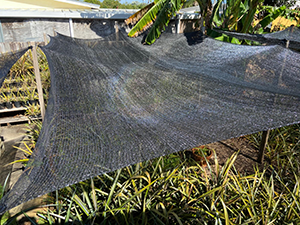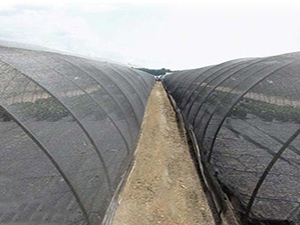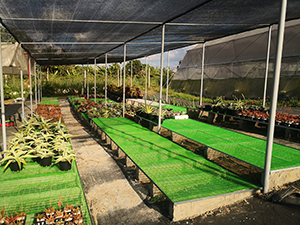 The package of 50% shade cloth:
1.83 x200m/roll,3x200m/roll or customized