Light is the energy green of plants use to sustain themselves; without it, they cannot survive. But too much light can actually be detrimental to plant growth, for example in structures such as greenhouses or high tunnels, where too much solar radiation and too high temperatures can scorch the leaves of crops, causing massive loss of plant yields. So we often need to find countermeasures to deal with it. Adjust the climate of your greenhouse or tunnel to suit different crops.
This blog post will show you how to use shade cloth to protect your crops from hot weather.
Shade cloth is a simple knitted or woven fabric designed to reduce the amount of sun rays affecting your crops. They come in a variety of colors and densities, depending on the amount of solar radiation to block and the type of crops that need protection.
Necessity of shade cloth:
The leaves of some plants are very tender and the extreme heat has had a brutal effect on them. Extreme radiation not only burns plants, but also reduces moisture levels in the soil, leading to drought conditions, so sometimes sensitive plants experience wilting symptoms, and in the opposite case they die. Extreme temperatures can stress crops, which can then affect crop yields. Also, re-irrigating crops is hectic and energy-intensive, so using a shade cloth is the best solution for these situations.
The benefits of using the shade cloth
Here are a few benefits you can get by using shade cloth in your greenhouse or tunnel.
Protects vegetables from the sun's extreme radiation, which affects different physiological processes in plants.
Improve ventilation and air circulation:
Shade net houses are designed in such a way that they have small holes to allow easy entry and exit of air. They are also permeable because air can easily diffuse through the material, enhancing air circulation.
Too much heat and warmth is bad for some crops and can cause plants to dry out or weather. When the air temperature in your greenhouse or tunnel too high, it will make absorbs soil moisture; making it unfavorable for plant support. By using shade cloth you can retain moisture in the soil as the sun's rays are not directly connected to the soil
By using shade nets. Reduced the number of repeated irrigations. It reduces excess costs of irrigation and fertilizers.
 It also helps protect your tunnel or garden from insects and birds.
Types of shade cloths for greenhose or tunnel
Shading cloth are divided into different types based on the fabric used for knitting, color and density percentage.
According to the fabric technology, the shading cloth is divided into three types.
Tapement knitted shade cloth
It is knitted from lightweight polyethylene tape filament. It provides resistance to UV rays. Easier to obtain better shading efficiency Better economic performance
Mono filament knitted shade cloth
It is woven from 100% polyethylene round yarn. Tough lock knit construction. Resists rips, rips and abrasions. UV stabilized, breathable features
Mono filament &tapement knitted shade cloth
It is made of lightweight polyethylene. It provides resistance to UV rays. It is textured in the form of an open flat seam design that resists damage and reduces heat build-up and wind speed in the garden. Long service life, resistant to edible chemicals and cleaning agents
One of the most popular colors for agricultural shading field is black and green. There are other colors on the market such as white, red, yellow and blue.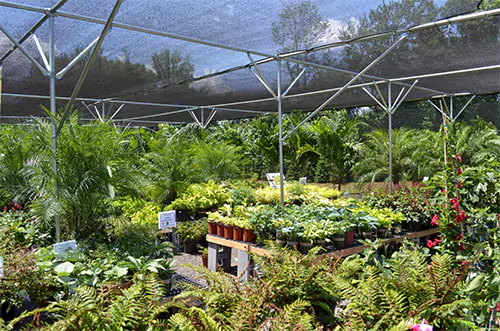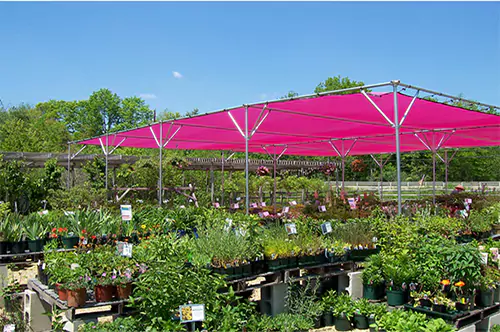 There is also a special style of aluminum foil shade cloth. It is called aluminet shade cloth or aluminum shade cloth. This can be used as an alternative to black shade cloth. It is a kind of sunshade cloth made of special material aluminum strip through HDPE wire and warp knitted with special structure. It is specifically designed to protect plants from frost radiation damage and prevent oxidation. And there is a high degree of efficiency in reflecting sunlight. 
A 10% density shade cloth is ideal for sun-loving plants, and a 30% density shade is best for sun-sensitive plants. This weight of the fabric also provides some protection from dehydration from the wind. 55% or more cloth is suitable for greenhouse applications. In hot summer, a shade percentage of 30-50% is ideal for most crops, while a shade percentage of 80-90% is ideal for people to shade. Most plants grow best in a maximum of 40% – 60% shade. However, when planting some shade-loving plants, it may take 75% or more to get the correct light level.Here examples of shade cloth percentage suitable to your plants.
| | |
| --- | --- |
| 55% shade rate  suitable for  | 75%-85% shade rate   suitable for  |
|  nursery stock |  orchids |
|  cabbage | some ferns |
| peppers |  large olive trees |
|  lettuce | Protection barriers on buildings |
| some Orchid varieties |  Use as silt fencing |
| pot plants | Use as awnings |
| geraniums | Use as livestock shading |
| caladiums | Use as domestic shading |
Install Shade Cloths on Greenhouses
With shading materials, start by determining how much sunlight each crop needs. It is best to make a crop model for each vegetable based on the degree days the plant needs to grow. Some plants need full sun, such as peppers and tomatoes. Other plants grow with less sunlight, as well as lettuce, spinach, cauliflower, and most beans. Seedlings when transplanted need less sun before they become established.
Once you have selected the shade density that is right for your vegetables or plants, installation is simple. You will need a locking clip grommet. If you have buttonholes, you don't need any tools to hold the fabric in place. It creates an ideal tie-down point for your shade cloth.