Shade cloth plays a vital role in everyday life and various industries throughout Australia. Whether it's creating a cool and shaded retreat in residential backyards, providing sun protection in public spaces, or safeguarding plants from excessive sunlight in agriculture and horticulture, shade cloth is an indispensable choice. Not only does it effectively block harmful UV rays, but it also helps to lower temperatures, creating a comfortable environment for both people and plants.
As a factory engaged in fabric production for global shade brands and offering OEM services, we (INSONSHADE) are well-acquainted with local shade brands in Australia. In this article, we have curated a list of the top shade cloth suppliers in the Australian market, providing a valuable resource for those seeking high-quality shade cloth.
Australia Shade Cloth Suppliers & Manufacturers to Consider
After researching sunshade suppliers in Australia, we will now introduce some local Australian suppliers who excel in these aspects. Here are nine major sunshade suppliers in the Australian market for 2023, carefully selected based on product quality, UV protection capabilities, price and durability, design, and service. The order does not imply any specific ranking.
1. GALE Pacific
GALE Pacific is a leading global manufacturer of polymer fabrics for high-end commercial and industrial applications. They pioneered knitted sunshade fabrics in the early 1970s. Their products are primarily used to protect people and outdoor environments from UV radiation and harsh weather, enhancing agricultural efficiency and competitiveness, and improving architectural design and applications. Their renowned brands, including Commercial 95®, Landmark®, and Canvacon®, are considered industry benchmarks.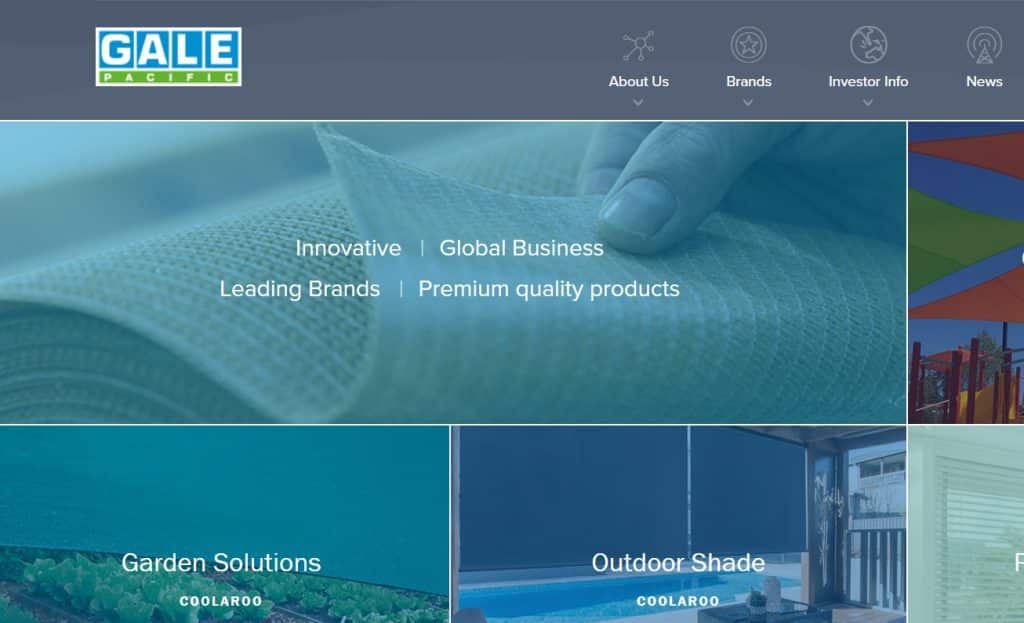 GALE Pacific is dedicated to maintaining a leading position in technology, research, and development. Their polymer fabrics have demonstrated exceptional performance in some of the most challenging outdoor environments worldwide. Their continuous expansion and growth are driven by their commitment to excellence and innovation. GALE Pacific is headquartered in Australia and also manufactures retail products for the home improvement industry under well-known brands like Coolaroo and Zone Interiors.
Contact Details
Phone: 1800 331 521
Fax: 03 9518 3375
Address: 145 Woodlands Drive, Braeside Vic, 3195, Australia
2. Polyfab
Polyfab is an Australian company established in 1995, specializing in the production and wholesale of high-quality sunshade fabrics and industrial, agricultural, and horticultural textiles. Their philosophy is to protect people like you and strive to do better in everything they do, leading the market in providing the best sunshade fabric for personal protection. Their success and strength lie not only in the top-notch products and services they offer but also in their expanding global network. Polyfab has valuable distribution partners in key locations such as Asia, the Middle East, New Caledonia, New Zealand, and North America. Additionally, Polyfab takes pride in being accredited by the International Melanoma Foundation (IMF).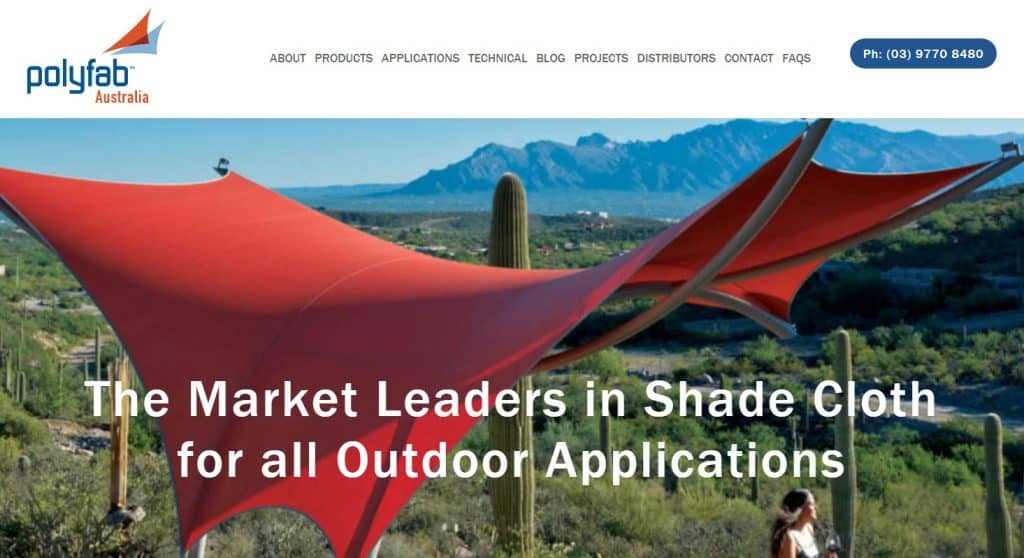 Polyfab offers a variety of sunshades and agricultural/horticultural supplies, including:
Sunshades: Polyfab provides a range of sunshade fabrics, including PolyFX, Parasol, Comshade, Architec 400, and the new Xtra line. These sunshade fabrics offer up to 99.8% UV blocking effectiveness and are suitable for various commercial and residential shade structures.
Agricultural/Horticultural: Polyfab offers a variety of textiles for the agricultural and horticultural industries, such as premium bird netting, Covershade heavy-duty monofilament shade cloth, Horticover movable and reusable greenhouse covers, and Solarpro high-quality reinforced greenhouse fabrics.
Industrial Fabrics: Their high-quality industrial fabrics like Solarpro and Polyshield are ideal for elemental protection and providing support during and after natural disasters.
Contact Details:
Phone: 1300 35 75 85
Email: [email protected]
Address: 2 Goodall Close, Dandenong South, VIC 3175
3. Shade Australia Pty Ltd
Shade Australia Pty Ltd was established in Australia and has over 20 years of experience. As a specialized sunshade product supplier, they are committed to providing customers with high-quality sunshade products and solutions. Shade Australia Pty Ltd's products are widely used in residential, commercial, and public spaces to provide comfortable outdoor shading areas.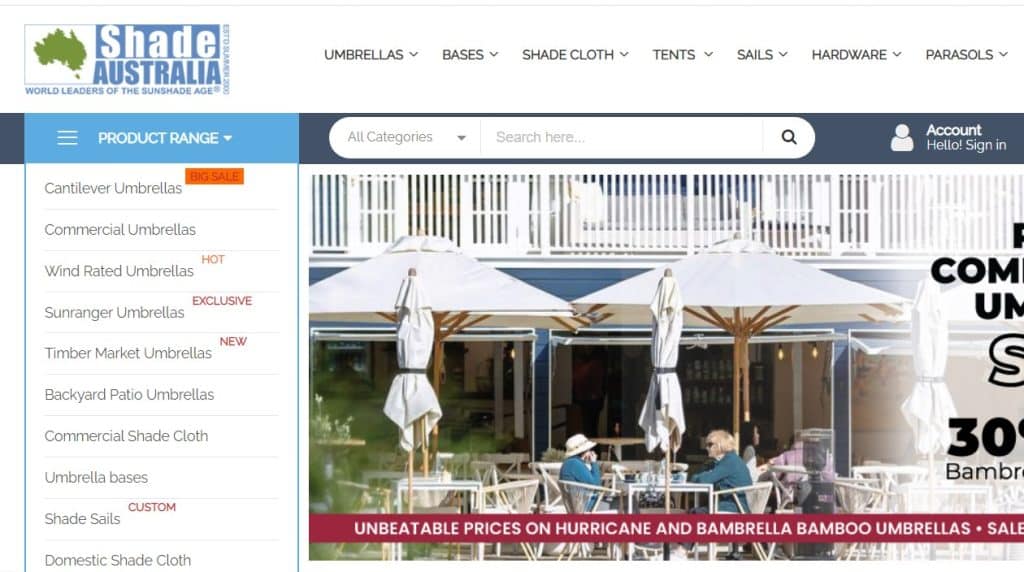 Shade Australia Pty Ltd's sunshade products include umbrellas, awnings, shade sails, and shade covers. Their products are carefully selected with a focus on quality and value for money to ensure reliable sunshade and sun protection. Whether in gardens, patios, restaurants, or pool areas, Shade Australia Pty Ltd's sunshade products add comfort and aesthetics to outdoor spaces.
If you are interested in Shade Australia Pty Ltd's products or need further assistance, you can contact them through the following channels:
4. Sail City
Sail City is the largest residential shade sail company in Western Australia, manufacturing and installing shade sails in Perth since 2003. They create shade sails for various commercial and residential applications, covering areas both large and small, such as carports, swimming pools, playgrounds, and more. Their business is built on reputation, experience, innovation, and quality, serving private individuals, government schools, hospitals, local governments, and more.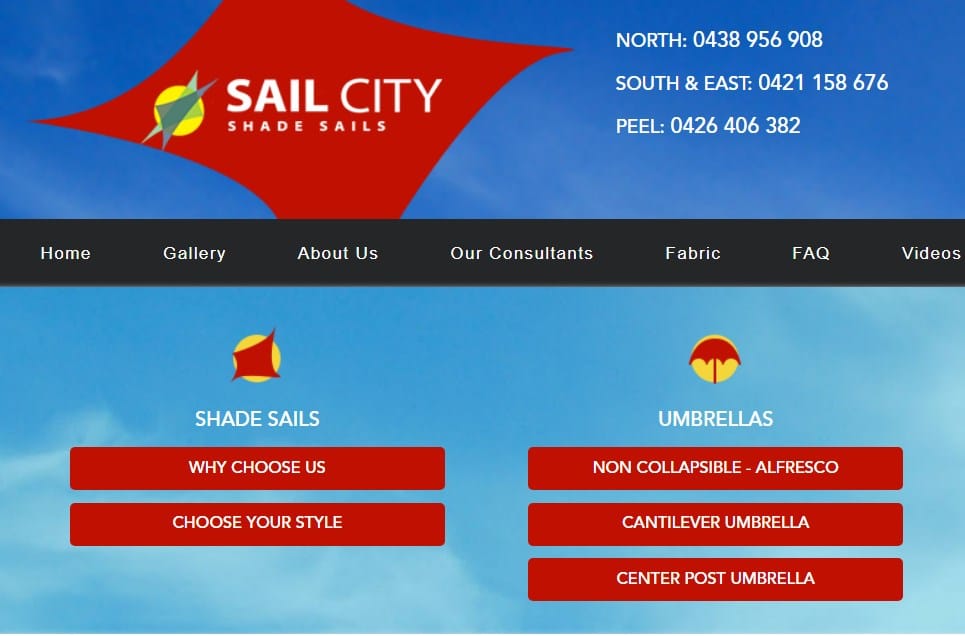 Sail City provides comprehensive services from concept to project completion. Their consultants offer comprehensive, innovative, and practical advice to suit any application. Sail City's shade sails have been nationally recognized by professional textile associations in 2017, 2013, 2010, and 2009.
Contact Details:
5. Global Shade
Global Shade is an Australian company located in New South Wales that specializes in manufacturing high-quality shade products, including shade sails and shade structures. The company has been manufacturing and selling shade products since 2004 and quickly established itself as a leading provider of shade solutions in the region. They have on-site manufacturing in their local warehouses to ensure the highest quality standards are met while keeping costs down.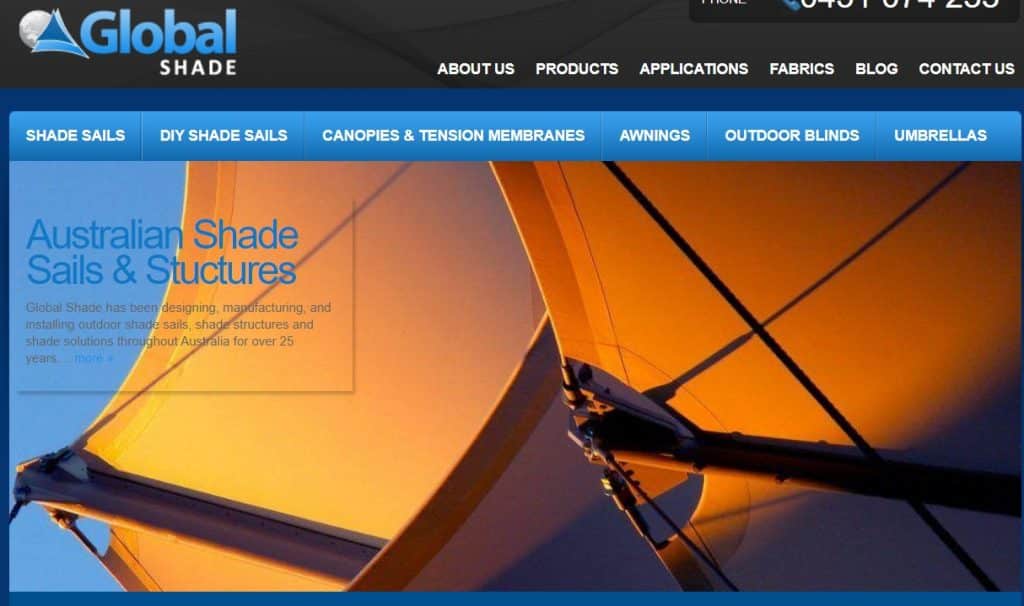 In recent years, Global Shade has grown to become one of the premier shade solution manufacturers in Australia. They have expanded their range of shade products, including shade sails, DIY shade sails, awnings, and tension membranes. Additionally, they collaborate with local shade design and installation companies throughout Australia to offer their high-quality shade products at the most competitive prices to customers nationwide.
Global Shade's products are of superior quality and are backed by multiple warranty support. The warranty they provide covers not only the shade fabrics used in their products but also the manufacturer's warranty on their products. Furthermore, their licensed installers provide craftsmanship warranty for product installation. Their mission is to provide Australians with the best quality shade products at the most affordable prices.
Contact Details:
Headquarters: 228 Tweed Valley Way, Murwillumbah, NSW, 2484
Phone: 0451 074 233
Fax: 02 6672 8104
Email (Preferred): [email protected]
6. Rainbow Shade
Rainbow Shade is an Australian company that has been providing high-quality sun protection solutions for the past 25 years. All their products are manufactured to the highest quality standards and have proven their performance in Australia's harsh climate. Their reputation is built on quality, service, and integrity. Rainbow Shade's product range includes shade sails and shade structures that offer shade solutions for various areas, both residential and commercial.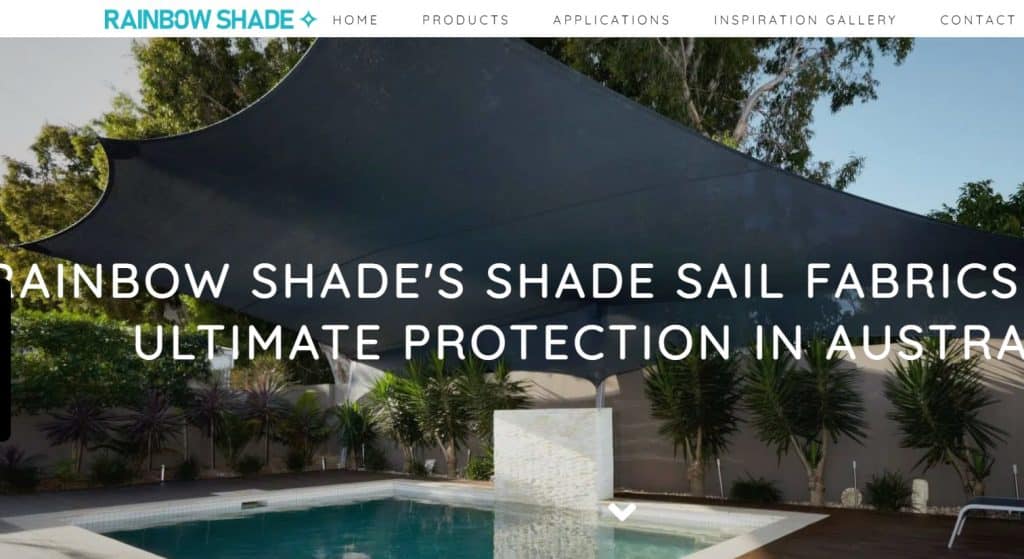 Their product range includes automotive shade sails that protect cars and other vehicles from intense sunlight, residential shade sails that provide shade over your swimming pool or children's play areas, and waterproof shade sails that turn unusable outdoor areas of your café or restaurant into profitable spaces. By providing shade and rain protection, you can expand your seating area and offer comfortable seating for your guests. Rainbow Shade's shade sails are customizable to meet your specific needs, offering flexibility and versatility.
Contact Details:
Phone: +61 7 5580 5366
Address: 3/15 Kohl Street, Upper Coomera, QLD, Australia 4209
Email: [email protected]
7. Jaylon
Jaylon is an Australian company that originated from J & L Plastics and was founded by tailor Ernie Steinhardt in 1948. Today, Jaylon has evolved into a leading company with over 75 years of experience in the manufacturing of coated textiles. Since its acquisition by current CEO Stephen Lloyd in 1997, Jaylon has achieved significant growth in various market sectors, including grain covers, tank liners, and geotextile installations. Jaylon operates two factories in Perth and has branch offices in Brisbane and Melbourne.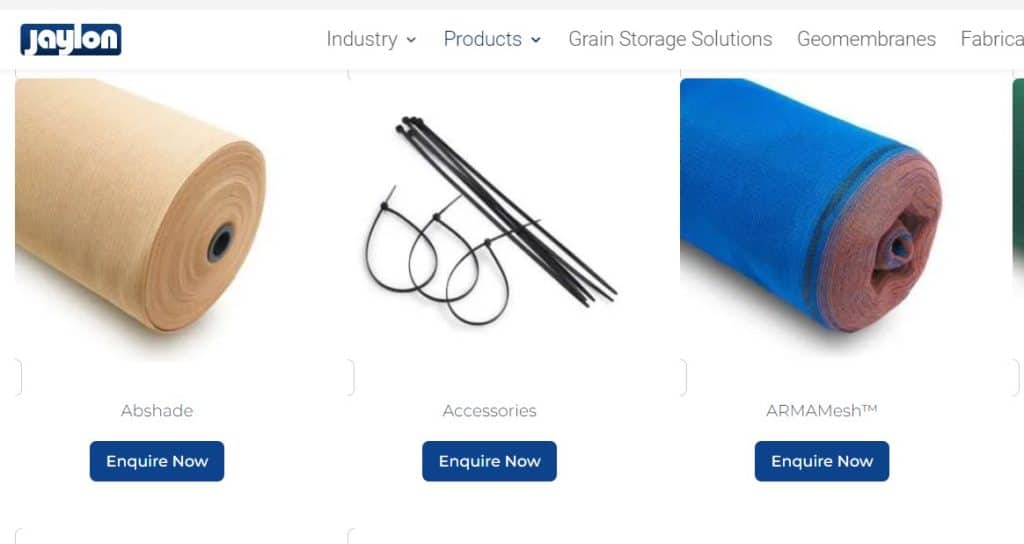 Jaylon offers a wide range of products specializing in high-quality shade fabrics and related products. Their product line includes various materials ranging from PVC to different polymer blends to cater to specific applications. Among them, Jaylon's custom waterproof fabrics are highly praised by users for their durability and practicality.
Western Australia Office Contact Details:
Western Australia Office: 11 Hunt Street, Malaga WA 6090
Phone: +61 (0)8 9249 2088
Email: [email protected]
Business Hours: 8.30am – 4.30pm
Queensland Office Contact Details:
Queensland Office: 222 Leitchs Road, Brendale QLD 4500
Phone: +61 (0)7 3881 1904
Email: [email protected]
Business Hours: 8.30am – 5.00pm
8. Shadeform Sails
Shadeform is a specialized company with over 30 years of experience in shade sail and structure design, manufacturing, and installation. As the exclusive agents for Issey and Flexshade, Shadeform is also an expert in curtains, awnings, outdoor umbrellas, and retractable roof systems. They cater to a wide range of services, from providing small residential shade sails for your backyard to offering large customized shade structures for schools, councils, and all commercial settings. Shadeform is a fully family-owned and operated South Australian company.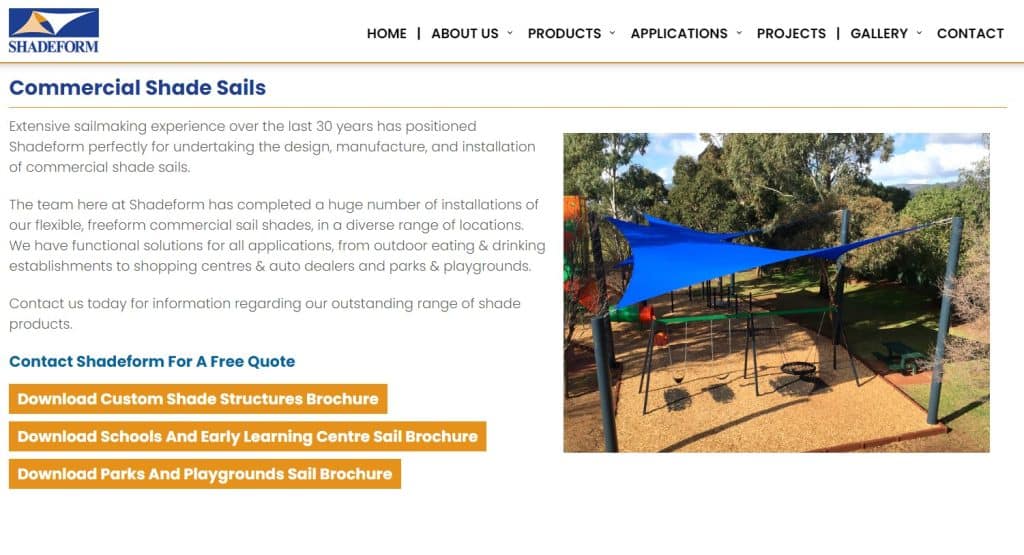 Contact Details:
Address: 212 Grange Rd. Flinders Park SA, Australia 5025
Phone: +61 8 8354 2116
Email: [email protected]
9. HVG Fabrics
HVG (Halifax Vogel Group) is a privately-owned Australian company with over 30 years of history, primarily engaged in the importation and distribution of a range of market-leading, diverse, and complementary products. With a stable national team and extensive global supply chains, HVG is able to provide timely and accurate service to its customers.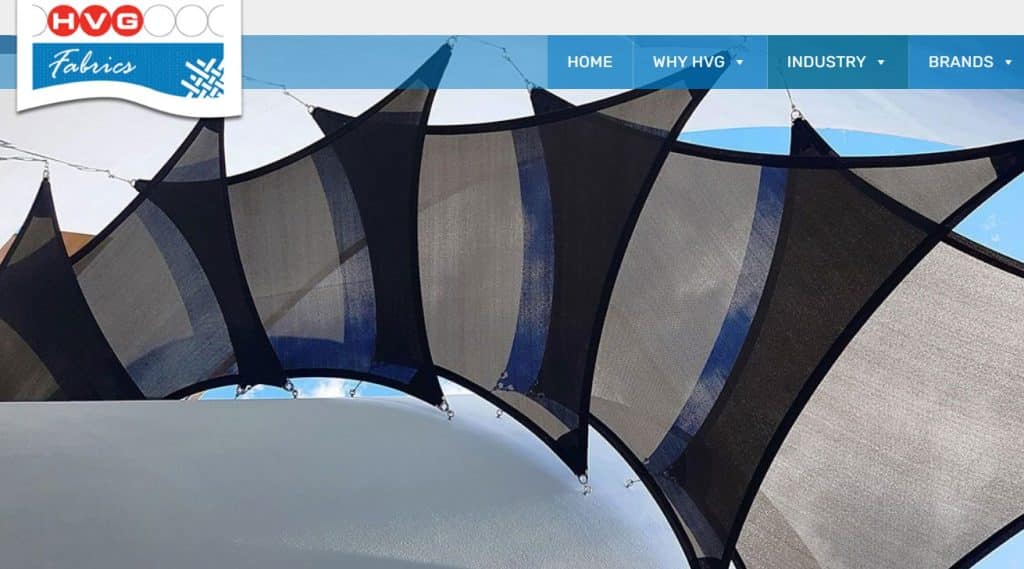 HVG Fabrics offers solutions for various shade, shelter, and performance fabric applications. Their products find wide application in industries such as blinds and awnings, construction, agriculture, and horticulture. With a focus on providing solutions, HVG Fabrics ensures the quality and performance of its products meet customer needs.
Comparison Table & How to Choose?
| | | | | |
| --- | --- | --- | --- | --- |
| Supplier Name | Year Established | Main Products | Services Offered | Areas of Expertise |
| GALE Pacific | 1952 | Shade fabrics, industrial textiles | Manufacturing, global distribution | Providing sunshade and textile solutions for agriculture, horticulture, construction, commercial, and residential applications |
| Polyfab | 1995 | Shade cloth, mesh fabrics | Manufacturing, sales | Offering high-quality sunshade products |
| Shade Australia Pty Ltd | 2003 | Shade sails, outdoor shade products | Sales, services | Supplying high-quality outdoor shade products |
| Sail City | 2003 | Shade sails | Manufacturing, installation | Manufacturing shade sails to cover both large and small areas |
| Global Shade | 2004 | Shade products, shade sails | Manufacturing, sales | Delivering high-quality shade solutions |
| Rainbow Shade | 25+ years | Shade sails, shade structures | Manufacturing, sales | Providing high-quality sun protection solutions |
| Jaylon | 1948 | Sunshade fabrics, coated textiles | Manufacturing, sales | Bringing 75 years of expertise in coated textiles manufacturing |
| Shadeform Sails | 30+ years | Shade sails, shade structures | Design, manufacturing, installation | Specializing in shade sail and structure design, manufacturing, and installation |
| HVG Fabrics | 30+ years | Shade fabrics, performance textiles | Importing, distribution | Importing and distributing a diverse range of market-leading and complementary products |
Among the suppliers we have evaluated, including both local Australian and international options, each company has its own strengths and potential limitations.
GALE Pacific and Polyfab stand out due to their extensive industry experience and a diverse range of products. They are also recognized as global distributors of sunshade fabrics. However, if you require specific customized services, they may not be the optimal choice.
For consumers seeking tailored services, Sail City and Shadeform Sails may offer better options as they provide comprehensive, end-to-end solutions from design to installation. It is important to note that their service coverage is primarily limited to specific regions.
Global Shade and Rainbow Shade demonstrate exceptional performance in sunshade solutions. Their products have been rigorously tested in Australia's harsh climate, ensuring high-quality and reliable performance. However, they may not offer the same breadth of product variety as GALE Pacific and Polyfab.
Jaylon and HVG Fabrics are suppliers with specialized expertise in specific fields. Jaylon specializes in coated textiles manufacturing, while HVG Fabrics excels in importing and distributing diverse and complementary products.
Furthermore, you can also consider international suppliers like our brand INSONSHADE, which is a professional sunshade fabric factory based in China. Leveraging China's lower labor costs and mature manufacturing processes, we offer cost-effective sunshade fabrics compared to suppliers in Europe, America, and Australia. Additionally, we have the capacity for large-scale production and efficient delivery.
Australia's Climate and The Demand for Shade Cloth
Australia experiences diverse climates, but a common characteristic is intense sunlight and high UV radiation levels. In cities like Sydney and Melbourne, the average summer temperature reaches around 26 degrees Celsius, accompanied by long hours of sunshine. The UV index in Australia often exceeds 11, with some northern regions even reaching 16-17. Prolonged exposure to such high UV radiation can be harmful, leading to skin cancer and posing risks to crops and plants.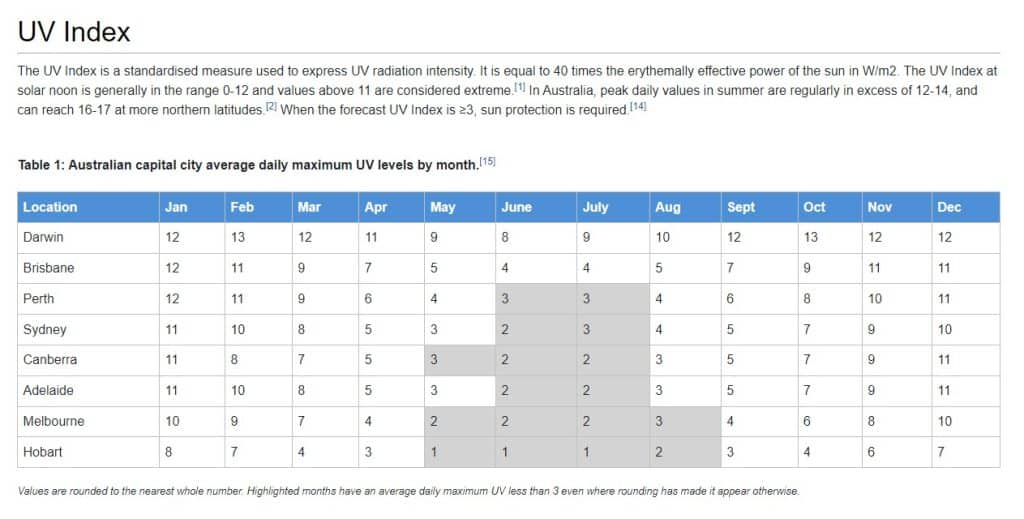 Therefore, shade cloth has become an essential product in Australia. It effectively blocks sunlight, lowers temperatures, and, importantly, provides UV protection, creating a healthy and comfortable environment for people and plants. In agriculture and horticulture, shade cloth safeguards crops and flowers from excessive sunlight and UV radiation, ensuring optimal temperature and humidity levels.
Hence, when searching for shade cloth suppliers in Australia, users and businesses consider factors such as UV protection, pricing, durability, design, and installation services.
Then, How to Choose Shade Cloth for Australia?
Due to the climate characteristics in Australia, there are several key factors to consider when choosing shade cloth:
1. Shade capacity and UV blocking ability
Given Australia's high UV radiation levels, it is important to pay attention to the UV-blocking ability of shade cloth. High-quality shade cloth should effectively block UV rays, reducing potential harm to humans and plants. If you intend to use it for plant cultivation, it is essential to choose a shade cloth with the appropriate level of shading for your plants.
2. Price and durability
Consumers typically consider price and durability when making a purchase. They look for shade cloth that is not only affordable but also performs well and is durable. Since shade cloth is exposed to harsh weather conditions, including intense sunlight, wind, and UV radiation, durability is a key factor to consider. Consumers often seek shade cloth that is sturdy, long-lasting, easy to clean, and can withstand prolonged use.
3. Color and size
Most suppliers offer a variety of colors, shapes, and sizes for customers to choose from. Additionally, different series are available for various shade applications. For example, we have different shade cloth series tailored for agriculture, greenhouses, and outdoor use. These options can satisfy the needs of most people. However, if you require specific sizes or shapes, it is advisable to choose a supplier that offers customization services.
4. Service
Good service can help reduce the time and effort spent on shade cloth procurement. Therefore, before making a purchase, you can inquire about the supplier's level of professionalism, including post-purchase customer service, after-sales support, and installation services (if needed for the product).
Of course, if you are looking for an original manufacturer or a large-scale supplier for bulk shade cloth production, your considerations may be different. In such cases, you might prioritize factors such as cost-effectiveness, choosing overseas shade cloth suppliers, requesting free samples, and evaluating their actual production capabilities. I have already addressed these points in detail in the previous article.
Conclusion
In summary, each supplier offers unique advantages, and the choice of supplier depends on your specific requirements. GALE Pacific and Polyfab are ideal options if you seek suppliers with a diverse product range and global distribution. For one-stop customized services, Sail City and Shadeform Sails are suitable choices. Global Shade and Rainbow Shade excel in providing high-quality shade solutions tested in harsh climates.
However, if cost-effectiveness, large-scale production, and efficient delivery capabilities are prioritized, INSONSHADE would be a favorable international supplier.