Situated at the world's southernmost tip, South Africa features a varied and unique climate. Framed by the Atlantic and Indian Oceans, this country boasts a wide array of weather patterns. The northern regions present tropical and subtropical climates, while the southern areas are more temperate. South Africa's intense summer sunshine increases the demand for effective sun protection solutions.
Among sun protection products, sunshades provide an exceptionally versatile solution. They do more than just blocking direct sunlight and reducing heat. These products offer protection against harmful UV rays, safeguarding people, plants, and valuable items from the potential harm of outdoor sunlight. Moreover, by controlling light intensity, sunshades play a crucial role in agricultural productivity and horticultural care. In sunny South Africa, these products, often provided by reputable shade cloth suppliers, are extensively used in various spaces, including homes, schools, parks, commercial areas, and farming or gardening sites.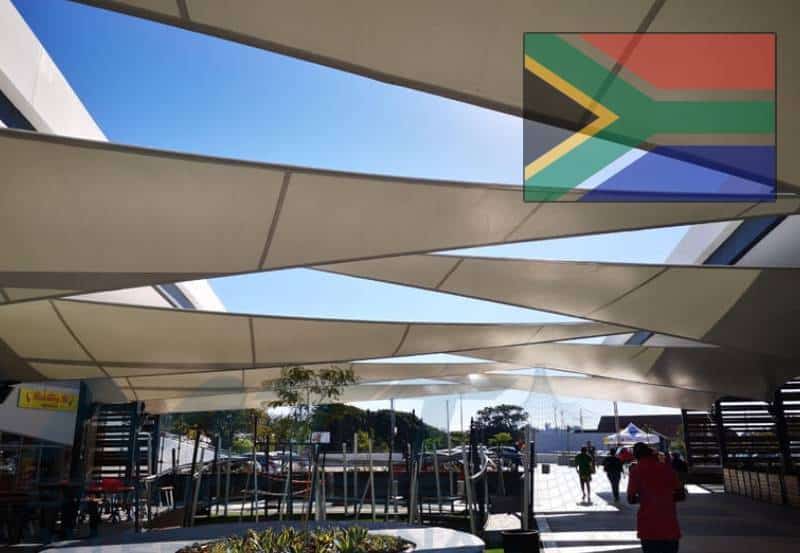 However, the market presents an abundance of sunshades, with quality and type varying considerably. If you're based in South Africa, you may prefer to source your sun protection solutions from local shade cloth suppliers or manufacturers. To assist your decision, we've carefully curated the top 5 shade fabric suppliers in South Africa. Let's delve deeper into these vendors, compare their offerings, and guide you towards the sunshade that best fits your needs. (And if you're looking to purchase sunshade materials in larger quantities, comparing suppliers worldwide might help you find more cost-effective alternatives.)
Top 5 Shade Net Suppliers in South Africa
Among the numerous shade net suppliers in the market, we've selected five outstanding companies in South Africa. These suppliers have won the trust of consumers with their superior product quality and excellent service. Their shade net products not only adapt to South Africa's climate conditions but also meet the needs of various venues. Whether it's agriculture, horticulture, homes, schools, parks, or commercial areas, you can find suitable options in their product lines. Next, we'll introduce the basic information, product features, and contact details of these five companies.
1. Knittex South Africa
Established in 1964, Knittex is a leading global manufacturer and supplier of synthetic knitted fabrics and shade nets. Their products are widely used in agriculture, home, industry, public, and mining sectors. Known for its reliability and quality across all markets it serves, Knittex owes this reputation to the expertise of its experienced sales team and its deep understanding of the application of its products.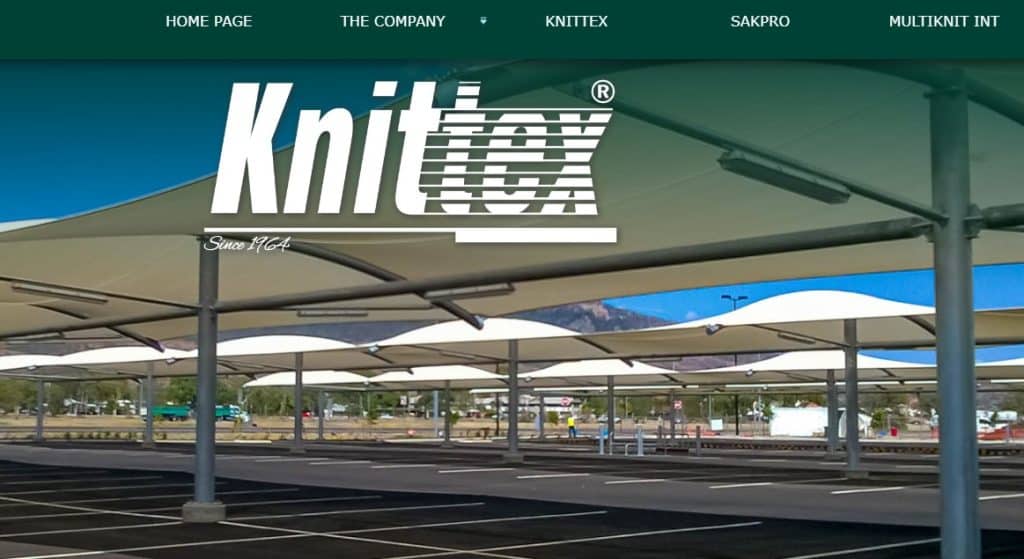 Knittex's product line includes nursery shade cloth, knitted shade cloth, garden windbreak nets, shade nets, greenhouse nets, windbreak nets, barrier nets, and safety barrier nets. Each product is manufactured to the highest standards using the finest pigments, high-density polyethylene, and the highest-quality UV inhibitors. The company subjects its products to stringent burst, tear, and shading tests to meet the strict standards set by global standard providers.
Contact Details:
2. Industrial Netting (Pty) Ltd
Founded in 1969, Industrial Netting (Pty) Ltd is a South African company that initially specialized in producing and supplying nets for various sports. It later developed innovative net supports and safety systems to serve the mining industry.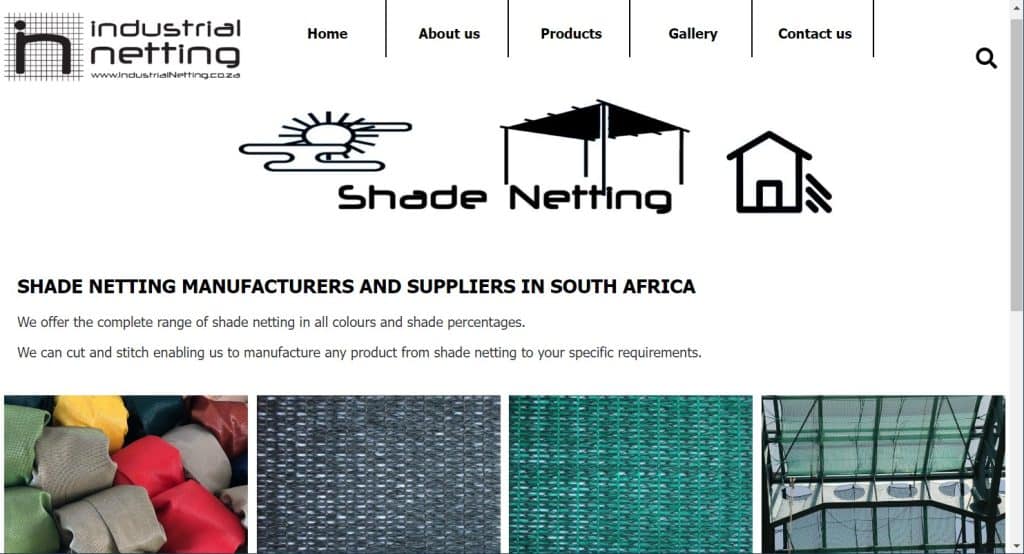 The company offers shade nets in all colors and shade percentages. Construction shade nets or building shade cloths are attached to fences around the site to enclose and hide the contents of the construction site. These nets are available in rolls, each measuring 50 meters x 1.8 meters and made from 80% green or black shade net material.
Contact Details:
3. Joluka (Pty) Ltd
Established in 1982, Joluka (Pty) Ltd is a company specializing in manufacturing and supplying concrete and masonry reinforcement systems. As a significant manufacturer and supplier in the field, Joluka (Pty) Ltd has become a well-known brand in the construction industry. They offer shade cloths and safety nets, suitable for fencing at construction sites, and also serve as debris nets to capture small and lightweight parts. Joluka's shade nets are environmentally friendly, high-quality, and durable. They offer a variety of colors, sizes, and lengths to choose from, with the most common roll length being 50 meters.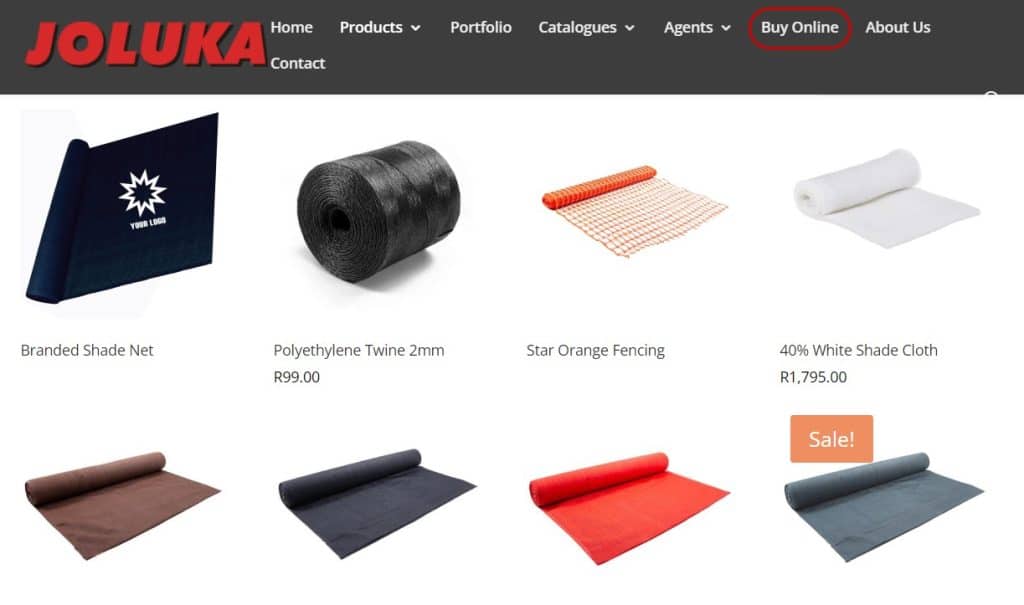 Contact Details:
4. P & P Plastics (Pty) Ltd
P & P Plastics (Pty) Ltd, established in 1985, began as a wholesale distributor of plastic building sheeting and has significantly expanded its product range over the years. Their shade net series of products include green Shade Cloth with an 80% shade rate, available in roll sizes of 1.8 meters wide x 50 meters long or 3 meters wide x 50 meters long.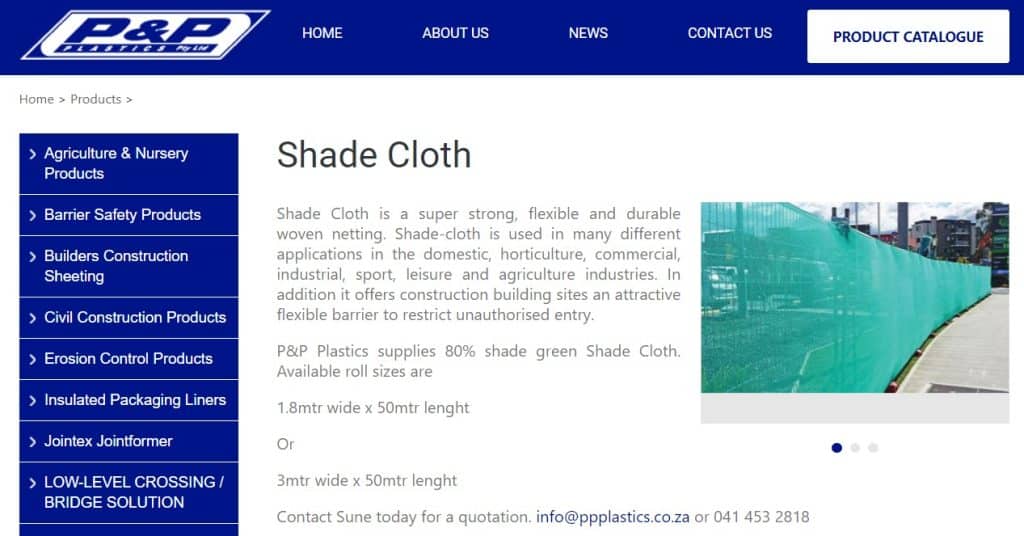 Contact Details:
5. The International Group of Companies
Established in 1969, The International Group of Companies is a plastic textile company valued at millions of Rand. With over 60 years of development, it has become a leading company in the market. It is headquartered in North West Province, South Africa, and is a Black Economic Empowerment (BEE)/Black Owned company. The company has over 600 employees and is led by a dedicated and experienced management team.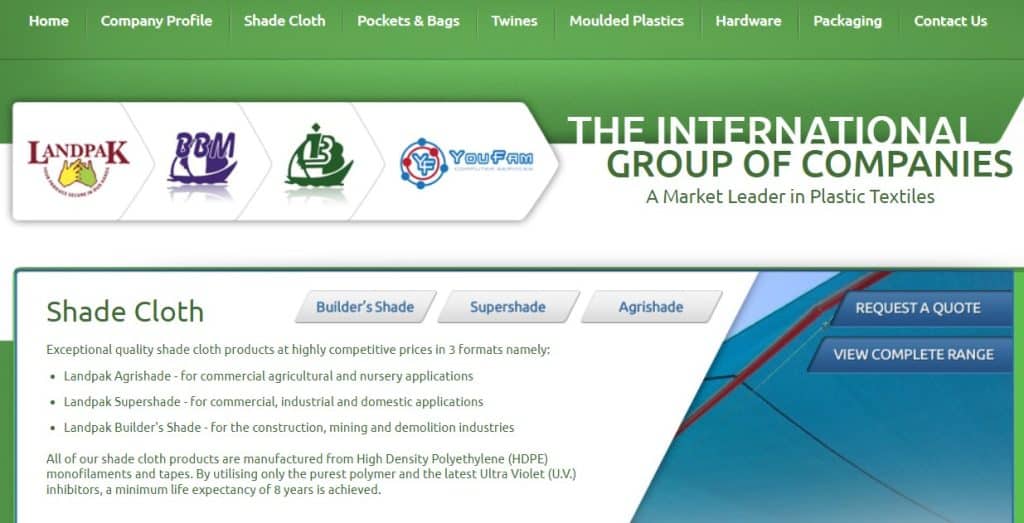 The company offers three high-quality, competitively priced shade cloth products, including Landpak Agrishade, Landpak Supershade, and Landpak Builder's Shade. All shade cloth products are made from high-density polyethylene (HDPE) monofilament and tape, and with the help of the purest polymers and the latest ultraviolet (UV) inhibitors, a lifespan expectancy of at least eight years is achieved.
Contact Details:
Comparison Table of Shade Cloth Manufacturers in South Africa
When it comes to selecting a reliable sunshade fabric supplier in South Africa, comparing the offerings of different companies is essential. Below is a comparison table of five leading suppliers in South Africa, showcasing their establishment year, roll dimensions, color options, and website addresses. By examining these key factors, you can gain insights into each supplier's offerings and make an informed decision.
| | | | | |
| --- | --- | --- | --- | --- |
| Supplier Name | Founded | Roll Dimensions | Colors | Website |
| Knittex South Africa | 1964 | Customizable | Various Colors | Website |
| Industrial Netting (Pty) Ltd | 1969 | 50m x 1.8m (Customizable) | Green or Black | Website |
| Joluka (Pty) Ltd | 1982 | Customizable | Various Colors | Website |
| P & P Plastics (Pty) Ltd | 1985 | 1.8m x 50m or 3m x 50m | Customizable | Website |
| The International Group of Companies | 1969 | Customizable | Various Colors | Website |
FAQs
Q1: What are the common uses of shade cloth?
Shade cloth has a wide range of applications. It is commonly used in agriculture for crop protection, nurseries, and greenhouse shading. It is also used in construction sites for scaffolding covers, as privacy screens, and for creating shaded areas in residential and commercial outdoor spaces.
Q2: How to choose the right shade cloth supplier?
When selecting a shade cloth supplier, consider factors such as their product quality, range of shade cloth options (e.g., shade percentage, material weight), customization availability, pricing, and customer reviews. Look for suppliers with a good reputation, reliable customer support, and a track record of delivering high-quality products.
Q3: What should I consider when buying shade cloth rolls?
When purchasing shade cloth rolls, consider the shade percentage that suits your specific needs, the dimensions and length of the rolls, the material quality (e.g., UV-resistant HDPE), color options, and the supplier's reputation for providing durable and reliable shade cloth. Additionally, inquire about warranty or guarantee policies.
Q4: How to install and maintain shade cloth?
The installation of shade cloth will depend on the specific application. It can be secured using hooks, zip ties, or fastening clips. Follow the manufacturer's guidelines for proper installation. For maintenance, regularly clean the shade cloth with mild soap and water, and inspect it for any signs of wear or damage. Address any issues promptly to ensure optimal performance and longevity.
Conclusion
This guide tells you about top shade cloth sellers in South Africa. We picked five of the best ones. If you like what they offer, you should reach out to them. You can learn more about their products and services on their websites. Talking to them directly will help you make the best choice for your needs.
If you need to buy a lot of shade cloth, you could also consider our factory, INSONSHADE, in China. We offer good prices and can make items just for you. We can also handle large orders. Thank you for reading about shade cloth sellers in South Africa. We hope this guide helps you find the best one for you. Good luck in picking and using your shade cloth.