Do you want to sit in the open air, but you cannot bear scorching beams of sunlight?
Are you looking for a shade that will provide protection from sunlight and allow fresh and cool air to pass through it? Well, you don't need to worry anymore. We bring the solution to all of your problems. This article will give you all the necessary information regarding sun shades, roller shades, pool shades, and other outdoor shades. We will be discussing five types of shade fabrics, their features, and their applications to make your choice easier.
Choosing the perfect shade fabric for your outdoor shade is very important for comfort and protection. Shade cloth is one of the most comfortable and effective ways of protecting people from ultraviolet radiation(UVR). The outdoor sun shade fabric blocks harmful ultraviolet radiation while allowing the cool breeze to pass through it to provide a pleasant outdoor environment for you and your loved ones.
Outdoor shades are widely used in plant nurseries and greenhouses to provide weather protection. Shade cloth has a wide range of applications. With their high shading rate, water-resistant design, and durability, they are ideal for offering protection from the sun. 
Shade cloth is beneficial in many ways, whether you are having fun at the beach or camping somewhere.
The shade fabrics are ideal for:
● garden shade
● patio sunshade
● backyard sail shade
● pool shade
● Porch shade
● pergola shade
● sunshade canopy,
● Outdoor window shades
● roll shade
● Porch blind, and many other outdoor areas.
It offers protection from scorching sunlight and gives you an airy atmosphere to make your activities pleasant. We have listed our five types of outdoor shade materials in this article. Let's find out how these adaptable outdoor shades can enhance your joy on a sunny day.
Colaro185 shade fabric is composed of virgin High-density polyethylene(HDPE). It's a lightweight shade cloth. The fabric has an extended throw of weft yarns across the knitting needles that provides a great weft and warp resilience to the outdoor shade material.
This pattern provides 90% ultraviolet radiation protection and acquires extraordinary water-resistant properties. These shade cloths are thermoset and have dimensional stability. Due to their tear-resistant property, they are cost-effective and durable. 
It offers a five years warranty on the fabric. You can also clean this outdoor shade with simple water and a mild detergent. Avoid using a scrub or brush over it, and don't put it in the washing machine because it can cause damage.
Applications:
Colaro185 is a lightweight shade, ideally used for outdoor shade panels, gazebo shade, and shade sail. It can also be used as a garden shade, backyard shade, patio sun shade, lawn, pool, and other outdoor areas to provide sunshade and protection against almost 95% ultraviolet radiation.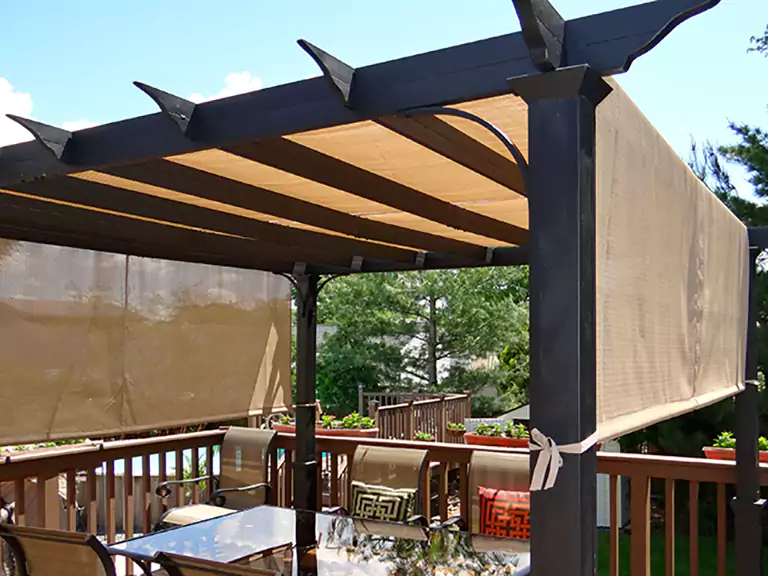 Shade Cloth-Colaro 270 has a knitted lockstitch structure with an anti-tear and anti-peeling design that allows more movement of air and cool breezes to pass through it. UV stabilized high-density polyethylene (HDPE) is used to manufacture this fabric. Because of its stabilized heat-set properties, its shrinking possibility decreases after installation, and it also gives ease of fabrication. 
This outdoor shade roll shows an excellent shading rate up to 98%. This roll shade is eco-friendly and has a 10-year UV degradation warranty. They come in various colors and patterns to give your room a beautiful look. Its environment-friendly raw material is beneficial for a healthier atmosphere.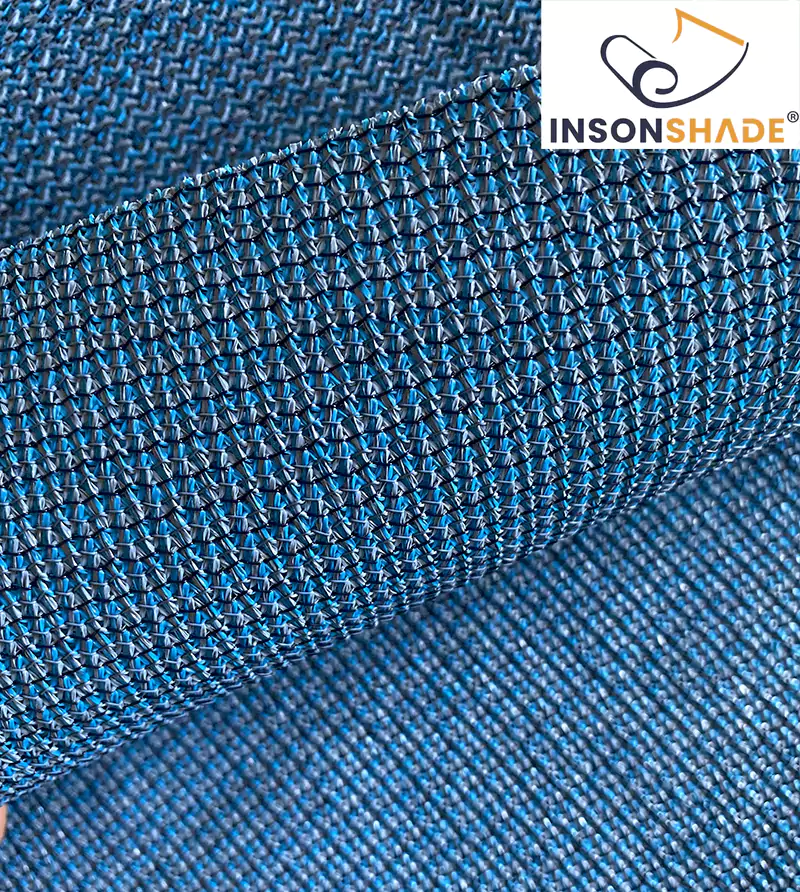 Applications:
Colaro 270 fabric is best for outdoor roller shades. It is suitable for offices and homes and protects your home/ office from scorching sunlight and wind, smoke, etc. They suit perfectly in all places. Preferably they are effective for sun patio shade or in sunrooms. Colaro 270 is used for roll shade, outdoor blinds, patio roller shades, etc.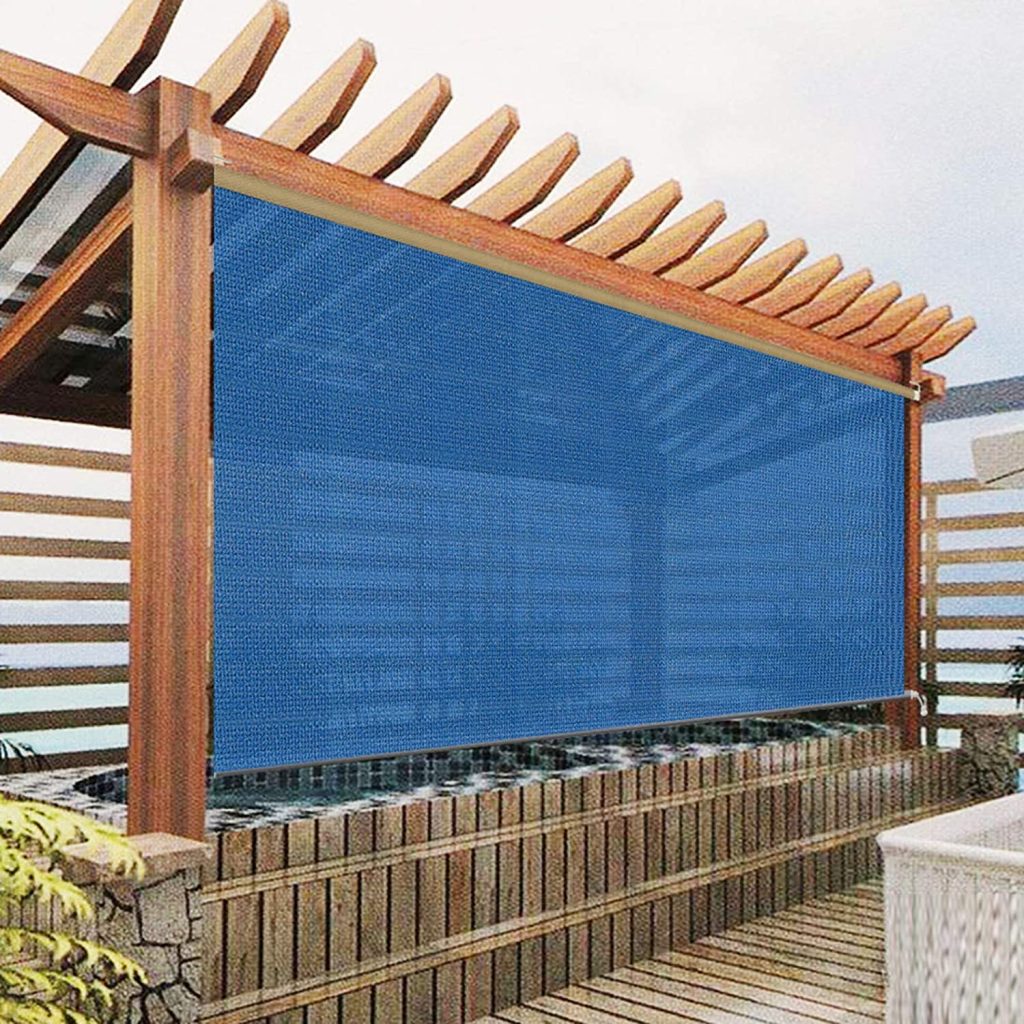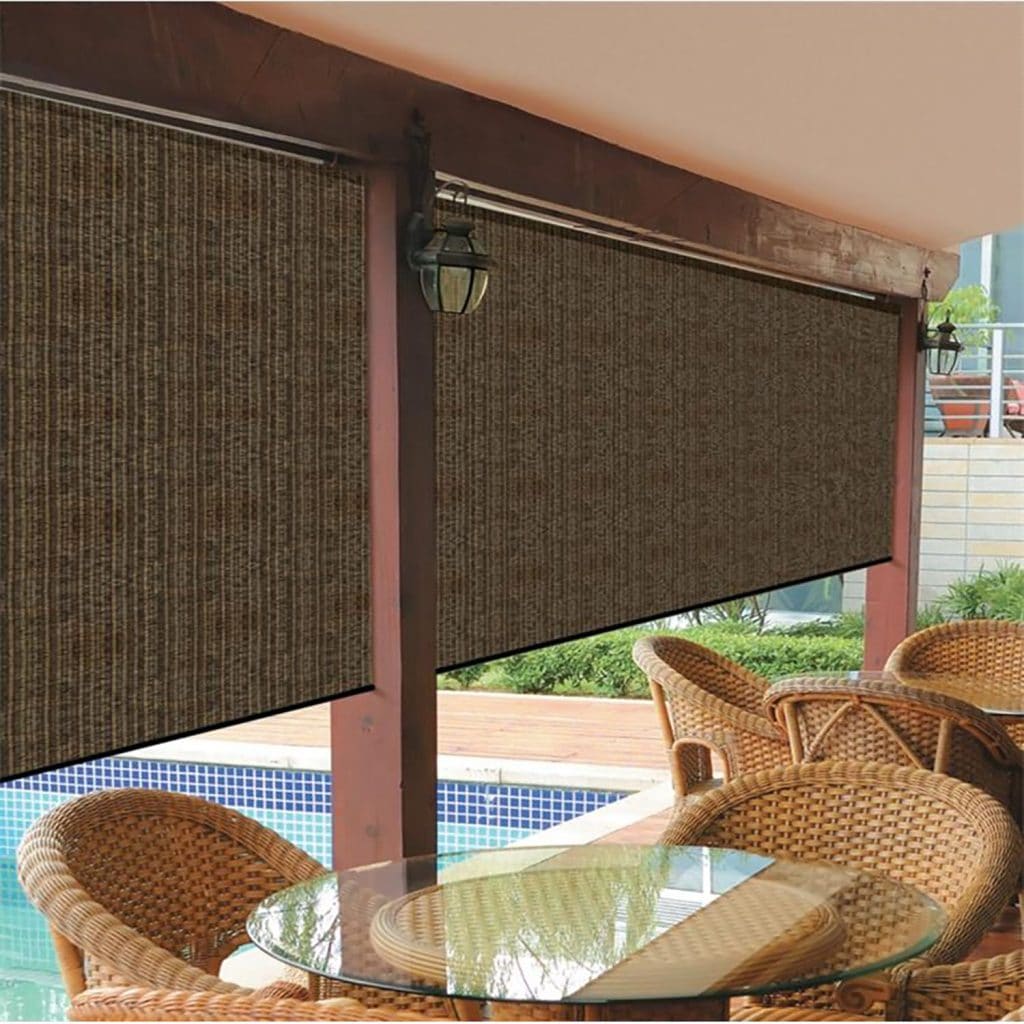 These outdoor roll shades are mainly designed to curb harmful UV rays and protect your furnishings from wind, smoke, sunlight, etc. The roll shade provides you with utmost privacy and darkens the room in daylight to bestow you peace and calmful sleep. 
Colaro325 is made up of durable Virgin HDPE with the best UV stabilizer and offers a 10-year ultraviolet radiation degradation warranty. The knitted lock stitch construction of monofilament yarn and tape yarn makes this shade cloth dimensionally stable and delivers a great rip and fray resistance.
The combination of high-density monofilament and tape offers 93% of UV protection. Colaro325 has superior stability with the slightest stretch and features unique and long-life performance in extreme climate conditions. This shade is a heat-set shade cloth that makes it a highly stable material. 
Applications:
325gsm shading 93%UV block shade fabric is a heavy-duty shade fabric ideal for heavy shade projects, sun shade sails, tension structures, shade covers, and awnings. This sun shade fabric is useable as pergola shade and other outdoor entertaining areas.
Colaro325 allows the air to pass through it while protecting you from the sunlight. This shade fabric comes in an extensive color range from light to dark. Remember, the darker the color of cloth, the more shade you get.
Colaro340 is a high-quality shade fabric constructed with Knitty lock stitches that gives it anti-tearing property and provides more air movement and better air passage for cool breezes. The outer layer of this fabric has been prepared from UV stabilized High-Density Polyethylene (HDPE) material that provides the optimal balance between stability and UV block. 
Colaro340 has been heat-set to eliminate the shrinking possibility after installation. It also gives ease of fabrication. The shading rate is 91%- 97%, lowers the sun exposure and keeps you safe from UV rays while you enjoy your outdoor time. 
Colaro 340 carries fifteen years of UV degradation warranty on fabric. It offers maximum sunlight protection and dirt resistance with strength and durability to ensure long-life performance. This fabric is 100% recyclable and 100% lead and phthalate-free for a healthy atmosphere.
Applications
The Colaro340 has a wide range of uses. It can be used as a car parking cover, tension structures, playground shade, construction screen, gazebo, pergola shades, shade sails, umbrella canopy, windbreak and protection, cattle shade, etc.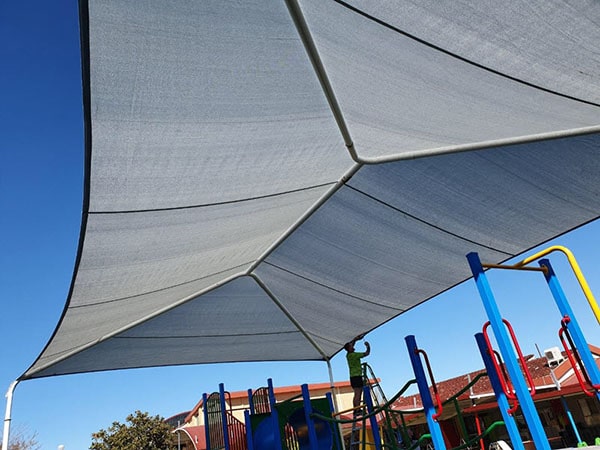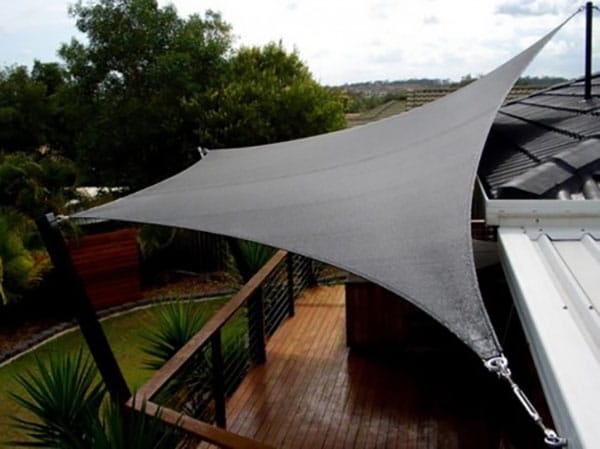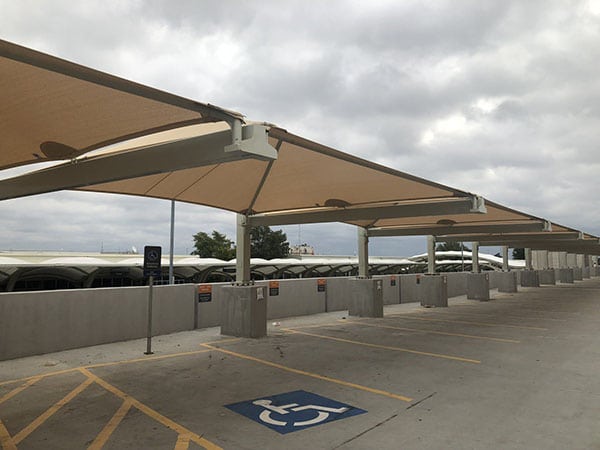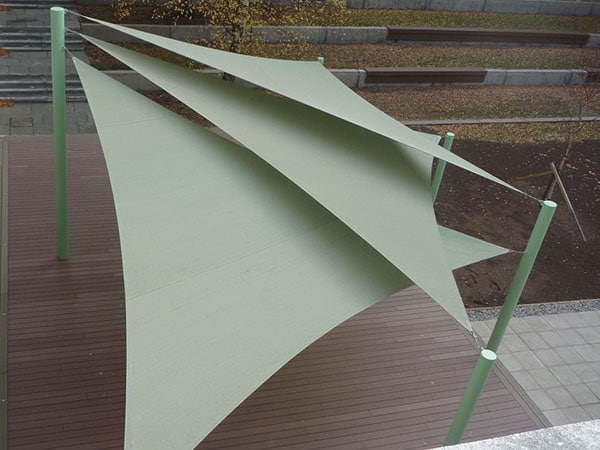 In addition to protecting you from scorching sunshine and UV rays, it also provides you with privacy and can be used as a garden fence and other outdoor shade applications.
Shade Cloth Dual Colaro340
Dual Colaro 340 commercial cloth produces a high-performing fabric with a unique aesthetic. High-quality, UV stabilized monofilament and tap yarn joined by a knit stitch lock pattern provides maximum durability and is resistant to tear and fray. 
The dual colaro 340 shade fabric features tensile properties and guarantees a highly tensioned shade structure that ensures a longer fabric life and improved performance. The shade is constructed from a High density of Polyethylene(HDPE) material that will not rot or absorb moisture. 
The stentering process ensures the virtual elimination of shrinkage after installation. The protection offers 93% UV block and carries a ten-year warranty. 
Applications
This outdoor sunshade is suitable for high tensile commercial projects. It is applicable for car park covers, canopies, shade sails, shade cloth, gazebos, and pergola covers. 
Dual Colaro 340 GSM gives a vibrant and beautiful look to the outdoor areas. Moreover, this shade is ideal for playground shade and umbrella canopies because of its colorful texture.
Some significant points you need to know about Colaro shade fabric series (185-340GSM)
Colaro 185-340 is our shade fabric series manufactured from virgin High-density polyethylene(HDPE). We use imported raw materials with durable UV treatment and thermosetting processes to manufacture our shade fabrics. The most important thing about our shade fabrics is they passed Australian test standards. 
The Colaro shade fabric has a unique knit lock stitch pattern and possesses tear and fray-resistant properties. The colaro fabric is heat set using a hot air entering technique that makes it more dimensionally stable. 
Colaro shade fabric blocks various UV radiation and makes your shaded area cool on a hot day by allowing airflow. Our colaro shade carries approximately a ten to fifteen-year warranty against UV degradation. They are available in different sizes and colors. 
Colaro shade fabrics are perfectly suitable for Garden shade, People and pet protection shade, privacy screening, patio shade, backyard shade, greenhouse, and business areas shade. They also provide shade to your plants and protect them from sun rays.
We provide shade cloth in multiple shades and textures. They are appropriate for various locations and can fit in commercial and industrial areas and even in a small shop as roll shade or umbrella canopy. They are weather-resistant and stain-resistant fabrics and easy to clean.
Colaro shade fabrics are perfectly suitable for Garden shade, People and pet protection shade, privacy screening, patio shade, backyard shade, greenhouse, and business areas shade. They also provide shade to your plants and protect them from sun rays. They increase the appearance of your outdoor spaces and offer you the benefits of privacy and sun and wind protection.
We tried our best to provide you with all the necessary information about our colaro shade fabric(185-340GSM) series. We provide quality material to our valuable customers. These outdoor shades make your life easier by providing you with privacy and protection no matter where you are. 
It is essential to check the material, color, durability, and warranty before buying outdoor shades. Always pick the right outdoor shade for your satisfaction and protection. We hope this article helps you to get the best outdoor shade.