Green shade nets are a common agricultural shading material, usually made from materials like high-density polyethylene or polypropylene, with UV resistance and acid and alkali resistance properties. They play a crucial role in the healthy growth of crops by blocking some sunlight and providing protection from wind, rain, and insects.
In the UAE, green shade nets are widely used not only in agriculture and horticulture but also in industries like construction. With that in mind, we've compiled a list of the top five local green shade net suppliers in Dubai to help you make an informed decision when choosing the right supplier.
Factors You May Consider Before Choosing a Supplier
We have previously mentioned some factors to consider before choosing a supplier in our article top 12 best shade cloth suppliers worldwide. For example, to ensure the quality of green shade nets, you should check if the supplier's shade nets have relevant quality certifications like Australian shade cloth test reports, SGS test reports, and AWTA test reports, or if they can provide shade fabric samples.
Reference: how to choose shade cloth for your plants?
If you plan to make bulk purchases, you'll also need to know the supplier's supply capacity. Ensure that the supplier has the production capacity to meet your demands and inquire about their minimum order quantity. For local UAE suppliers, you can directly contact them using the provided information or visit their locations for on-site investigations.
Top 5 Local Green Shade Net Suppliers in UAE
Now, let's take a look at our top 5 green shade net suppliers in the UAE. These companies stand out for their great reputation and high-quality products. Each one has its own strengths, making it easier for you to find the right supplier for your needs. So, let's dive in and discover more about these outstanding providers. (Of course, if you're looking for even better value on shade nets, you can also explore suppliers or factories that produce shade nets on a global scale, rather than limiting yourself to UAE-based options.)
1. YKM Middle East L.L.C
YKM Middle East L.L.C is a professional manufacturer of mesh products with production lines and global offices. Their product quality is ISO-certified, and they can provide customers with high-quality, competitively-priced green shade nets.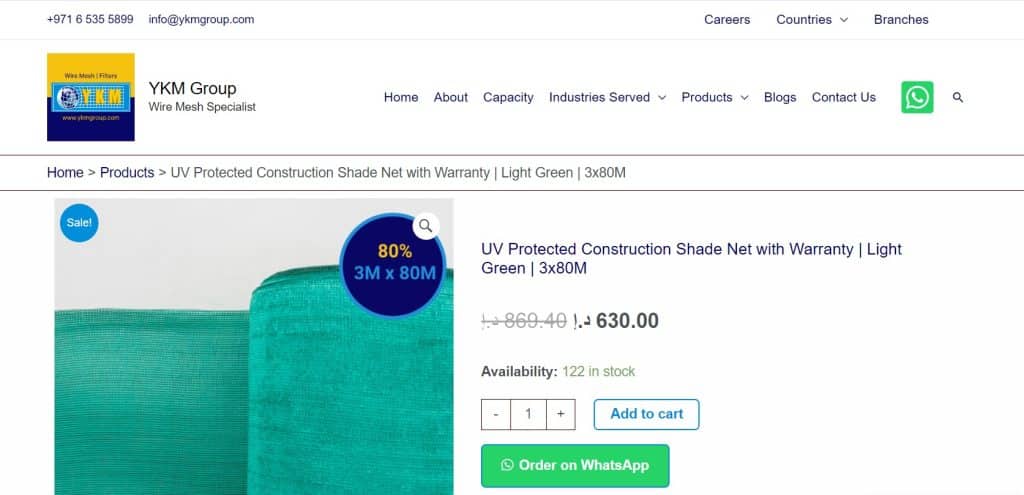 YKM offers various types of green shade nets, including those made from 100% high-density polyethylene, boasting excellent weather resistance, UV resistance, and anti-aging performance.
Address: Office # 801, 8th Floor, Al Jesrain Building, Airport Road, P.O.Box 43241, Abu Dhabi, UAE.
Phone: +971 2 641 4244
Email: [email protected]
2. SFS Enterprise LLC
Established in 2007, SFS Enterprise LLC has grown into a reputable procurement partner across multiple industries like hospitality, offshore oil, construction, and government sectors. They have established connections with global offices, enabling them to source competitively-priced, high-quality green shade nets for their customers.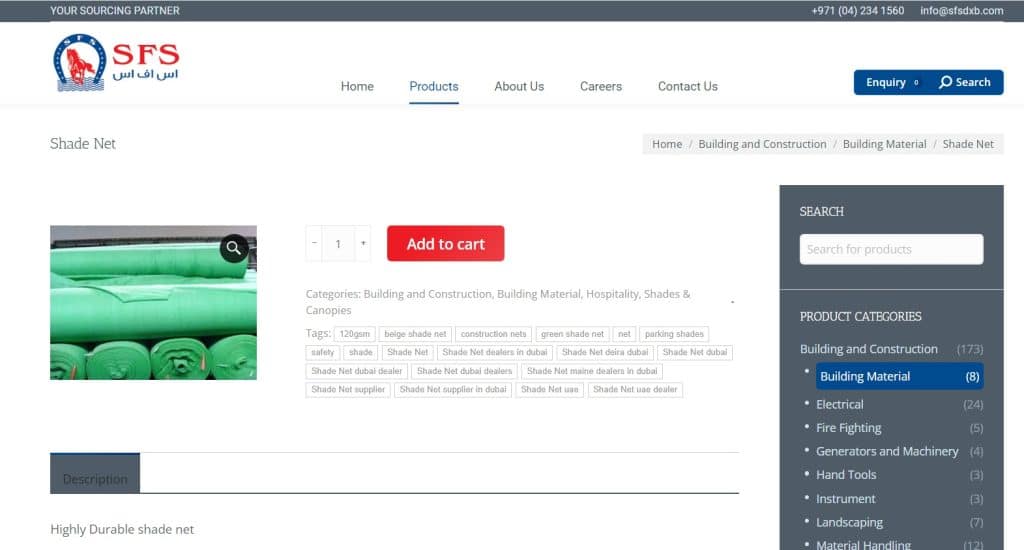 SFS Enterprise's green shade nets are made from UV-stabilized HDPE yarn, capable of withstanding extreme climatic temperatures and providing maximum shading effects.
Address: Showroom no. 30, Naif Bazar Center, Nakheel Rd., Deira, Dubai, P.O.Box – 171244, UAE
Phone: +971 (04) 234 1560
Fax: +971 (04) 234 1550
3. Ventana LLC
As a golf and landscape trading company, Ventana LLC offers customers high-quality green shade net products. Their products feature advanced shading technology and uniform shading coefficients to meet customers' high-performance shade net requirements.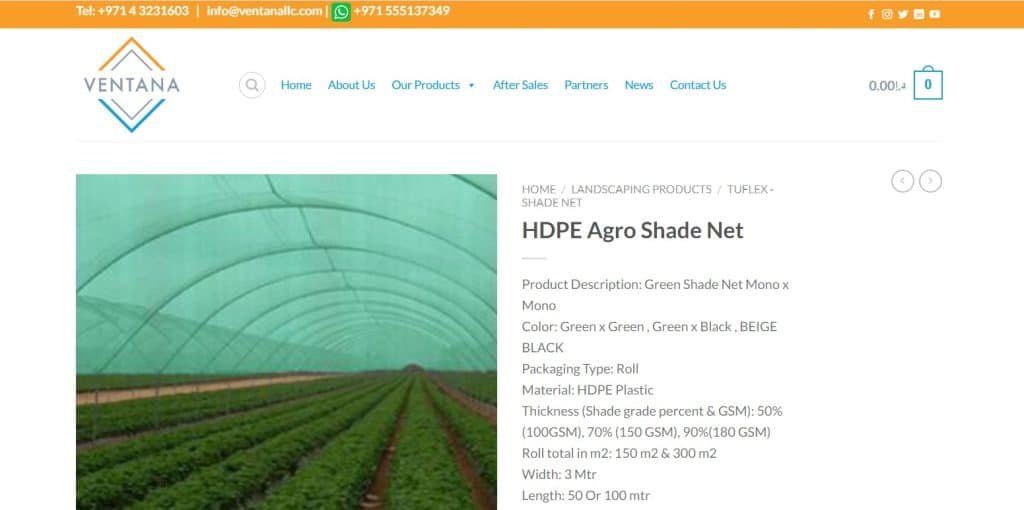 Ventana LLC's HDPE Agro Shade Net is made from 100% high-density polyethylene, featuring uniform shading properties and UV resistance. They offer various colors and shading grades, such as 50% (100GSM), 70% (150GSM), and 90% (180GSM).
Address: Ventana LLC, Al Quoz 3, Latifa Bint Hamdan Street, 319 Road, P.O. Box: 127822, Dubai, UAE.
Phone: (+971) 4 3231603
Fax: (+971) 4 3806957
WhatsApp: +971 555137349
Email: [email protected]
4. Bin Dhahi Trading LLC
Bin Dhahi Trading LLC is a company that offers a wide range of products and services. Although their expertise and focus in the green shade net field may not be as strong as other suppliers, they can still provide competitive products for their customers. Bin Dhahi Trading's green shade nets are made from high-quality polyethylene materials, ensuring durability and stability. Their shade nets are suitable for various applications, such as agriculture, horticulture, and construction.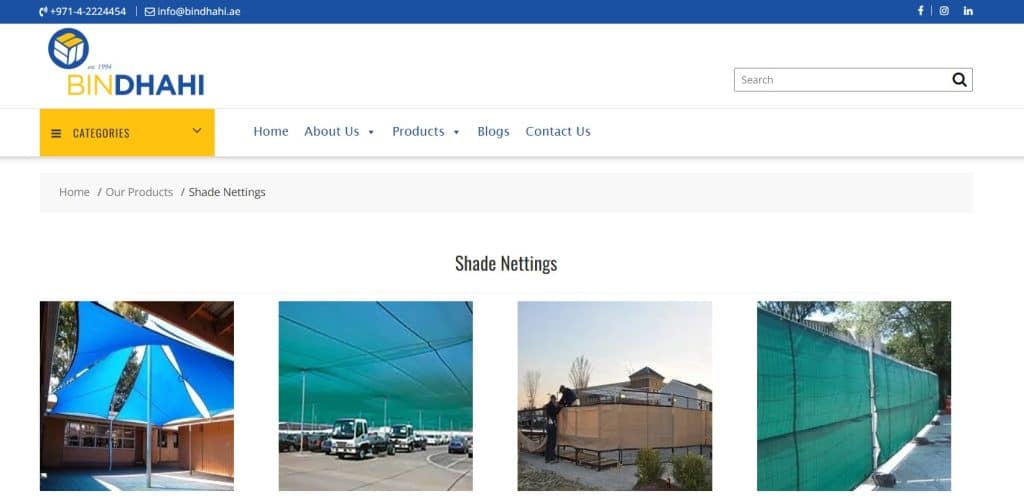 Address: Dubai, UAE, P.O.Box: 81628
Phone: +971 4 2224454
Fax: +971 4 2246629
Email: [email protected]
5. Misar Trading Co. LLC
While Misar Trading Co. LLC may have relatively less information in the green shade net field, they offer a wide range of products across multiple industries. If you're looking for a supplier with diverse products, Misar Trading Co. LLC is a noteworthy option.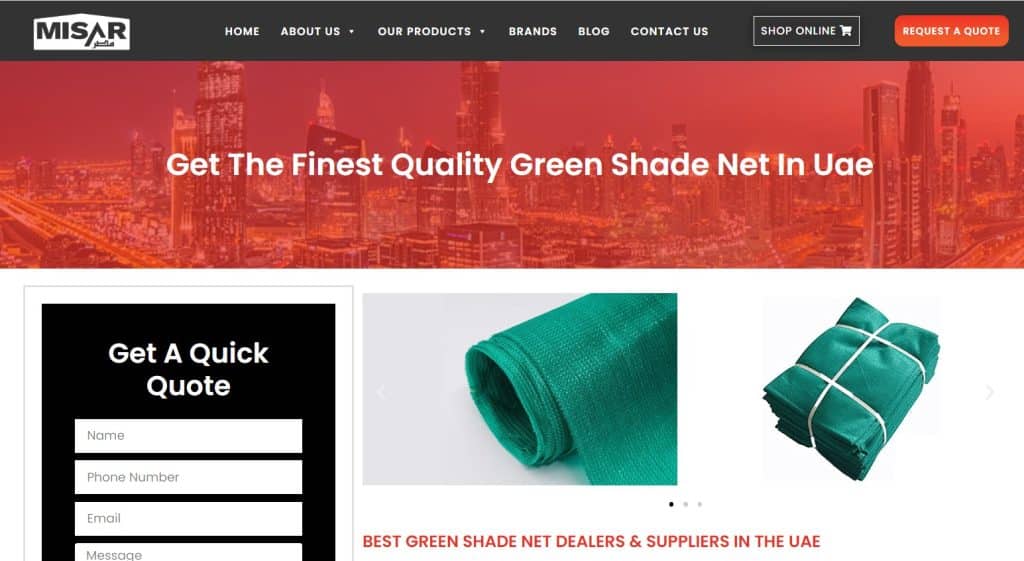 Misar Trading Co. LLC's green shade nets are made from durable, UV-resistant, and tear-resistant materials, suitable for various outdoor scenarios, such as agriculture, horticulture, and construction.
Address: P.O.Box 1846, Dubai, UAE.
Phone: +971 4 2294717 / 2294718
Fax: +971 4 2294716
Email: [email protected]
Knowledge: The Difference Between Green Shade Nets and Other Colored Nets
Green shade nets and other colored shade nets share similar functions and performance, as they both reduce direct sunlight exposure and lower temperatures. However, there may be some differences and advantages in appearance and practical applications.
For example, visually, green shade nets blend more naturally with their surroundings compared to other colors, especially when used in gardens, agriculture, and horticulture. Green shade nets harmonize with the surrounding vegetation, creating a more cohesive and visually pleasing appearance. Moreover, different colors filter light differently, and green shade nets can simulate the spectral range needed for plant growth and development to some extent.
Conclusion
When choosing green shade net suppliers, be sure to consider product quality, delivery times, and customer service. The five UAE-based suppliers we've presented each have their unique offerings. To ensure the best purchasing experience, we recommend consulting with these suppliers in detail and selecting the partner that best meets your requirements.